Hanwha Joins the WEF's 1t.org and Launches 10th Solar Forest For a Greener Future
Hanwha Group announced its pledge to 1t.org, the World Economic Forum's Trillion Trees Platform, creating 20 forests worldwide by 2030 by delivering tangible and practical solutions for individuals, society, and the planet.
Hanwha unveiled its 10th Hanwha Solar Forest, a carbon-neutral forest initiative that focuses on ecosystem restoration and biodiversity, benefiting both local economies and environments.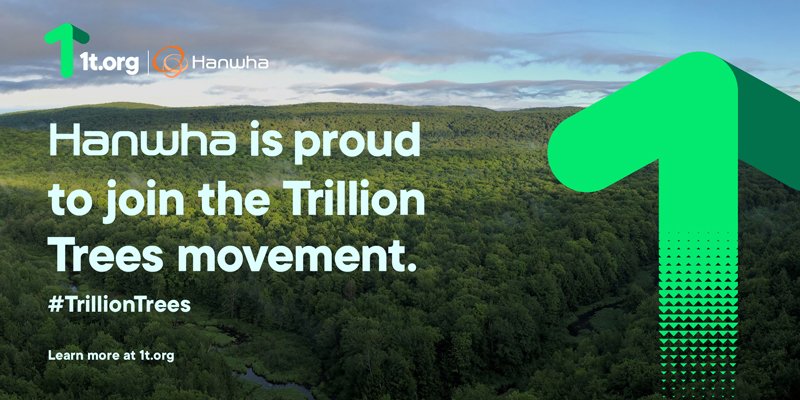 With a diverse portfolio of green energy solutions, Hanwha Group has pledged to support 1t.org, the World Economic Forum's Trillion Trees Platform. With more than a decade of experience creating carbon-neutral forests to help tackle climate change through its global reforestation initiative, Hanwha Solar Forest, Hanwha will continue taking steps toward nurturing a greener and healthier planet.
1t.org is part of the World Economic Forum's work to accelerate nature-based solutions that support the UN Decade on Ecosystem Restoration (2021-2030). The platform aims to mobilize, connect, and empower the global reforestation community to conserve, restore, and grow one trillion trees by 2030. Since its launch in 2020, over 80 companies have pledged to conserve, restore, and grow more than 7 billion trees in over 65 countries.
In support of 1t.org, Hanwha has pledged to create 20 solar forests worldwide by 2030 through its Hanwha Solar Forest initiative. Hanwha Solar Forests plant seedlings grown in sapling nurseries powered by electricity from Hanwha's solar panels. Traditionally, sapling nurseries are powered by electricity produced using fossil fuels. Using green energy to support the conditions required to nurture saplings helps mitigate the carbon generated in the process and results in a more environmentally friendly, carbon-neutral forest.
Since the launch of its Solar Forest project in 2011, Hanwha has planted approximately 533,200 trees across 1.45 million square meters in China, Mongolia, and South Korea. The initiative was cited as the world's first corporate practice of utilizing solar energy to fight desertification at the United Nations Convention to Combat Desertification (UNCCD) in the same year. In 2018, it was cited as a model for how corporate partnerships can contribute to achieving Sustainable Development Goals (SDGs) in a meeting at the UN's High–Level Political Forum.
Dong Kwan Kim, Vice Chairman of Hanwha Group, said, "At Hanwha, we are dedicated to developing innovative technologies and solutions to drive climate action. We are equally passionate about making a real difference in the communities we serve. That's why we launched the 'Hanwha Solar Forest' in 2011, using solar energy in tree nurseries to combat deforestation and grow carbon-neutral forests worldwide. Through our participation in 1t.org, we can collaborate to create a more sustainable and prosperous world for everyone."
Nicole Schwab, Director of 1t.org and Nature-Based Solutions at the World Economic Forum, stated, "The conservation and restoration of our forests are critical to tackling both the climate and biodiversity crises. We are thrilled to welcome the first South Korean company to 1t.org. The Hanwha Solar Forest project combines restoration with solar power, which will not only support large ecosystems but also improve livelihoods and local environments."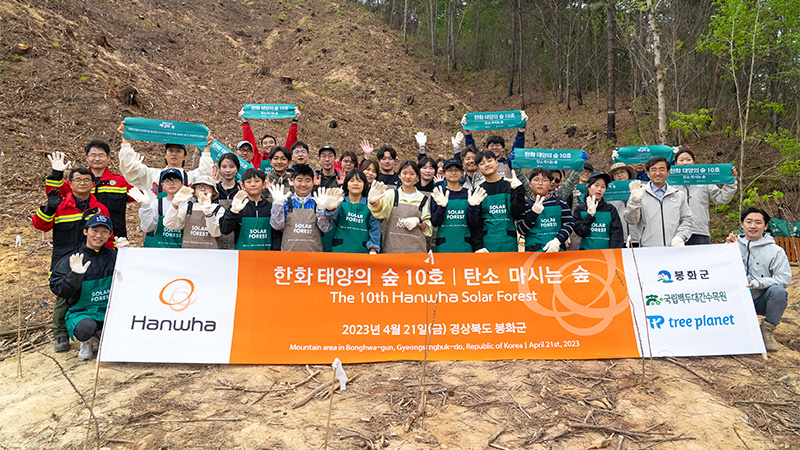 Hanwha Group unveiled its 10th Hanwha Solar Forest in Bongwha, South Korea, on April 21. The area was devastated by a wildfire last year, prompting Hanwha to plant approximately 7,000 trees expected to absorb more than 64,800 kilograms of carbon dioxide annually. Beyond replanting trees, Hanwha aims to make a significant and lasting positive impact on the region by restoring the ecological, social, and economic ecosystems that were impacted by the natural disaster.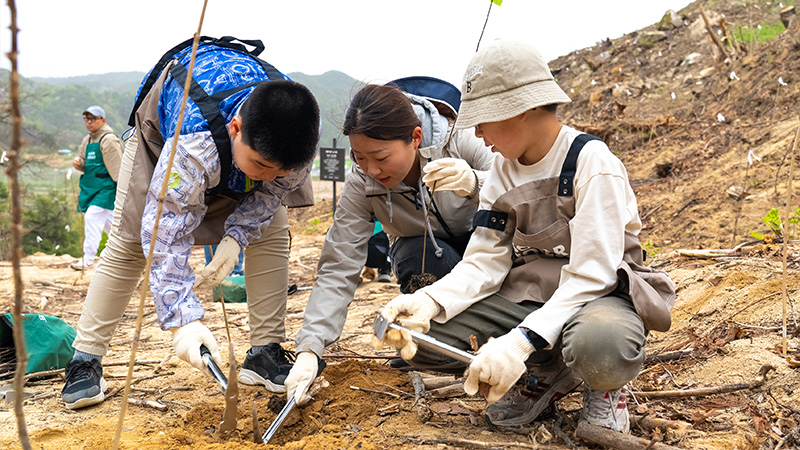 The project plans to rehabilitate the ecosystem by cultivating native flowering trees that efficiently capture carbon emissions and are well-suited to the local environment. This initiative promotes biodiversity, creates habitats for pollinators like bees, and helps maintain ecological balance. Mature native plants also support community-based activities such as beekeeping, which can provide economic opportunities for residents and contribute to the sustainable development of the local economy.
Through its pledge to 1t.org, Hanwha is delivering tangible and practical solutions for individuals, society, and the planet, paving the way to a greener tomorrow.
Hanwha Group
Founded in 1952, Hanwha has grown quickly by anticipating and responding to changing business environments with a balanced business portfolio that includes energy & materials, aerospace, finance and retail & services. Our expertise and synergy in key areas have catapulted us into the seventh-largest business in South Korea and a Fortune Global 500 company. Hanwha continues to grow rapidly as we strive to pursue global leadership in all of our businesses. We are building a robust foundation for sustainable development and a brighter future for everyone.

For more information, visit: www.hanwha.com
Contact Us
Thank you for your interest in Hanwha.
Please contact us for your inquiries.
Email Us
Information Message
Please enter your email address.
Information Message
Please enter a correct email address.
Success
Keep an eye on your inbox for the latest stories from Hanwha.
Information Message
Your subscription request has already been processed. Thank you.