Hanwha Ocean's Green Maritime Technologies Earn Global Recognition at Gastech 2023
Hanwha Ocean obtained an Approval in Principle (AiP) for the cargo hold of ultra large, liquefied carbon dioxide (LCO2) carriers and an Approval of Service Suppliers (AoSS) for underwater radiated noise (URN) measurement from Det Norske Veritas (DNV).
The company secured an AiP from the American Bureau of Shipping (ABS) for its ammonia-fueled gas turbine LNG carrier design and another for Hanwha Power Systems' supercritical carbon dioxide (sCO2)¹ power system.
Hanwha Ocean plans to invest in eco-friendly ship technologies and create synergy among Hanwha affiliates to establish itself as a leading ocean solutions provider in the global maritime industry.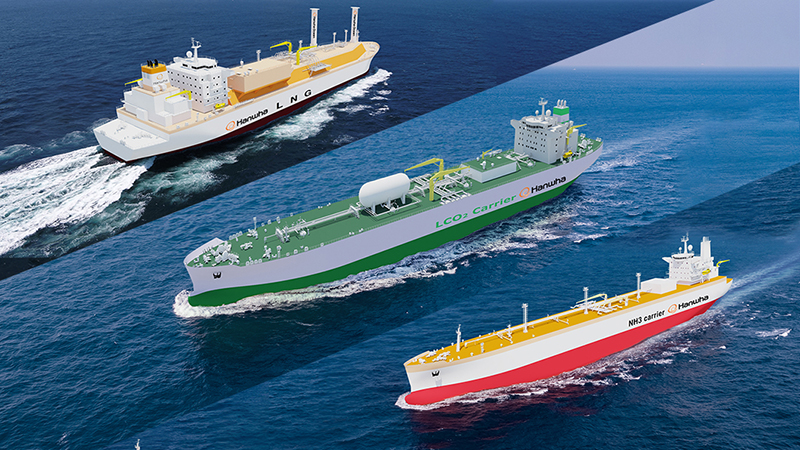 Hanwha Ocean received certifications from Norway's Det Norske Veritas (DNV) and the U.S. American Bureau of Shipping (ABS), two recognized global classification societies in the maritime sector, at Gastech 2023 for its eco-friendly vessel technology.
DNV awarded the company an Approval in Principle (AiP) for its 70,000 cubic meter (cbm) class liquefied carbon dioxide (LCO2) carrier cargo hold design and an Approval of Service Suppliers (AoSS) for the measurement of underwater radiated noise (URN). ABS granted additional AiPs for the world's first large-scale carbon emission free liquified natural gas (LNG) carrier and Hanwha Power Systems' sCO2 power system.
Hanwha Ocean showcased a variety of innovative and green ships² at the exhibition, held in Singapore from September 5-8, including an LNG carrier that drastically reduces greenhouse gas emissions, and the world's first floating LNG production, storage, and offloading (FPSO)³ unit built by Hanwha Ocean.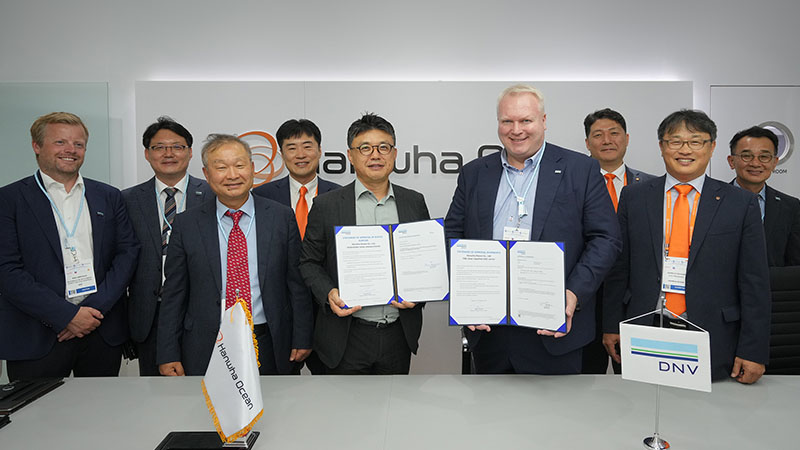 Hanwha Ocean also acquired an AiP from DNV for its 70,000 cbm class LCO2 carrier cargo hold design. This patented bi-Lobe cargo hold, which features a vertical asymmetrical structure, maximizes the cargo capacity of LCO2 carriers, increasing it by 50 percent when compared to existing cylinder structures. The company has also become the first Korean shipyard to receive AoSS for the measurement of URN, considered a pollutant by the International Maritime Organization (IMO) for its impact on aquatic organisms.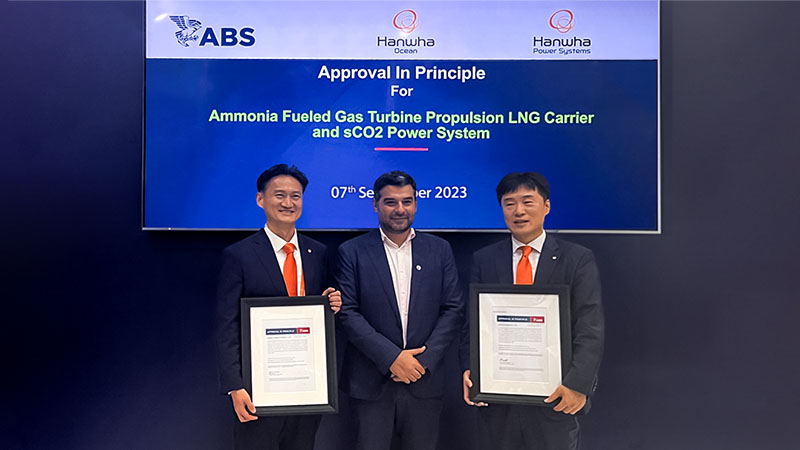 Hanwha Ocean also acquired AiPs from ABS for the world's first large-scale carbon emission free LNG carrier. The certified LNG carrier is a 174,000 cbm vessel powered by an ammonia-fueled gas turbine. Depending on the operating environment, the ship can use ammonia and natural gas separately or simultaneously as fuel. When the ships are powered by ammonia alone, they produce zero carbon emissions.
The turbine design incorporates Hanwha Power Systems' sCO2 power system. This exhaust gas waste heat recovery system reduces NOx emissions to a level that satisfies IMO's stringent regulations without the installation of a selective catalytic reduction (SCR)⁴ system and has a significantly reduced methane slip.
Hanwha Ocean plans to invest approximately $450 million (600 billion won) to develop an eco-friendly propulsion system based on ammonia, methanol, and hydrogen. The company will also expand its portfolio to encompass carriers designed to transport ammonia, carbon dioxide, and hydrogen. Furthermore, by 2030, the company plans to secure smart ship technology capable of fully autonomous navigation.
¹ sCO2 (supercritical carbon dioxide): The state of carbon dioxide when a temperature and pressure above the critical point are applied, resulting in properties of both liquid and gas simultaneously. sCO2 is a highly efficient working fluid for generating power. Unlike conventional nuclear and thermal power plants that generate electricity by turning turbines with steam made by heating water, sCO2 generators produce electricity by using CO2 that is subjected to heat and pressure. The sCO2 power generation system is attracting attention as a next-generation power generation system since it is more efficient than steam turbines, economically feasible, and can be miniaturized, making it easy to connect with new and renewable energy sources.

² Green ships: Eco-friendly vessels outfitted with energy efficient, green technologies aimed at suppressing greenhouse gas emissions and meeting IMO emissions standards.

³ LNG FPSO (LNG floating production, storage, and offloading): A complex offshore plant that processes natural gas extracted from beneath the sea floor, refines and liquefies it into LNG, and subsequently stores and offloads it.

⁴ SCR (selective catalytic reduction): Selective catalytic reduction is an advanced active emissions control technology system that reduces nitrogen oxides (NOx) to near-zero levels by converting them to nitrogen (N2) and water (H2O). To do so, a catalyst is sprayed on the exhaust gas flowing out of the combustion chamber which decomposes NOx, a harmful substance, into N2 and H2O. Urea solutions diluted with water, ammonia, aqueous ammonia, etc. are used as catalysts in this process.
Hanwha Ocean
Hanwha Ocean is a leading global company with extensive expertise and experience in the shipbuilding and offshore industry. Boasting the world's most competitive LNG carriers built with eco-friendly and highly efficient technology, the company has continuously pioneered new businesses since 1973, producing a vast range of vessels, including commercial ships, drillships, and specialty ships. Hanwha Ocean will be at the forefront of pioneering advanced marine solutions for decarbonization and further expand Hanwha's green energy ecosystem to create positive, sustainable change throughout the world.

For more information, visit: www.hanwhaocean.com
Hanwha Power Systems
Established in 1977, Hanwha Power Systems launched as an energy equipment business in 1997 by building on its reliable technology and deep experience in gas turbine engines. Since then, the company has become a global powerhouse and has delivered more than 6,500 air and gas compressor units worldwide. In 2017, Hanwha Power Systems relaunched as an independent company and achieved an operating surplus for four consecutive years through 2021, establishing a foundation for stable growth. In October 2022, the company was acquired as a subsidiary of Hanwha Impact.

For more information, visit: www.hanwhapowersystems.co.kr
Contact Us
Thank you for your interest in Hanwha.
Please contact us for your inquiries.
Email Us
Information Message
Please enter your email address.
Information Message
Please enter a correct email address.
Success
Keep an eye on your inbox for the latest stories from Hanwha.
Information Message
Your subscription request has already been processed. Thank you.