Hanwha Q CELLS Bolsters Advocacy for
Global Adoption of Renewable Energy at GGGI Energy Forum 2018
Hanwha Q CELLS hosted the Global Green Growth Institute for a discussion on the theme of "Renewable Energy Potential on the Korean Peninsula"
Experts spoke extensively on ongoing progress of global transition towards renewable energy at the forum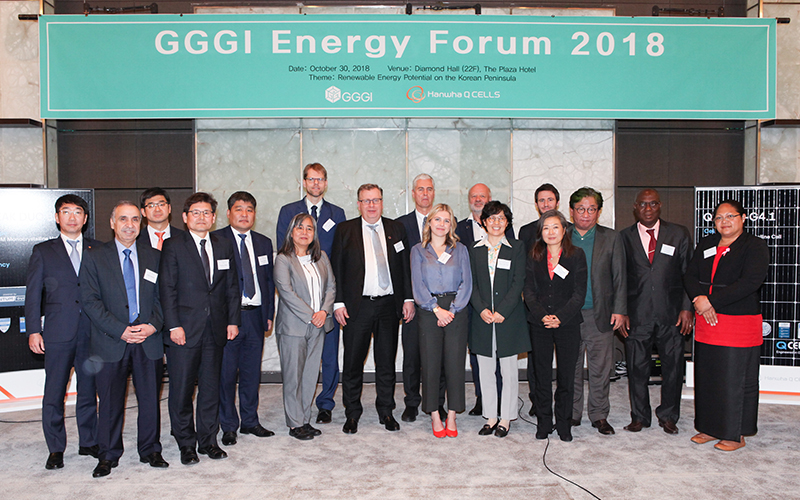 Hanwha Q CELLS Co., Ltd. ("Hanwha Q CELLS") jointly hosted the GGGI Energy Forum 2018 with the Global Green Growth Institute ("GGGI"), on October 30 at the Plaza Hotel in Seoul, which saw more than 80 key energy experts from Korea and around the world in attendance.

The GGGI is an international organization headquartered in Seoul with 28 member countries, including Denmark, Australia, and the United Kingdom. Founded in 2010 to support sustainable development around the world, its activities directly relate to the United Nation's Sustainable Development Goals (SDGs).
Participants of this year's GGGI Energy Forum spoke extensively about ongoing global efforts to adopt more renewable energy sources. They also discussed recent progress of Korea's "Renewable Energy 3020" implementation plan, and the lessons the Korean government can learn from other countries' energy transition experience.

"We should bust the myth that green growth is an expensive option. Solar energy, even with battery storage, is already commercially attractive where diesel energy is the alternative such as in small islands and off the grid," said Dr. Frank Rijsberman, Director-General of the GGGI, during his opening keynote speech at the GGGI Energy Forum. "Green growth is the only viable option for a sustainable future, and it is already commercially attractive in many cases."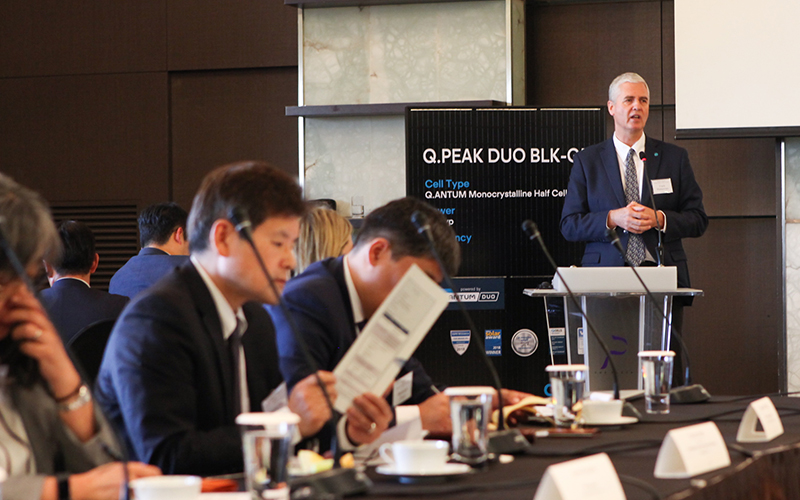 This is the second annual GGGI Energy Forum in Seoul since November of 2017 jointly hosted by Hanwha Q CELLS. It is the ideal forum for experts to gather and discuss international renewable energy policies as well as the state of renewable energy adoption in Korea. The forum is also an opportunity for Hanwha Q CELLS to lead the global conversation on renewable energy and demonstrate its staunch support for the UN's SDGs and the global effort to combat climate change and energy poverty through clean and affordable energy sources.
Hanwha Q CELLS previously hosted the forums with the GGGI in 2016 and 2017 during the World Economic Forum in Davos, Switzerland, in order to lead the discussion on the importance of energy transition with other leading figures and organizations.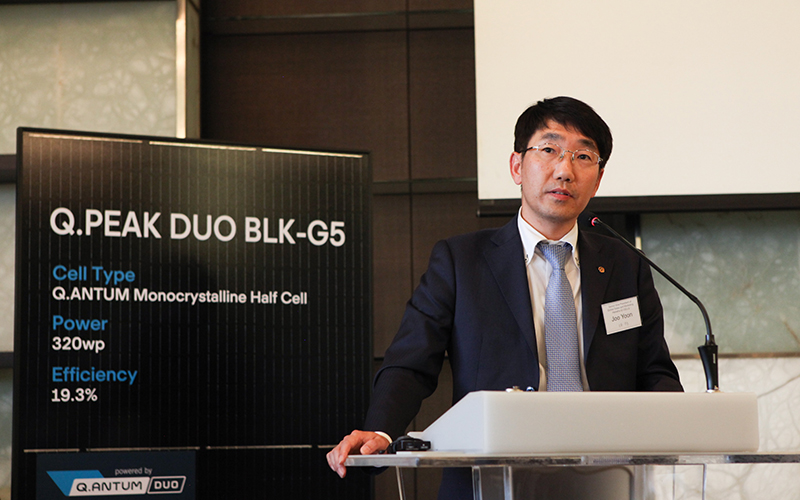 "In today's world, the pollution we make today will certainly harm future generations to come. I want to call this an environmental debt," said Joo Yoon, Senior Vice President of Global Sales Planning and Strategy at Hanwha Q CELLS, at the GGGI Energy Forum's opening. "Hanwha Q CELLS, a world leader in the solar energy will also contribute to energy conversion via solar energy, a clean energy source, and will strive to overcome future challenges ahead."
The global march towards 100% renewable energy independence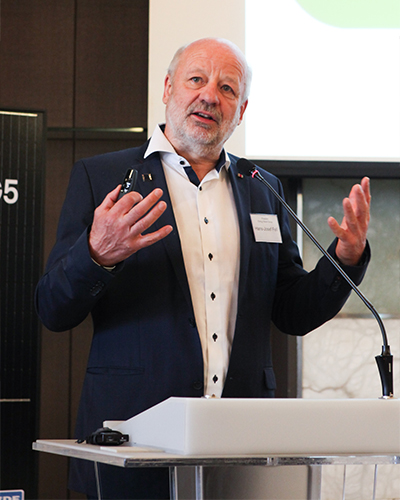 The Energy Forum's first session was led by Hans-Josef Fell, Founder and President of the Energy Watch Group. Speaking passionately at length about the transforming global energy landscape, Mr. Fell stressed how renewable energy can help solve various social issues. In particular, he highlighted that agrophotovoltaics in China's Gobi Desert helped to address food supply problems in the region.
"In addition to many countries, such as Denmark and Sweden, cities such as San Francisco and Copenhagen and corporations like Coca-Cola have also set ambitious goals for 100% renewable energy conversion," said Mr. Fell during his talk. "In Republic of Korea, there should be an institutional strategy and government support on R&D to make '100% renewable energy transition' a reality."
Japan's perspective on driving holistic renewable energy policies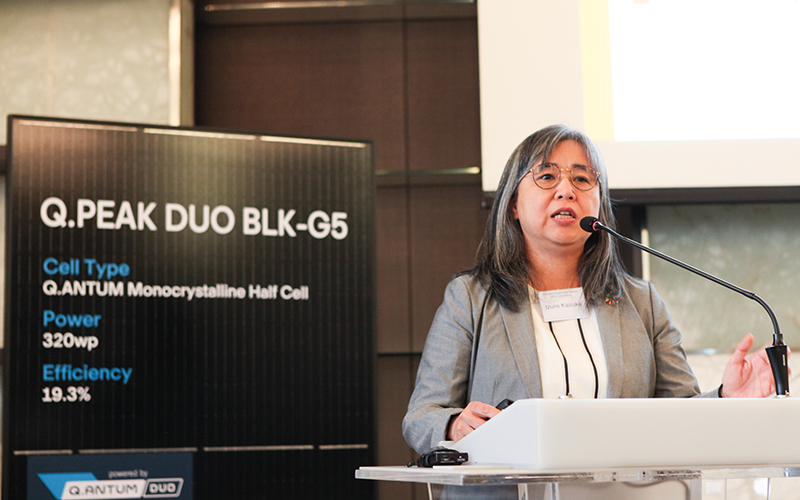 Taking the lead during the Forum's second session, Izumi Kaizuka, Director of Research Division at RTS Corporation, a Japanese solar energy research firm, spoke about the energy transition policies in Japan.
"The amount of renewable energy production in Japan greatly increased after the Great East Japan Earthquake in 2011 that triggered the Fukushima Nuclear Disaster. Japan rapidly increased its share of renewable energy in its mix from only 1% in 2010 to 7% in 2016, as the country abandoned nuclear power," said Ms. Kaizuka. "Japan could only achieve this rapid renewable energy growth because the government set up a long-term specific goal that has been carried out step-by-step."
"It's important for people to be aware of the importance of renewable energy in order to make it the primary energy source of the future," she added. "In Japan, the government, businesses, and the people have all come together to become better informed and are driving the country's conversion towards renewable energy forward."
Preparing for a Korean clean energy future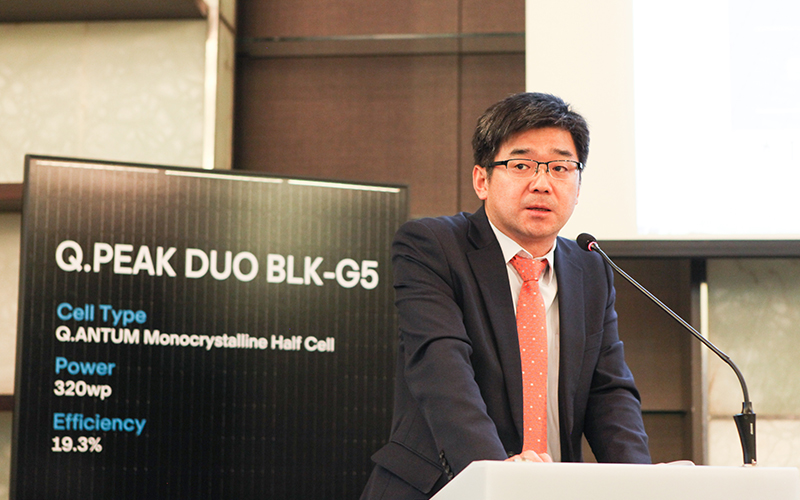 Closing out the session was Kyung-ho Lee, Director of the New and Renewable Energy Policy Division at the Korean Ministry of Trade, Industry, and Energy, who spoke of the energy transition issues Korea faces and steps that the government plans to take in the future. These include the eventual phase-out of nuclear power plants and the reduction of carbon emissions from coal-fired power plants.
"We must focus on creating a sustainable environment for future generations rather than thinking of short-term financial gains and losses," said Mr. Lee. "We will continue our policy of developing a competitive renewable energy industry and work towards becoming a net exporter of energy through ministerial cooperation, increasing the number of joint projects, and obtaining the necessary strategic technologies."
Mr. Lee also announced plans to implement nationwide smart energy management to minimize the demand on existing power plants as well as plans to accelerate Korea's adoption of renewable energy in the Fourth Industrial Revolution, to spur development of new local industries and creation of new jobs.
Global Green Growth Institute (GGGI)
The Global Green Growth Institute (GGGI) is a treaty-based international organization headquartered in Seoul, Republic of Korea. The organization aims to promote green growth, a growth paradigm characterized by a balance of economic growth and environmental sustainability. GGGI provides research and stakeholder engagement for green growth plans, especially in developing countries, aiming to replace the more typical paradigm based on industrial development. Founded to support green economic growth that simultaneously addresses poverty reduction, job creation, social inclusion, and environmental sustainability. GGGI supports stakeholders through the delivery of comprehensive products and services designed to assist in developing, financing, and mainstreaming green growth to support the implementation of national economic development priorities and international commitments.

Hanwha Qcells
Hanwha Qcells (Hanwha Solutions Qcells division) is one of the world's leading clean energy companies, recognized for its established reputation as a manufacturer of high-performance, high-quality solar cells, and modules, a portfolio of intelligent storage systems, and a growing international pipeline of large-scale renewable energy projects. Hanwha Qcells also provides renewable electricity retail services and packages to end customers the world over. The company is headquartered in Seoul, South Korea (Global Executive HQ) and Thalheim, Germany (Technology & Innovation HQ) with its diverse international manufacturing facilities in the U.S., Malaysia, China, and South Korea. Hanwha Qcells strives to offer Completely Clean Energy through the full spectrum of photovoltaic products, storage solutions, renewable electricity contracting, and large-scale solar power plants. Through its growing global business network spanning Europe, North America, Asia, South America, Africa, and the Middle East, Hanwha Qcells provides excellent services and long-term partnerships to its customers in the utility, commercial, governmental, and residential markets.

For more information, visit: www.qcells.com/us/
Contact Us
Thank you for your interest in Hanwha.
Please contact us for your inquiries.
Email Us
Information Message
Please enter your email address.
Information Message
Please enter a correct email address.
Success
Keep an eye on your inbox for the latest stories from Hanwha.
Information Message
Your subscription request has already been processed. Thank you.