Hanwha Q CELLS completes photovoltaic systems for leading German football club RB Leipzig
RB Leipzig and its official partner Hanwha Q CELLS have installed two photovoltaic systems that provide clean electricity to the Red Bull Arena and the Red Bull Academy, both in Leipzig, Germany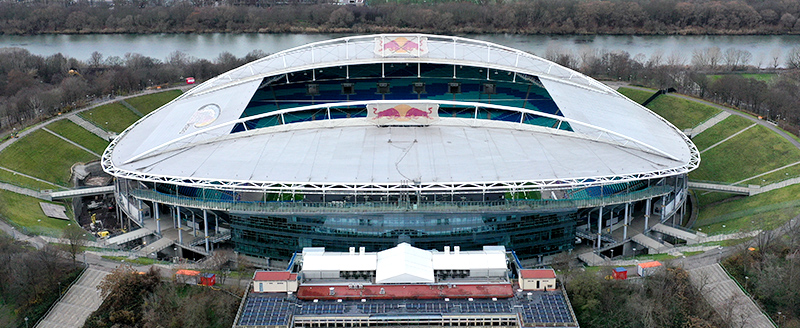 Hanwha Q CELLS, a renowned total energy solution provider in solar, energy storage, downstream project business and energy retail, has recently completed installation of two photovoltaic systems for its official partner RB Leipzig.
Having reached the last 16 of this season's UEFA Champions League, and a serious challenger for this year's Bundesliga title in Germany, RB Leipzig is also shining off the pitch. The football club will feed the sustainable energy generated by its 71.5 kWp Q.FLAT-G5 flat roof solar system atop the Red Bull Arena's administrational section completely into powering the stadium and – like star striker Timo Werner – will use that energy to illuminate the pitch. Thus, the solar system from Hanwha Q CELLS will ensure that the sun continues to shine on the high-octane football action, even if the actual playing field is cast in shadow.
The second solar system will deliver clean electricity to the operation of the modern RBL Football-Academy. The training facility is regarded as one of the most sophisticated in Europe and is used by both the first team and the many youth teams of RB Leipzig.
"We are delighted to have completed the first two projects of this kind with world-leading energy company Hanwha Q CELLS," emphasized Oliver Mintzlaff, CEO of RB Leipzig. "We as a club always strive to shape our partnerships holistically. That's why it was obvious for us to discuss the opportunities of producing and self-consuming solar electricity with our official partner Hanwha Q CELLS. What convinced us in the end was the quality and performance of the complete solutions from Hanwha Q CELLS."
Maengyoon Kim, Head of Sales Europe at Hanwha Q CELLS, added that he was delighted by the successful cooperation of the two partners. "RB Leipzig always aims for the utmost performance and success," Yoon said. "First and foremost, in the UEFA Champions League and the Bundesliga of course, but also when it comes to infrastructure projects. Hanwha Q CELLS is more than happy to support RB Leipzig with just that: peak-performing and tailor-made clean energy solutions, infused with Hanwha Q CELLS' solar DNA."
Hanwha Qcells
Hanwha Qcells (Hanwha Solutions Qcells division) is one of the world's leading clean energy companies, recognized for its established reputation as a manufacturer of high-performance, high-quality solar cells, and modules, a portfolio of intelligent storage systems, and a growing international pipeline of large-scale renewable energy projects. Hanwha Qcells also provides renewable electricity retail services and packages to end customers the world over. The company is headquartered in Seoul, South Korea (Global Executive HQ) and Thalheim, Germany (Technology & Innovation HQ) with its diverse international manufacturing facilities in the U.S., Malaysia, China, and South Korea. Hanwha Qcells strives to offer Completely Clean Energy through the full spectrum of photovoltaic products, storage solutions, renewable electricity contracting, and large-scale solar power plants. Through its growing global business network spanning Europe, North America, Asia, South America, Africa, and the Middle East, Hanwha Qcells provides excellent services and long-term partnerships to its customers in the utility, commercial, governmental, and residential markets.

For more information, visit: www.qcells.com/us/
Safe-Harbor Statement
This press release contains forward-looking statements. These forward-looking statements can be identified by terminology such as "will," "expects," "anticipates," "future," "intends," "plans," "believes," "estimates" and similar statements. Among other things, the quotations from management in this press release and Hanwha Q CELLS' operations and business outlook, contain forward-looking statements. Such statements involve certain risks and uncertainties that could cause actual results to differ materially from those expressed in or suggested by the forward-looking statements. Except as required by law, Hanwha Q CELLS does not undertake any obligation to update or revise any forward-looking statements, whether as a result of new information, future events or otherwise.

Contact Us
Thank you for your interest in Hanwha.
Please contact us for your inquiries.
Email Us
Information Message
Please enter your email address.
Information Message
Please enter a correct email address.
Success
Keep an eye on your inbox for the latest stories from Hanwha.
Information Message
Your subscription request has already been processed. Thank you.