Hanwha Q CELLS Launches New Q.PEAK Solar Module at World's Largest Solar Exhibition
Hanwha Q CELLS displays major presence at Shanghai New Energy Conference 2018, with the largest booth ever constructed by the company at this conference's history
Company hopes to expand number of Chinese partner companies through its Q.PARTNERS program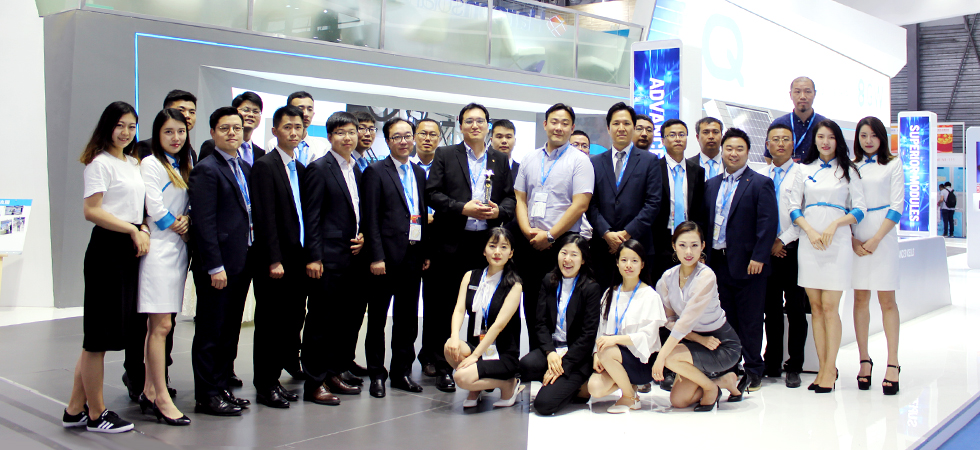 Hanwha Q CELLS demonstrated its commitment to the Chinese solar market at the 12th annual Shanghai New Energy Conference (SNEC), held in the Shanghai New International Expo Centre, from May 28 to May 30. SNEC is regarded as one of the world's Big Four solar exhibitions with around 1,800 companies and 220,000 visitors last year.
This year, Hanwha Q CELLS held the largest booth it has ever constructed for SNEC, to launch its Q.PEAK-G5 solar module and also to introduce its new partners program, Q.PARTNERS. Over the three days of conference, potential customers and partners gathered to its booth to see Hanwha Q CELLS' latest product offering.
An Ideal Solution for Real, Severe Conditions
The Q.PEAK-G5 solar module is the latest Hanwha Q CELLS product available on the Chinese market. Comprising monocrystalline solar cells that use the company's proprietary Q.ANTUM cell technology, the module is an ideal solution for residential buildings. The 60-cell Q.PEAK-G5 is capable of producing up to 310Wp while the 72-cell Q.PEAK L-G5 can produce up to 370Wp.
The module also incorporates Anti-PID technology, Hot-Spot Protect, Traceable Quality Tra.Q™, and Anti-LID technology to maximize power generation. The world-record cell design was developed to achieve the best performance under real conditions – even with low radiation intensity and on clear, hot summer days.
Solidifying Market Leadership in China
Hanwha Q CELLS also announced its intention to expand its network of Chinese partner companies through its Q.PARTNERS program. First launched in China in 2017, Q.PARTNERS provides cooperative services such as product training and marketing materials provision for local Q CELLS partner companies. Hanwha Q CELLS currently has over 600 partner companies in Europe and over 800 partner companies in Japan.
In addition to the exhibition booth, Hanwha Q CELLS also attended the SNEC Conference, which was an opportunity for Hanwha Q CELLS to promote its advanced technology and solidify its position as the world's leading solar energy brand. Hanwha Q CELLS (Qidong) Co., Ltd. Module Development Team Leader, Liu Zhenyang, delivered a lecture on Q.ANTUM technology and solar module testing at the Kerry Hotel Pudong on May 29.
"China is one of our main production bases as well as the world's largest solar market," says Hanwha Q CELLS CEO Sungwoo Nam, adding: "We plan to use our advanced technology and production capabilities to firmly position ourselves in the Chinese market and lead the rapidly growing global solar market."
Hanwha Qcells
Hanwha Qcells (Hanwha Solutions Qcells division) is one of the world's leading clean energy companies, recognized for its established reputation as a manufacturer of high-performance, high-quality solar cells, and modules, a portfolio of intelligent storage systems, and a growing international pipeline of large-scale renewable energy projects. Hanwha Qcells also provides renewable electricity retail services and packages to end customers the world over. The company is headquartered in Seoul, South Korea (Global Executive HQ) and Thalheim, Germany (Technology & Innovation HQ) with its diverse international manufacturing facilities in the U.S., Malaysia, China, and South Korea. Hanwha Qcells strives to offer Completely Clean Energy through the full spectrum of photovoltaic products, storage solutions, renewable electricity contracting, and large-scale solar power plants. Through its growing global business network spanning Europe, North America, Asia, South America, Africa, and the Middle East, Hanwha Qcells provides excellent services and long-term partnerships to its customers in the utility, commercial, governmental, and residential markets.

For more information, visit: www.qcells.com/us/
Safe-Harbor Statement
This press release contains forward-looking statements. These statements constitute "forward-looking" statements within the meaning of Section 27A of the Securities Act of 1933, as amended, and Section 21E of the Securities Exchange Act of 1934, as amended, and as defined in the U.S. Private Securities Litigation Reform Act of 1995. These forward-looking statements can be identified by terminology such as "will," "expects," "anticipates," "future," "intends," "plans," "believes," "estimates" and similar statements. Among other things, the quotations from management in this press release and the Hanwha Q CELLS' operations and business outlook, contain forward-looking statements. Such statements involve certain risks and uncertainties that could cause actual results to differ materially from those expressed in or suggested by the forward-looking statements. Further information regarding these and other risks is included in Hanwha Q CELLS filings with the U.S. Securities and Exchange Commission, including its annual report on Form 20-F. Except as required by law, Hanwha Q CELLS does not undertake any obligation to update or revise any forward-looking statements, whether as a result of new information, future events or otherwise.

Contact Us
Thank you for your interest in Hanwha.
Please contact us for your inquiries.
Email Us
Information Message
Please enter your email address.
Information Message
Please enter a correct email address.
Success
Keep an eye on your inbox for the latest stories from Hanwha.
Information Message
Your subscription request has already been processed. Thank you.