Hanwha Q CELLS Opens New Frontiers in Indian Solar Market
Hanwha Q CELLS agrees to 148.8 MW solar module supply as well as Joint Venture participation in two solar energy projects backed by 25-year PPA, the company's first equity investment in solar projects in India.
Hanwha Q CELLS also agreed to supply 70 MW to Ramnad Solar Power, a subsidiary of Adani Group of India.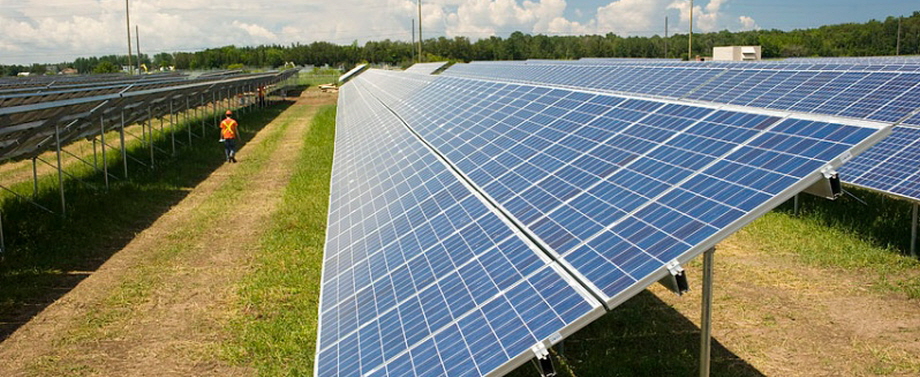 Hanwha Q CELLS Co. Ltd ("Hanwha Q CELLS") (NASDAQ: HQCL) today announced the signing of a solar module supply agreement and Joint Venture agreement with Renew Power Ventures Pvt. Ltd. ("ReNew Power"), one of India's largest developers of clean energy, for two solar projects totaling 148.8 MW.
Hanwha Q CELLS will provide 148.8 MW of its 310/315 Wp (HSL72S) solar modules to ReNew Power, with deliveries beginning in August of 2015 and scheduled for completion during 2016. The Company supplies its "German Engineered" modules from a diversified base of state-of-the art automated production facilities located in China, Malaysia and South Korea.
With potential for up to 49% equity ownership in the two solar energy projects, Hanwha Q CELLS will supply 148.8 MW of its solar modules to ReNew Power, and it will develop, build, and operate the projects. The projects are located in the Medak and Mehbub Nagar districts in the State of Telangana, with commissioning anticipated in June 2016. Power generated from these projects will be sold under a Purchase Power Agreement (PPA) with the Southern Power Distribution Co. of Telangana State Ltd. (TSSPDCL).
Mr. Seong Woo Nam, CEO of Hanwha Q CELLS, said, "We are pleased to partner with ReNew Power, one of the largest Independent Power Producers (IPP) in India. Our modules possess the quality and high-efficiency characteristics that solar developers value when building solar projects." Mr. Nam also added, "We view India as one of the most promising emerging solar markets in the world and we are aggressively pursuing business as both a preferred module supplier and as a developer of solar energy projects."
Meanwhile, Hanwha Q CELLS also recently signed a 70 megawatts (MW) supply contract with Ramnad Solar Power, a subsidiary of Adani Group of India. The module will be installed in Tamil Nadu province in southern India. Construction will commence in October 2015 and is scheduled for completion by February 2016.
India is one of the most rapidly growing solar markets in the world with strong government's policy support. In 2014, Prime Minister Modi announced its plan to reach 100 GW installed PV power generation by 2020.
The module supply contracts are opportunities to reaffirm the advanced technology of Hanwha Q CELLS in the manufacturing of quality products for the Indian market, optimized for the nation's hot, humid climate and dusty environment.
Hanwha Q CELLS plans to open new frontiers in the Indian market through a tailored localization strategy by deploying personnel from headquarters to local offices in large metropolises such as Mumbai and New Delhi to medium sized cities including Noida, Gurgaon, Hyderabad and Pune, to allow for quick, unparalleled decision-making, differentiating itself from its competitors. In doing so, the company also aims to reinforce sales, develop systemic after-sales services and build trust with local sales managers.
Hanwha Qcells
Hanwha Qcells (Hanwha Solutions Qcells division) is one of the world's leading clean energy companies, recognized for its established reputation as a manufacturer of high-performance, high-quality solar cells, and modules, a portfolio of intelligent storage systems, and a growing international pipeline of large-scale renewable energy projects. Hanwha Qcells also provides renewable electricity retail services and packages to end customers the world over. The company is headquartered in Seoul, South Korea (Global Executive HQ) and Thalheim, Germany (Technology & Innovation HQ) with its diverse international manufacturing facilities in the U.S., Malaysia, China, and South Korea. Hanwha Qcells strives to offer Completely Clean Energy through the full spectrum of photovoltaic products, storage solutions, renewable electricity contracting, and large-scale solar power plants. Through its growing global business network spanning Europe, North America, Asia, South America, Africa, and the Middle East, Hanwha Qcells provides excellent services and long-term partnerships to its customers in the utility, commercial, governmental, and residential markets.

For more information, visit: www.qcells.com/us/
Hanwha Group
Founded in 1952, Hanwha has grown quickly by anticipating and responding to changing business environments with a balanced business portfolio that includes energy & materials, aerospace, finance and retail & services. Our expertise and synergy in key areas have catapulted us into the seventh-largest business in South Korea and a Fortune Global 500 company. Hanwha continues to grow rapidly as we strive to pursue global leadership in all of our businesses. We are building a robust foundation for sustainable development and a brighter future for everyone.

For more information, visit: www.hanwha.com
Safe-Harbor Statement
This press release contains forward-looking statements. These statements constitute "forward-looking" statements within the meaning of Section 27A of the Securities Act of 1933, as amended, and Section 21E of the Securities Exchange Act of 1934, as amended, and as defined in the U.S. Private Securities Litigation Reform Act of 1995. These forward-looking statements can be identified by terminology such as "will," "expects," "anticipates," "future," "intends," "plans," "believes," "estimates" and similar statements. Among other things, the quotations from management in this press release and the Company's operations and business outlook, contain forward-looking statements. Such statements involve certain risks and uncertainties that could cause actual results to differ materially from those in the forward-looking statements. Further information regarding these and other risks is included in Hanwha SolarOne's filings with the U.S. Securities and Exchange Commission, including its annual report on Form 20-F. Except as required by law, the Company does not undertake any obligation to update any forward-looking statements, whether as a result of new information, future events or otherwise.

ReNew Power Ventures Pvt. Ltd.
ReNew Power Ventures Pvt. Ltd, an Independent Power Producer (IPP) company, is committed to leading a change in the country's current energy portfolio by delivering cleaner and smarter energy choices and thereby reducing India's carbon footprint.  ReNew Power's mission is to play a pivotal role in meeting India's growing energy needs in an efficient, sustainable and socially responsible manner.  The company creates value through reliable and efficient generation of renewable energy through best in class execution of solar and wind projects. ReNew Power generates close to 600 MW of installed and operational clean energy capacity across the states of Maharashtra, Rajasthan, Karnataka, Gujarat, Madhya Pradesh and Haryana.

For more information, visit: www.renewpower.in

Adani Group
Adani Group is a leading conglomerate which is mainly focusing on Resources (#1 coal importer in India), Logistics (#1 private port in India), Energy (#1 private thermal power producer in India), and Agriculture (#1 edible oil brand in India) sectors.

For more information, visit: adani.com

Contact Us
Thank you for your interest in Hanwha.
Please contact us for your inquiries.
Email Us
Information Message
Please enter your email address.
Information Message
Please enter a correct email address.
Success
Keep an eye on your inbox for the latest stories from Hanwha.
Information Message
Your subscription request has already been processed. Thank you.