Hanwha Q CELLS Participates in Berlin's "Solarcity Masterplan" to Expand the Installation of Solar Modules
Berlin announced the "Solarcity Masterplan" for "2050 Climate Neutrality"
The plan aims to see 25% of the city's electricity supplied by 4.4GW of solar PV on urban commercial and residential roofs
Hanwha Q CELLS has partnered with local solar equipment enterprises and organizations
as a part of the urban solar rooftop project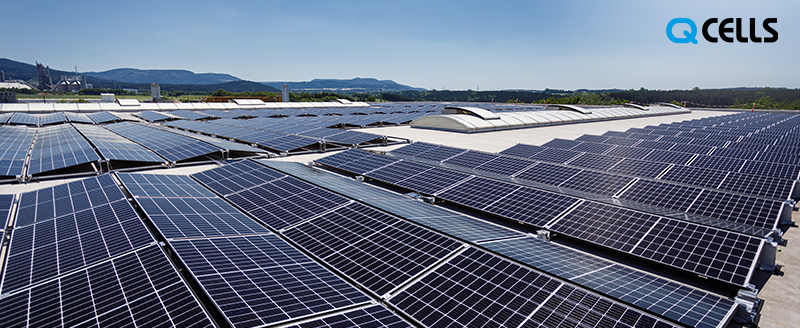 [September 30, 2021] Hanwha Q CELLS has signed a partnership agreement with local businesses and organizations to take part in Berlin's "Solarcity Masterplan", an initiative created to help the city achieve climate-neutrality. Hanwha Q CELLS plans to equip the rooftops of commercial and residential facilities in Berlin with solar PV modules to provide clean and eco-friendly electricity to users. This will enable commercial and industrial enterprises, as well as private homeowners, in Berlin to effectively reduce their own electricity costs and CO₂ emissions, as well as utilize their otherwise unused roofs for solar electricity production contributing to the green economy.
The city of Berlin announced its "Solarcity Masterplan" initiative early last year as a means of achieving its mission to become climate-neutral by 2050. A goal of fulfilling 25% of the city's energy demand with solar has been set and paired with an accompanying plan to meet it by outfitting the rooftops of commercial and residential buildings with a total of 4.4GW of solar PV.
The renewable energy market continues to grow within the European Union (EU) including in Germany. According to
a report published in April 2021 by the International Renewable Energy Agency (IRENA), the amount of electricity generated from renewable sources in the region was 609GWh in 2020, a 6% increase year-over-year. This equates to about 22% of global renewable energy generation—the second-highest volume following Asia at 1,286GWh or 46%.
Additionally, in July 2021, the EU announced its "Fit for 55" plan with the goal of cutting its average carbon emissions by 55% compared to 1990 and increasing the share of new renewable energy sources by 2030.
Hanwha Q CELLS has established itself as a brand beloved by German consumers by proactively developing business solutions to supply power to customers directly with its residential, commercial, and large-scale solar energy service models. For two consecutive years, Hanwha Q CELLS has been awarded 1st place in the category of solar technology in the n-tv and German Institute for Service Quality's Life & Living Awards—a distinction in which tens of thousands of German consumers participate in evaluating. Hanwha Q CELLS was also awarded the "Highest Reputation" seal by Focus Money, one of the most renowned economic magazines in Germany, for the second year in a row as a result of its excellent reputation among consumers. Consistently proving its outstanding brand reputation, Hanwha Q CELLS also garnered the "Top Brand PV" seal from EuPD Research for eight years in a row in Europe.
An official from Hanwha Q CELLS stated, "We are recognized for our high-quality products and technology in Europe—a region known for paving the way for renewable energy. We will do our best to set a good precedent regarding increasing the share of renewable energy in multiple countries and major cities around the world."
Hanwha Q CELLS
Hanwha Q CELLS is one of the world's largest and most recognized photovoltaic manufacturers for its high-performance, high-quality solar cells and modules. It is headquartered in Seoul, South Korea (Global Executive HQ) and Thalheim, Germany (Technology & Innovation HQ) with its diverse international manufacturing facilities in the U.S., Malaysia, China, and South Korea. Hanwha Q CELLS offers the full spectrum of photovoltaic products, applications and solutions, from cells and modules to kits to systems to large-scale solar power plants. Through its growing global business network spanning Europe, North America, Asia, South America, Africa and the Middle East, Hanwha Q CELLS provides excellent services and long-term partnerships to its customers in the utility, commercial, governmental and residential markets.

For more information, visit: www.q-cells.com

Hanwha Solutions
Hanwha Solutions (KRX: 009830) was formed in 2020 by the merger of Hanwha Chemical, Hanwha Q CELLS and Hanwha Advanced Materials. The company aims to create new synergies and sustainable growth by resolving environmental and climate issues faced by customers and society. It is headquartered in Seoul, South Korea, and has more than 70 locations worldwide.

Hanwha Solutions' chemical business was the first in Korea to produce polyvinyl chloride (PVC); it also produces polyolefin (PO), toluene diisocyanate (TDI), and chlor-alkali (CA). The company's Q CELLS business offers a full range of solar energy solutions from residential solar modules and energy systems to large-scale solar power plants. Its advanced materials business produces lightweight composite materials that are helping to usher in the future of mobility.

For more information, visit: hanwhasolutions.com/en
Contact Us
Thank you for your interest in Hanwha.
Please contact us for your inquiries.
Email Us
Information Message
Please enter your email address.
Information Message
Please enter a correct email address.
Information Message
Thank you for your newsletter subscription.
Your email account has been successfully registered.