Hanwha Q CELLS Reports Third Quarter 2015 Results
Announced 3rd quarter net revenues of $427.2 million, operating profit of $40.3 million, net income of $52.4 million
Achieved largest quarterly profit in company history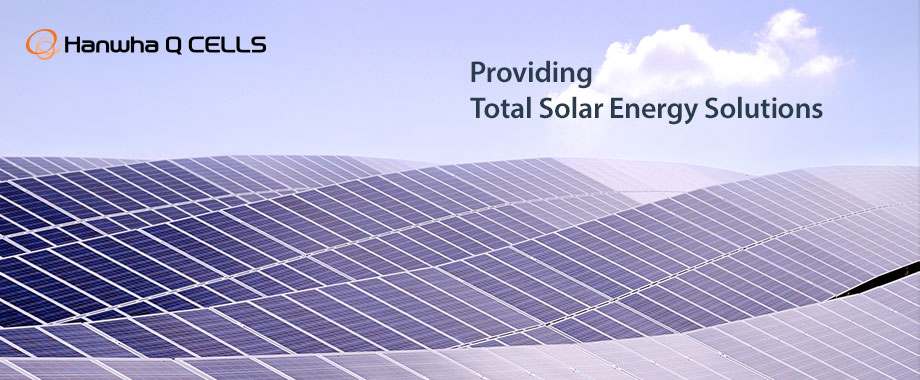 [19 November, 2015] Hanwha Q CELLS Co., Ltd. ("Hanwha Q CELLS" or the "Company") (Nasdaq: HQCL), one of the world's largest photovoltaic manufacturer of high-quality, high-efficiency solar modules, released its unaudited financial results for the three months ended September 30, 2015, on November 19th, reporting third-quarter net revenues of $427.2 million, operating profit of $40.3 million, and net income of $52.4 million.
Hanwha Q CELLS' net revenues for the third quarter of 2015 was a record-high $427.2 million, a 26.4% increase over the second quarter; operating profit and net income also rose sharply over the previous quarter, increasing 9.4% and 12.3%, respectively.
This upward trend reflects the successful reorganization of the Company following the merger of Hanwha Q CELLS and Hanwha SolarOne into "Hanwha Q CELLS" in February of 2015, the latest numbers buoyed by the stabilization of line automation in manufacturing subsidiaries in Korea, Malaysia and China, sustained process enhancement efforts, and successful cost reduction for high-efficiency cell manufacturing.
Hanwha Q CELLS continues to maintain a strong presence in the U.S., Japanese and other advanced markets while aggressively expanding into emerging markets such as India, achieving balanced growth throughout the world by boosting its global capabilities and business networks.
Mr. Seong Woo Nam, Chairman and CEO of Hanwha Q CELLS commented, "This quarter was one of the most significant milestones for the Company highlighted by a return to net profitability, accelerated shipment growth, all-in internal processing cost reduction to below US$0.40 per watt, expansion in gross margins to well over 20%, a downstream pipeline in excess of 1.2 GW, and a one-time $51.2 million arbitration award relating to inventory valuation during the Q.cells acquisition in 2012. We are now more fully benefiting from the merger between Hanwha SolarOne and Hanwha Q CELLS in February of this year, including the elimination of redundant costs as reflected in the improvement in our operating expenses as a percentage of revenues. The final quarter of 2015 looks equally bright with shipments expected to rise by 50% or more quarter-to-quarter. We expect to have a more meaningful contribution in the fourth quarter from sales of downstream projects up to 150 MW, bolstering both revenues and profits. And, we have begun shipments to NextEra Energy Resources as we begin to fulfill that 1.5 GW contract in the higher-priced US market."
Mr. Nam continued, "Our aggressive capacity expansion plans in order to meet anticipated demand in 2016 and beyond are progressing on schedule. We expect to close this year with an estimated 4.3 GW of both cell and module capacity and 5.2 GW of both cell and module capacity by mid 2016, with approximately half located in Korea and Malaysia where we can ship modules duty free into the US."
Chairman Nam concluded by noting, "Our outlook for 2016 is also robust. We will enter the year with the strongest foundation in the Company's history with a competitive position rivaling, or in some cases exceeding, those of other Tier-1 solar companies in a number of categories including manufacturing scale, processing costs, technology and profitability. Our near-term downstream focus on build-to-sell will add to both revenues and profitability and enable the Company to more prudently manage its liquidity and financial leverage."
All slide presentation with details of the results is available on the Company's website.
Hanwha Q CELLS
In February 2015 Hanwha Q CELLS Co., Ltd. (NASDAQ:HQCL) emerged as a new global solar power leader from combining two of the world´s most recognized photovoltaic manufacturers, Hanwha SolarOne and Hanwha Q CELLS. The combined company is listed on NASDAQ under the trading symbol of HQCL.
It is headquartered in Seoul, South Korea, (Global Executive Headquarters) and Thalheim, Germany (Technology & Innovation Headquarters) and is the world's largest solar cell manufacturer as well as one of the largest photovoltaic module manufacturers. Due to its diverse international footprint including facilities in China, Malaysia, and South Korea, Hanwha Q CELLS is in a unique position to flexibly address all global markets, even ones with import tariffs, such as the United States and the European Union. Based on its well respected "Engineered in Germany" technology, innovation and quality,
Hanwha Q CELLS offers the full spectrum of photovoltaic products, applications and solutions, from modules to kits to systems to large scale solar power plants. Through its growing global business network spanning Europe, North America, Asia, South America, Africa and the Middle East, the company provides excellent services and long-term partnership to its customers in the utility, commercial, government and residential markets. Hanwha Q CELLS is a flagship company of Hanwha Group,
a FORTUNE Global 500 firm and a Top-Ten business enterprise in South Korea.

For more information, visit: www.hanwha-qcells.com

Hanwha Group
Hanwha Group, founded in 1952, is one of the Top-Ten business enterprises in South Korea and a "FORTUNE Global 500" company. Hanwha Group has more than 85 domestic affiliates and over 380 global networks in three major sectors: manufacturing and construction, finance, and services and leisure. With more than 65 years track record of industrial leadership, Hanwha's manufacturing and construction businesses encompass a broad range of fields from chemicals & materials, aerospace & mechatronics, total solar energy solutions, and global construction. The finance network, covering insurance, asset management and securities, is the second largest non-bank financial group in South Korea. The services and leisure sector offers premium lifestyle services with retail and resort businesses.

For more information, visit: www.hanwha.com
Safe-Harbor Statement
This press release contains forward-looking statements. These statements constitute "forward-looking" statements within the meaning of Section 27A of the Securities Act of 1933, as amended, and Section 21E of the Securities Exchange Act of 1934, as amended, and as defined in the U.S. Private Securities Litigation Reform Act of 1995. These forward-looking statements can be identified by terminology such as "will," "expects," "anticipates," "future," "intends, "plans," "believes," "estimates" and similar statements. Among other things, the quotations from management in this press release and the Company's operations and business outlook, contain forward-looking statements. These forward-looking statements also include 4Q15, 2H15, and full-year 2015 estimates for PV product shipments, production capacities and other results of operations. Forward-looking statements involve inherent risks and uncertainties and actual results may differ materially from such estimates depending on future events and other changes in business climate and market conditions. Further information regarding these and other risks is included in the Company's filings with the U.S. Securities and Exchange Commission, including its annual report on Form 20-F. Except as required by law, the Company does not undertake any obligation to update any forward-looking statements, whether as a result of new information, future events or otherwise.

Contact Us
Thank you for your interest in Hanwha.
Please contact us for your inquiries.
Email Us
Information Message
Please enter your email address.
Information Message
Please enter a correct email address.
Information Message
Thank you for your newsletter subscription.
Your email account has been successfully registered.