Hanwha Q CELLS secures EuPD Research 'Top Brand PV' seal accolade for record seventh consecutive year
In securing this award, Hanwha Q CELLS becomes one of only three module manufacturers to receive the EuPD seal for seven years running in Europe. Hanwha Q CELLS has also secured the same 'Top Brand PV' seal in Australia for the fifth year in succession; a testament to the brand's consistency and reliability across 20 years in solar industry.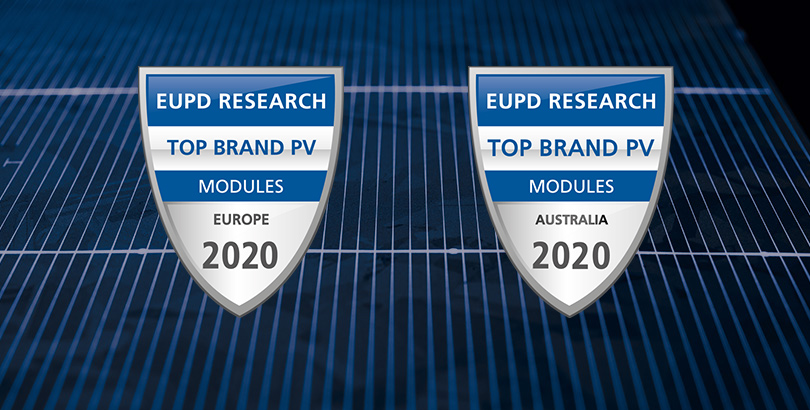 Hanwha Q CELLS, a renowned total energy solution provider in solar, energy storage, downstream project business and energy retail, has become one of only three solar brands to be awarded the EuPD Research 'Top Brand PV' seal for a record seven consecutive years in Europe. Hanwha Q CELLS has also been recognized as a leading solar brand in Australia for the fifth year in a row.
The 'Top Brand PV' seal is awarded by internationally renowned research institute EuPD Research to companies that receive excellent feedback and ratings in its Global PV InstallerMonitor survey, which compiles the opinions of participating solar installers located across a number of leading solar markets.
In securing the 'Top Brand PV 2020' seal for modules, Hanwha Q CELLS was once again ranked highly for its commitment to product quality and service, built upon a solid brand recognition that has come to stand for consistency and reliability across 20 years in the solar industry.
A new decade for raising the bar even higher
The Hanwha Q CELLS brand is now thriving into its third decade, and begins the 2020s as it ended the 2010s – intent on steering solar energy towards even wider mainstream acceptance and importance across the globe. To achieve this, accolades such as the EuPD Research seal are a vital component in ensuring and maintaining high standards, transparency and trust within the industry.
The EuPD Research Global PV InstallerMonitor surveys more than 100 installers in each nation to impartially gauge which solar companies – module, inverter, wholesalers and storage – regularly surpass expectations in terms of service and product performance. Such a process helps to drive standards higher each year, engendering greater conviction in solar energy's ability to provide higher return of investment with enhanced quality and reliable products.
For Hanwha Q CELLS, pursuing and securing excellence in module performance and brand recognition will continue to play a vital role in the company's strategy moving forward. Since 2018, Hanwha Q CELLS has also pivoted towards becoming a total energy solution provider, and offers both a flexible storage solution – in the form of its Q.HOME+ ESS AC-G2 AC-coupled battery – and also the Q.HOME+ ESS HYB-G2, which is a modular system that can be scaled to meet the specific storage needs of the customer. These products – available in a number of European markets – are complemented in Germany by Q.ENERGY, which offers customers 100 % green electricity, regardless of whether they have their own solar system installed or not. In Australia too, Hanwha Q CELLS has boosted its ESS business with the launch of its Q.HOME package as the company widens its portfolio of fully integrated energy solutions that enable homeowners and small businesses to take complete control of their energy destiny.
Mr. Hee Cheul (Charles) Kim, CEO of Hanwha Q CELLS, said: "Hanwha Q CELLS is proud to have received the 'Top Brand PV' seal for seven consecutive years and we will continue this legacy of reliability, quality and trust into the next decade. The 2020s will see a massive evolution in the way the world generates, consumes and shares energy, and Hanwha Q CELLS hopes to play a major role in this transition as we move towards becoming a total renewable energy solutions provider."
"The winning of this award for module brand quality is nevertheless a reminder of the excellent standards that Hanwha Q CELLS sets, and upholds, in the field of solar module technology. As the company evolves, expect to see even greater innovation and quality emerging from our world-class solar cell and module R&D facilities over the coming months and years."
Hanwha Qcells
Hanwha Qcells (Hanwha Solutions Qcells division) is one of the world's leading clean energy companies, recognized for its established reputation as a manufacturer of high-performance, high-quality solar cells, and modules, a portfolio of intelligent storage systems, and a growing international pipeline of large-scale renewable energy projects. Hanwha Qcells also provides renewable electricity retail services and packages to end customers the world over. The company is headquartered in Seoul, South Korea (Global Executive HQ) and Thalheim, Germany (Technology & Innovation HQ) with its diverse international manufacturing facilities in the U.S., Malaysia, China, and South Korea. Hanwha Qcells strives to offer Completely Clean Energy through the full spectrum of photovoltaic products, storage solutions, renewable electricity contracting, and large-scale solar power plants. Through its growing global business network spanning Europe, North America, Asia, South America, Africa, and the Middle East, Hanwha Qcells provides excellent services and long-term partnerships to its customers in the utility, commercial, governmental, and residential markets.

For more information, visit: www.qcells.com/us/
Safe-Harbor Statement
This press release contains forward-looking statements. These forward-looking statements can be identified by terminology such as "will," "expects," "anticipates," "future," "intends," "plans," "believes," "estimates" and similar statements. Among other things, the quotations from management in this press release and Hanwha Q CELLS' operations and business outlook, contain forward-looking statements. Such statements involve certain risks and uncertainties that could cause actual results to differ materially from those expressed in or suggested by the forward-looking statements. Except as required by law, Hanwha Q CELLS does not undertake any obligation to update or revise any forward-looking statements, whether as a result of new information, future events or otherwise.

Contact Us
Thank you for your interest in Hanwha.
Please contact us for your inquiries.
Email Us
Information Message
Please enter your email address.
Information Message
Please enter a correct email address.
Success
Keep an eye on your inbox for the latest stories from Hanwha.
Information Message
Your subscription request has already been processed. Thank you.