Hanwha Q CELLS Showcases End-to-End
Solar Solutions at Intersolar Europe
Innovative solar energy solutions, including Q.FLAT-G5 and Q.MOUNT, demonstrate
Hanwha Q CELLS' commitment to supporting the entire solar energy value chain
Q.PEAK DUO-G5 half-cell module shortlisted for the Intersolar AWARD 2018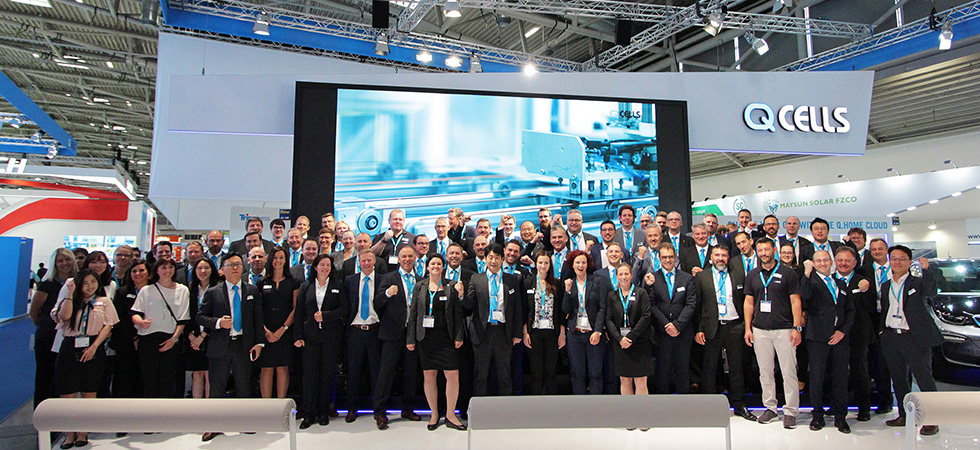 Hanwha Q CELLS Co., Ltd.(NASDAQ: HQCL), the world's leading solar cell and module manufacturer, presented a broad range of solar energy solutions at the recent Intersolar Europe exhibition in Munich, Germany. With the rapidly growing European solar energy market forecasted to grow 35% year-on-year in 2018 (according to GTM research), Hanwha Q CELLS is poised to meet the continent's needs with its catalog of solar energy products for the residential, and commercial and industrial (C&I) segments.
Ideal rooftop solar energy solutions

The wide variety of products displayed at the exhibition exemplify how Hanwha Q CELLS is applying its expertise and exacting standards across all areas of the solar energy value chain.
The products showcased at Hanwha Q CELLS' booths at Intersolar Europe included the Q.PEAK DUO-G5 and Q.PEAK DUO BLK-G5 high-performance solar modules. Both monocrystalline solar modules, which are ideal for rooftop mounting, feature 120 half-cut solar cells and Q.ANTUM DUO technology. They also incorporate six bus bars and round wires to deliver superior energy yields. The Q.PEAK DUO BLK-G5 is unrivalled in its aesthetics, making it ideal for installation on residential rooftops.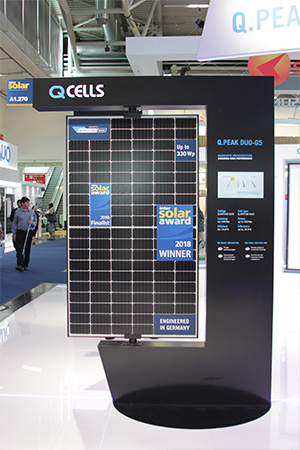 Hanwha Q CELLS received the Intersolar AWARD 2018 in the Photovoltaics category for the Q.PEAK DUO-G5 solar module. It was one of ten modules, shortlisted out of 53 entries, which were evaluated by an independent jury.
Also on display at Intersolar Europe was the Q.FLAT-G5, a solar module mounting system designed for flat rooftops, such as the ones commonly seen on C&I structures across Europe. Hanwha Q CELLS also had the Q.MOUNT on show, a universal mounting system for sloping rooftops to facilitate quick and easy solar module installation.
Providing flexibility and control

Aside from its diverse range of solar modules, Hanwha Q CELLS also presented customers with an array of energy storage systems that allow users to take full advantage of the electricity produced by their solar modules.
For residential solar solutions, customers can choose among three sizes of the all-in-one Q.HOME+ ESS-G1 storage solution. For customers who require more control and flexibility in managing their solar energy consumption, the Q.HOME+ ESS HYB-G2 is a modular storage solution that can be scaled in five different sizes so that system owners can expand their storage capacities to suit their specific needs.
Visitors to Hanwha Q CELLS' booths at Intersolar Europe also got a glimpse of the company's upcoming Q.HOME CLOUD platform, a smart software solution designed to give homeowners complete autonomy of their home solar energy systems.
Hanwha Q CELLS also promoted its Q.PARTNER Program while at Intersolar Europe. This partnership program provides solar module retailers and installers the opportunity to work closely with Hanwha Q CELLS to further their exposure and success in their home markets.
"Today, we see a great appetite for solar energy solutions in Europe, particularly in the residential and C&I space in Germany and Benelux," says Hanwha Q CELLS EU Sales Head Maengyoon Kim. "Hanwha Q CELLS' broad portfolio of industry-leading and market-ready products at Intersolar Europe demonstrates that we are ready to immediately meet Europe's solar energy needs."
Hanwha Qcells
Hanwha Qcells (Hanwha Solutions Qcells division) is one of the world's leading clean energy companies, recognized for its established reputation as a manufacturer of high-performance, high-quality solar cells, and modules, a portfolio of intelligent storage systems, and a growing international pipeline of large-scale renewable energy projects. Hanwha Qcells also provides renewable electricity retail services and packages to end customers the world over. The company is headquartered in Seoul, South Korea (Global Executive HQ) and Thalheim, Germany (Technology & Innovation HQ) with its diverse international manufacturing facilities in the U.S., Malaysia, China, and South Korea. Hanwha Qcells strives to offer Completely Clean Energy through the full spectrum of photovoltaic products, storage solutions, renewable electricity contracting, and large-scale solar power plants. Through its growing global business network spanning Europe, North America, Asia, South America, Africa, and the Middle East, Hanwha Qcells provides excellent services and long-term partnerships to its customers in the utility, commercial, governmental, and residential markets.

For more information, visit: www.qcells.com/us/
Safe-Harbor Statement
This press release contains forward-looking statements. These statements constitute "forward-looking" statements within the meaning of Section 27A of the Securities Act of 1933, as amended, and Section 21E of the Securities Exchange Act of 1934, as amended, and as defined in the U.S. Private Securities Litigation Reform Act of 1995. These forward-looking statements can be identified by terminology such as "will," "expects," "anticipates," "future," "intends," "plans," "believes," "estimates" and similar statements. Among other things, the quotations from management in this press release and the Hanwha Q CELLS' operations and business outlook, contain forward-looking statements. Such statements involve certain risks and uncertainties that could cause actual results to differ materially from those expressed in or suggested by the forward-looking statements. Further information regarding these and other risks is included in Hanwha Q CELLS filings with the U.S. Securities and Exchange Commission, including its annual report on Form 20-F. Except as required by law, Hanwha Q CELLS does not undertake any obligation to update or revise any forward-looking statements, whether as a result of new information, future events or otherwise.

Contact Us
Thank you for your interest in Hanwha.
Please contact us for your inquiries.
Email Us
Information Message
Please enter your email address.
Information Message
Please enter a correct email address.
Success
Keep an eye on your inbox for the latest stories from Hanwha.
Information Message
Your subscription request has already been processed. Thank you.