Hanwha Q CELLS Takes the Great British Solar Crown for the Second Year in a Row
Hanwha Q CELLS increased its market share by 3.8% in 2018 to maintain its market leadership
Hanwha Q CELLS meets the specific needs of British consumers and their purchasing requirements with world-class technology and high-yield products
Hee Cheul (Charles) Kim, CEO of Hanwha Q CELLS: "We will use Hanwha Q CELLS' unrivaled technology and product quality to accelerate our growth in Europe's premium solar market"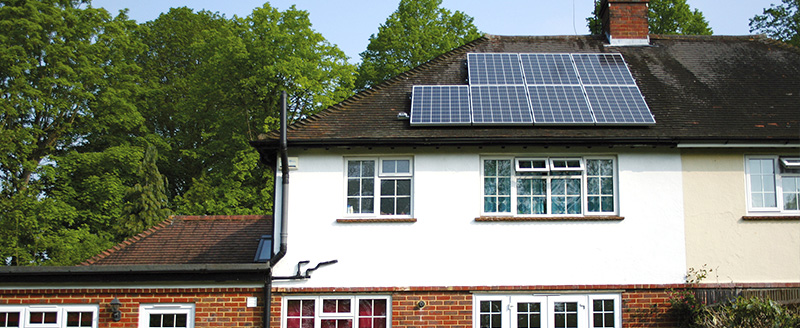 For the second year in a row, Hanwha Q CELLS topped the British solar module market. According to EuPD Research, Hanwha Q CELLS was number one in the British market in 2018 with 13.6% market share, up 3.8% from 2017. This achievement reflects the ability of Hanwha Q CELLS' highly efficient and customer-oriented product portfolio to successfully appeal to the British market.
With constant demand for high-efficiency energy products and with the cost of renewable energy being similar to traditional energy sources, there were no surprises when the government in Great Britain took the lead on climate change. On May 1, the British Parliament declared the world's first climate change emergency and committed its government to achieve net-zero emissions by 2050. This turned out to be an opportunity for Hanwha Q CELLS. The company took the lead in the British market by correctly identifying and responding to the market's needs to offer customers high-efficiency solar modules and customized solar solutions. Hanwha Q CELLS launched an aggressive marketing campaign targeting local suppliers.
In order to meet British consumers' diverse needs, Hanwha Q CELLS introduced the Q.HOME, a residential solar energy solution capable of energy production, storage, and management. Hanwha Q CELLS also offered the Q.FLAT, a commercial installation platform that reduces construction time and costs.
Hanwha Q CELLS' technological capabilities are highly regarded in Great Britain. The company's high-output Q.PEAK DUO solar module won British Solar + Power Management Magazine's Award for Excellence in 2017. And the Q.FLAT-G5 installation system won the Solar PV BOS Award at the Solar + Power Awards 2018 for revolutionizing flat roof installations – the system eliminates the need for any penetration to the roof and is instead more stable and safer once installed.
"Being number one in the British market is a testament to Hanwha Q CELLS' brand power," says Hee-chul Kim, CEO of Hanwha Q CELLS. "We will use Hanwha Q CELLS' unrivaled technology and product quality to accelerate our growth in the European premium solar market."
In October of 2018, Hanwha Q CELLS partnered with local London suppliers and agreed to supply 1.5MW of Q.PEAK DUO solar modules to Solar Together London, a residential solar power project in Great Britain. In November, just one month after signing the deal, Hanwha Q CELLS began supplying high-power solar modules to around 600 households in five boroughs of London.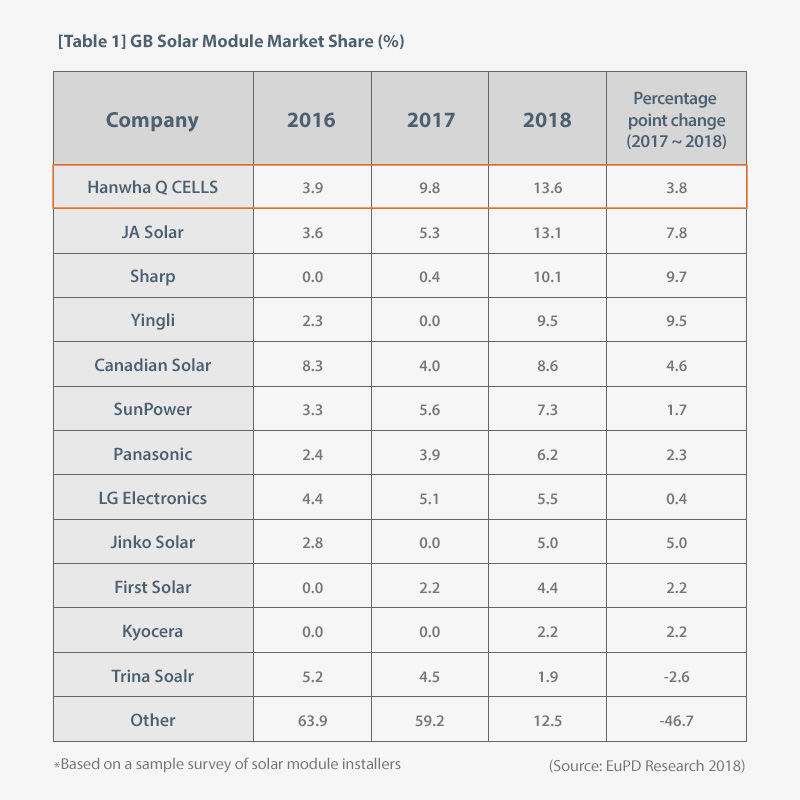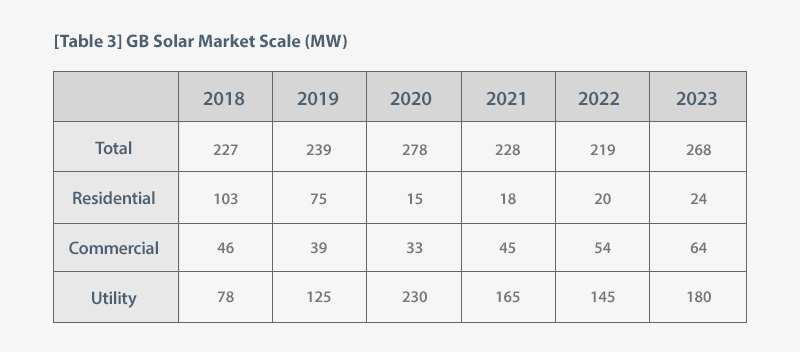 Hanwha Qcells
Hanwha Qcells (Hanwha Solutions Qcells division) is one of the world's leading clean energy companies, recognized for its established reputation as a manufacturer of high-performance, high-quality solar cells, and modules, a portfolio of intelligent storage systems, and a growing international pipeline of large-scale renewable energy projects. Hanwha Qcells also provides renewable electricity retail services and packages to end customers the world over. The company is headquartered in Seoul, South Korea (Global Executive HQ) and Thalheim, Germany (Technology & Innovation HQ) with its diverse international manufacturing facilities in the U.S., Malaysia, China, and South Korea. Hanwha Qcells strives to offer Completely Clean Energy through the full spectrum of photovoltaic products, storage solutions, renewable electricity contracting, and large-scale solar power plants. Through its growing global business network spanning Europe, North America, Asia, South America, Africa, and the Middle East, Hanwha Qcells provides excellent services and long-term partnerships to its customers in the utility, commercial, governmental, and residential markets.

For more information, visit: www.qcells.com/us/
Contact Us
Thank you for your interest in Hanwha.
Please contact us for your inquiries.
Email Us
Information Message
Please enter your email address.
Information Message
Please enter a correct email address.
Success
Keep an eye on your inbox for the latest stories from Hanwha.
Information Message
Your subscription request has already been processed. Thank you.