Hanwha Q CELLS USA Receives Indiana Governor's Environmental Award
Solar farm constructed in 2014 on contaminated land in Indiana
Hanwha Q CELLS offers new model for using environmentally-compromised land to generate clean energy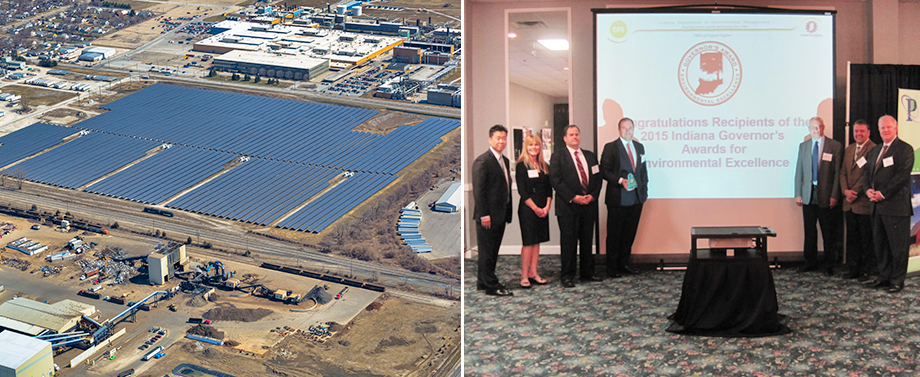 Hanwha Q CELLS (CEO Seong Woo Nam) was awarded the Indiana Governor's Award for Environmental Excellence in Indianapolis on September 30.
Hanwha Q CELLS USA built a 10.9 MW solar farm in Maywood near Indianapolis, Indiana, in April of 2014. The land on which the solar power generation facility was build was designated as a "Superfund Site" by the United States Environmental Protection Agency (USEPA), which classifies an environmentally contaminated site that is subjected to monitoring after the completion of environmental improvement. Hanwha Q CELLS USA built its solar power generation facility on this reclaimed site.
Hanwha Q CELLS USA received the Indiana Governor's Award for Environmental Excellence in Indianapolis in recognition of the company's contribution in establishing a new milestone in the development of Superfund Sites, by transforming contaminated land that has been abandoned into a solar power facility that can generate clean, eco-friendly energy.
President of Hanwha Q CELLS USA Cha Moon-hwan said that "Hanwha Q CELLS has acquired the know-how for constructing solar power facilities in contaminated areas that have been abandoned for extended periods, and the recent award from the state government of Indiana is an acknowledgement of our facility as a model for environmentally-friendly enterprises in the United States," adding that the company has "received numerous inquiries about constructing solar power generation facilities in chemically-contaminated areas and landfills" to indicate that Hanwha Q CELLS plans to continue to engage in construction projects that reclaim contaminated and abandoned land.
A spokesperson for the USEPA stated that "the Maywood solar power facility is an important case study in finding a solution for new and renewable energy development using Superfund Sites."
Total CO2 savings from the 10.9 MW solar power generation facility amounts to 13,235 tons per year, equivalent to the carbon emissions of 1,800 households.
Hanwha Q CELLS
In February 2015 Hanwha Q CELLS Co., Ltd. (NASDAQ:HQCL) emerged as a new global solar power leader from combining two of the world´s most recognized photovoltaic manufacturers, Hanwha SolarOne and Hanwha Q CELLS. The combined company is listed on NASDAQ under the trading symbol of HQCL.
It is headquartered in Seoul, South Korea, (Global Executive Headquarters) and Thalheim, Germany (Technology & Innovation Headquarters) and is the world's largest solar cell manufacturer as well as one of the largest photovoltaic module manufacturers. Due to its diverse international footprint including facilities in China, Malaysia, and South Korea, Hanwha Q CELLS is in a unique position to flexibly address all global markets, even ones with import tariffs, such as the United States and the European Union. Based on its well respected "Engineered in Germany" technology, innovation and quality,
Hanwha Q CELLS offers the full spectrum of photovoltaic products, applications and solutions, from modules to kits to systems to large scale solar power plants. Through its growing global business network spanning Europe, North America, Asia, South America, Africa and the Middle East, the company provides excellent services and long-term partnership to its customers in the utility, commercial, government and residential markets. Hanwha Q CELLS is a flagship company of Hanwha Group,
a FORTUNE Global 500 firm and a Top-Ten business enterprise in South Korea.

Hanwha Group
Founded in 1952, Hanwha has grown quickly by anticipating and responding to changing business environments with a balanced business portfolio that includes energy & materials, aerospace, finance and retail & services. Our expertise and synergy in key areas have catapulted us into the seventh-largest business in South Korea and a Fortune Global 500 company. Hanwha continues to grow rapidly as we strive to pursue global leadership in all of our businesses. We are building a robust foundation for sustainable development and a brighter future for everyone.

For more information, visit: www.hanwha.com
Contact Us
Thank you for your interest in Hanwha.
Please contact us for your inquiries.
Email Us
Information Message
Please enter your email address.
Information Message
Please enter a correct email address.
Success
Keep an eye on your inbox for the latest stories from Hanwha.
Information Message
Your subscription request has already been processed. Thank you.