Hanwha Q CELLS Wins Fifth Top Brand PV Europe Seal
Hanwha Q CELLS receives the Top Brand PV Europe Seal for the fifth time in a row and the Top Brand PV Australia Seal for the third consecutive year
Solar module installers confirm Hanwha Q CELLS´ exceptional product quality and service
EuPD emphasizes Hanwha Q CELLS´ "sustainability in brand awareness, customer satisfaction, recommendation rate, and market share"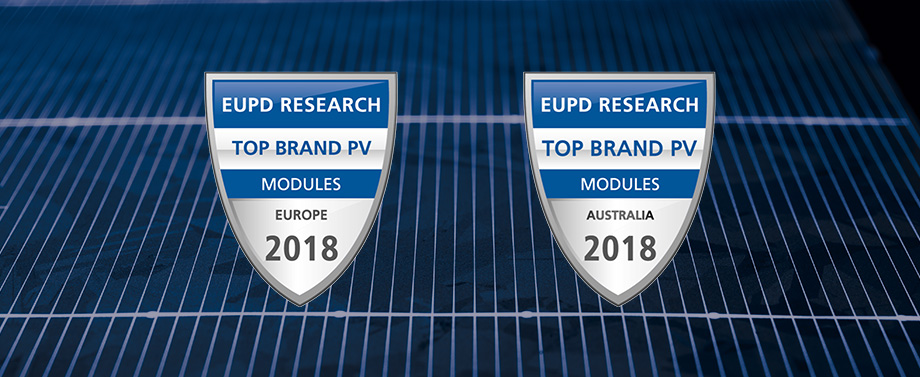 Hanwha Q CELLS received its fifth consecutive Top Brand PV Europe Seal from EuPD Research for providing top-quality products and services while maintaining its leading market position. The Seal was awarded based on a survey conducted among European solar module installers. Hanwha Q CELLS also received local Top Brand PV Seals from Germany, Austria, France, Italy, and the UK. In addition to the European awards, Hanwha Q CELLS also received the Top Brand PV Australia Seal for the third time in a row.
Europe and Australia's First Choice
EuPD Research, Europe's leading research firm, based its awards results on the Global PV Installer Monitor, which surveyed solar module installers throughout Europe and other select global markets. The survey results showed that Hanwha Q CELLS has maintained exceptional market positions in Europe and Australia ever since it received its first Top Brand PV Europe Seal in 2014. Installers that participated in the survey praised Hanwha Q CELLS for its exceptional products and service quality.
"I can say that in the eight years we've been giving out the Top Brand PV Seal, there are very few companies that can consistently rate as highly as Hanwha Q CELLS," says Mark A.W. Hoehner, CEO of EuPD Research. "The company has been able to sustain brand awareness, customer satisfaction, recommendation rate, and market share."
"We are very proud that installers across Europe and Australia trust Hanwha Q CELLS and our products," says Seongwoo Nam, CEO of Hanwha Q CELLS. "This recognition encourages us to continue our efforts and to work hard so that Hanwha Q CELLS becomes synonymous for high performance and high quality in the solar market."
Hanwha Q CELLS Leads the Solar Industry
2018's Top Brand PV Seals are the latest in a string of awards won by Hanwha Q CELLS in the last 12 months and reinforce the fact that the company is a global leader in solar technology and in market share.
The Q.PEAK-G4.1 monocrystalline solar module, featuring Q.ANTUM technology, won the Smart HIT Grand Prize 2017 in Japan, based on a survey of Japanese PV system distributors. SmartHouse Magazine, a monthly Japanese trade, issued the award based on the module's industry-leading energy generation, storage, and conservation capabilities.
The Q.PEAK DUO-G5 monocrystalline solar module, with half cells and Q.ANTUM-DUO technology, won the 2017 Solar + Power Award for Excellence – Innovation.
Hanwha Q CELLS was rated as a "Top Performer" in the 2017 DNV GL PV Module Reliability Score Card.
The Q.PEAK RSF L-G4.2, with its innovative reinforced steel frame, decentralized junction box, and easy mounting system, won three awards in 2017: the Intersolar Award, the PV Magazine Award for Top Innovation, and the Solar Power Portal Award for Innovation.
TOP BRAND PV: How the Seal is awarded
Through regular surveys, market researchers and pollsters of EuPD Research identify the preferences of PV installers worldwide when recommending module brands. The independent TOP BRAND PV Seal is based on an annual multi-level analysis of qualified statements in regards to brand perception, brand management and market penetration from installers and intermediaries.
Hanwha Qcells
Hanwha Qcells (Hanwha Solutions Qcells division) is one of the world's leading clean energy companies, recognized for its established reputation as a manufacturer of high-performance, high-quality solar cells, and modules, a portfolio of intelligent storage systems, and a growing international pipeline of large-scale renewable energy projects. Hanwha Qcells also provides renewable electricity retail services and packages to end customers the world over. The company is headquartered in Seoul, South Korea (Global Executive HQ) and Thalheim, Germany (Technology & Innovation HQ) with its diverse international manufacturing facilities in the U.S., Malaysia, China, and South Korea. Hanwha Qcells strives to offer Completely Clean Energy through the full spectrum of photovoltaic products, storage solutions, renewable electricity contracting, and large-scale solar power plants. Through its growing global business network spanning Europe, North America, Asia, South America, Africa, and the Middle East, Hanwha Qcells provides excellent services and long-term partnerships to its customers in the utility, commercial, governmental, and residential markets.

For more information, visit: www.qcells.com/us/
EuPD Research Sustainable Management GmbH
EuPD Research Sustainable Management GmbH is an international service provider focusing on B2B market research with a highly specialized multilingual interview center. EuPD provides its clients in Europe, Asia and the US with the entire range of qualitative and quantitative research services. With the help of in-depth market knowledge combined with methodological professionalism, EuPD provides practical, future-oriented business solutions and ensure that its clients receive a return on their research investment. EuPD's continuous research has enabled it to develop particular skills in the field of renewable energy sources, particularly in the field of solar energy.

Safe-Harbor Statement
This press release contains forward-looking statements. These statements constitute "forward-looking" statements within the meaning of Section 27A of the Securities Act of 1933, as amended, and Section 21E of the Securities Exchange Act of 1934, as amended, and as defined in the U.S. Private Securities Litigation Reform Act of 1995. These forward-looking statements can be identified by terminology such as "will," "expects," "anticipates," "future," "intends," "plans," "believes," "estimates" and similar statements. Among other things, the quotations from management in this press release and the Hanwha Q CELLS' operations and business outlook, contain forward-looking statements. Such statements involve certain risks and uncertainties that could cause actual results to differ materially from those expressed in or suggested by the forward-looking statements. Further information regarding these and other risks is included in Hanwha Q CELLS filings with the U.S. Securities and Exchange Commission, including its annual report on Form 20-F. Except as required by law, Hanwha Q CELLS does not undertake any obligation to update or revise any forward-looking statements, whether as a result of new information, future events or otherwise.

Contact Us
Thank you for your interest in Hanwha.
Please contact us for your inquiries.
Email Us
Information Message
Please enter your email address.
Information Message
Please enter a correct email address.
Success
Keep an eye on your inbox for the latest stories from Hanwha.
Information Message
Your subscription request has already been processed. Thank you.