Hanwha Qcells Awarded Multiple EUPD Research 'Top Brand PV 2022' Seals in Global Solar Markets
Hanwha Qcells has been awarded Top Brand PV 2022 for its brand recognition and customer satisfaction by EUPD Research, a global solar power research institute.
Hanwha Qcells received its first ever Top Brand PV seal from the U.S., adding to its successive awards in Europe and Australia.
The seals are the latest in a series of certifications and awards recognizing the company's quality products and reliability in the global solar industry.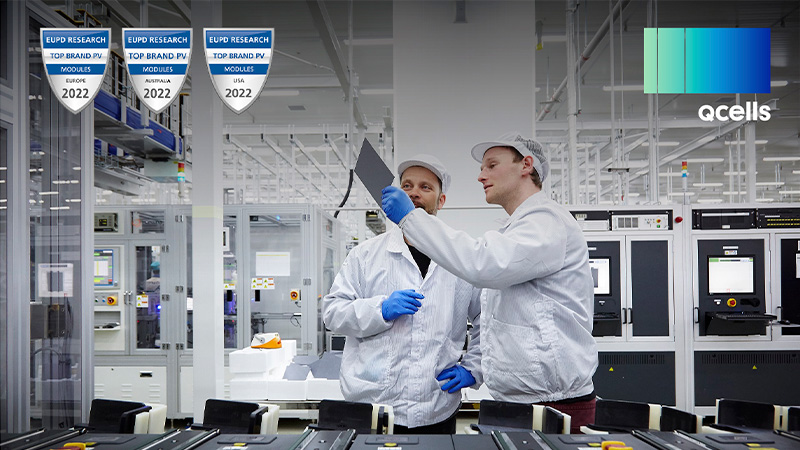 Hanwha Qcells has been awarded multiple Top Brand PV 2022 seals from EUPD Research, an internationally renowned energy research institute. The company received its first Top Brand PV seal in the United States, its seventh seal in Australia, and is one of a handful of solar manufacturers to have earned its ninth consecutive seal in Europe ¹.
¹ The countries included in the Europe Survey for 2022 are France, Poland, Italy, Germany, Switzerland, Belgium, Austria and the Netherlands.
The Top Brand PV seal is one of the most prestigious certifications in the global solar industry, and represents a reputable mark of PV reliability and trust. The seal is awarded to companies that receive excellent ratings in EUPD Research's 'Global PV InstallerMonitor' survey of solar installers worldwide.
In securing the Top Brand PV 2022 seals in leading solar markets in Europe, Australia and the U.S., Qcells continues to prove its outstanding brand reputation for product quality and reliability that has been built up during 20 years in the industry.
Hanwha Qcells was the world's first manufacturer to begin the mass production of solar modules based on passivated emitter and rear cell (PERC) technology. Its proprietary Q.ANTUM technology paved the way for Q.ANTUM DUO technology with a half-cell, multi-busbar design and wiring connection, giving rise to the PVEL Top Performer-recognized Q.PEAK DUO module series. Hanwha Qcells' reliability and performance are also assured by TÜV Rheinland's Quality Controlled PV (QCPV) certification program.
Hanwha Qcells' latest pioneering R&D efforts have been directed towards developing next-generation solar technology. At Intersolar Europe 2022 held in May, Hanwha Qcells showcased Q.ANTUM NEO, an evolutionary advancement built upon Q.ANTUM technology to deliver average cell efficiency of >24%. This n-type TOPCon-based technology will play a predominant role in Hanwha Qcells' future module roadmap starting with Q.TRON, its flagship module series scheduled for release in Europe and the U.S. later this year.
Hanwha Qcells has also continued to strengthen its brand power in key solar markets. Last April, the company received the N-TV Germany Life & Living Award as Germany's Most Popular Provider, one of the country's most prestigious awards for consumer quality.
According to the Q1 2022 U.S. PV Leaderboard report by  Wood Mackenzie, Hanwha Qcells has retained the No. 1 market share for 14 consecutive quarters in the U.S. residential market and three consecutive fiscal years in the commercial solar module market for FY 2021. This feat is a testament to its rising brand recognition in the U.S., the world's second-largest solar energy market.
Thanks to its accomplishments in the solar module business, Hanwha Qcells has expanded its business expertise into energy storage solutions, energy retail businesses and downstream development.
"Hanwha Qcells takes pride in ensuring that customers are provided with energy solutions that fulfill their needs through top quality products and services, all from a single company," said Hanwha Qcells CEO Justin Lee. "Thanks to EUPD's ongoing recognition of our brand power and business success in major solar markets, Hanwha Qcells is determined more than ever to accelerate its transformation into a leading complete energy solutions brand."
Hanwha Qcells
Hanwha Qcells (Hanwha Solutions Qcells division) is one of the world's leading clean energy companies, recognized for its established reputation as a manufacturer of high-performance, high-quality solar cells, and modules, a portfolio of intelligent storage systems, and a growing international pipeline of large-scale renewable energy projects. Hanwha Qcells also provides renewable electricity retail services and packages to end customers the world over. The company is headquartered in Seoul, South Korea (Global Executive HQ) and Thalheim, Germany (Technology & Innovation HQ) with its diverse international manufacturing facilities in the U.S., Malaysia, China, and South Korea. Hanwha Qcells strives to offer Completely Clean Energy through the full spectrum of photovoltaic products, storage solutions, renewable electricity contracting, and large-scale solar power plants. Through its growing global business network spanning Europe, North America, Asia, South America, Africa, and the Middle East, Hanwha Qcells provides excellent services and long-term partnerships to its customers in the utility, commercial, governmental, and residential markets.

For more information, visit: www.qcells.com/us/
Contact Us
Thank you for your interest in Hanwha.
Please contact us for your inquiries.
Email Us
Information Message
Please enter your email address.
Information Message
Please enter a correct email address.
Success
Keep an eye on your inbox for the latest stories from Hanwha.
Information Message
Your subscription request has already been processed. Thank you.