Hanwha to Build World's Largest Floating Solar Farm
Hanwha wins bid to construct a 100-megawatt solar farm in South Korea to supply enough energy for 140,000 people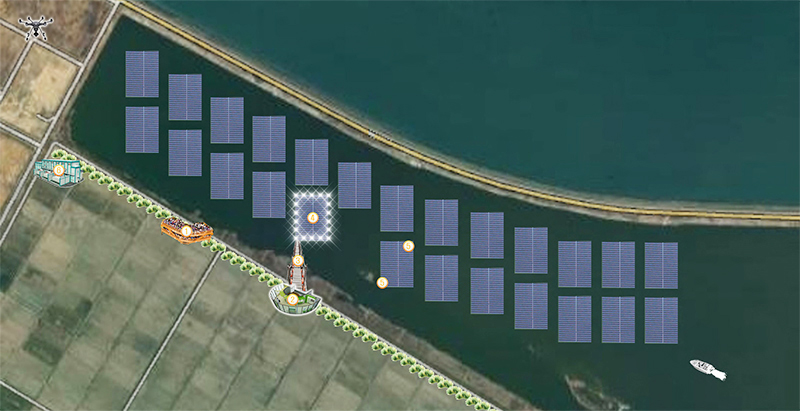 The Hanwha Group will build the world's biggest floating solar farm capable of generating 100 megawatts of electricity in South Korea.
A floating solar farm is a collection of conventional solar panels installed on a structure that floats over a body of water. This new technology has myriad of benefits such as improving the quality of water around the solar farm, more efficiency (since panels cool over water faster), and greater energy production.
Hanwha General Chemical and its partner KOMIPO (Korea Midland Power Co., Ltd.), were selected to construct the solar power farm on the Seokmun Lake in Dangjin, Chungcheongnam-do province of South Korea, a project led by the Korea Rural Community Corporation.
Of the structure that will ultimately generate 100 megawatts, approximately 80% will be built by Hanwha General Chemical in partnership with KOMIPO, and the remaining 20% by the Korea Rural Community Corporation. Hanwha General Chemical plans to break ground in 2019 after the necessary approvals and permits are obtained. The plant is expected to be fully operational by 2020.
Once completed, the Seokmun Lake floating solar farm will become the largest operational floating solar farm in the world. Once complete, it will cover 1.2 million square meters of Seokmun lake, equal to 168 soccer fields. And the 100 megawatts of electricity generated at the solar farm will be enough to supply the power needs of approximately 140 thousand residents.
"As the leading global player in solar energy, Hanwha Group is committed to delivering solar technology to every corner of the world by leveraging its industrial leadership not only in solar power generation on land but also in floating solar farms worldwide," said Moon Hwan Cha, CEO of Hanwha Solar Power, the solar arm of Hanwha General Chemical and also the actual executor of the project.
Hanwha Group's solar energy affiliate, Hanwha Q CELLS boasts 6.8 gigawatts cell and module production capacity. It is the world's No. 1 manufacturer in terms of cell capacity. Hanwha Q CELLS represents the Hanwha Group's foray and expansion into diverse areas of business, as well as leadership in the global solar market.
Hanwha Q CELLS and Hanwha Q CELLS Korea each manufactures cells and modules. While Hanwha Q CELLS supplies them for the global market and builds solar power plants around the world, Hanwha Q CELLS Korea currently focuses on constructing solar farms only in Korea.
Hanwha Energy project manages and operates solar power plants for the global market. Similarly, Hanwha Solar Power, a subsidiary of Hanwha General Chemical established in June, is also responsible for project managing and operating solar farms but primarily in Korea.
Hanwha Group
Founded in 1952, Hanwha has grown quickly by anticipating and responding to changing business environments with a balanced business portfolio that includes energy & materials, aerospace, finance and retail & services. Our expertise and synergy in key areas have catapulted us into the seventh-largest business in South Korea and a Fortune Global 500 company. Hanwha continues to grow rapidly as we strive to pursue global leadership in all of our businesses. We are building a robust foundation for sustainable development and a brighter future for everyone.

For more information, visit: www.hanwha.com
Contact Us
Thank you for your interest in Hanwha.
Please contact us for your inquiries.
Email Us
Information Message
Please enter your email address.
Information Message
Please enter a correct email address.
Success
Keep an eye on your inbox for the latest stories from Hanwha.
Information Message
Your subscription request has already been processed. Thank you.