Hanwha Total Petrochemical Secures Global Solar Cell EVA Market Dominance
Begins commercial production using the world's first tubular reactor polymerization process
Secures top place in global market with 35% share; selected as a "World-Class Korean Product"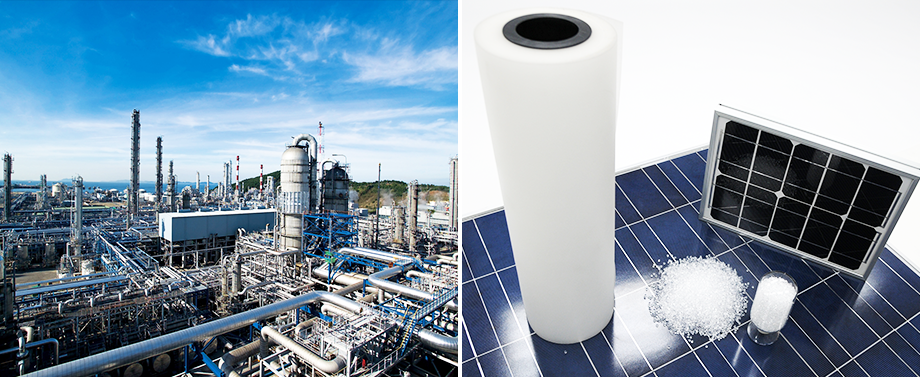 [December 29, 2015] Hanwha Total Petrochemical is actively expanding the global market for the company's high value-added EVA products by successfully adopting the world's first polymerization process using tubular reactors and completing the construction of a second EVA plant.

Hanwha Total Petrochemical announced that the company's EVA products for solar cell encapsulants¹ (solar cell EVA) was recently selected by the Ministry of Trade, Industry and Energy of Korea as a "World-Class Korean Product."
¹ Encapsulant
thin sheets that provide insulation, prevention of moisture infiltration into the cell, protection from shock breakage, and other critical functions that determine the efficiency and long-term durability of solar cell modules.
World-Class Korean Product status is granted to products that rank at least 5th or 5% market share of a global market exceeding $50 million in size and $5 million in annual exports. Hanwha Total Petrochemical achieved 35% market share of the global 350,000-ton solar cell EVA market, securing the top spot.

EVA, or ethylene vinyl acetate, is a widely-used synthetic resin with application in a variety of products, from shoe soles to photovoltaic cells. The material is further subdivided into general purpose and high value-added materials based on the VAM (vinyl acetate monomer) content; EVA for solar cell encapsulants falls under the latter category with a VAM content of over 28%. Higher VAM content means that the amount of product that can be manufactured using the same amount of material decreases, giving it more added value.

Hanwha Total Petrochemical determined that competing with Chinese manufacturers carrying out aggressive capital expenditure expansion in the general-purpose EVA market would be futile, and instead continues to expand its presence in the high value-added EVA market

Hanwha Total Petrochemical completed the construction of a second EVA plant with a tubular reactor polymerization process, succeeding in carrying out the world's first solar cell EVA commercial production using tubular reactor polymerization.

Tubular reactor polymerization enhances productivity but makes quality control challenging, thus generally limiting its use to LDPE (low density polyethylene) production. Autoclaves, which are large container-like reactors, are used by EVA production companies in the place of tubular reactors and facilitate the production of high-VAM EVA, but a lower productivity rate.

Since the tubular reactor polymerization process takes place at extremely high temperatures and pressures, pilot plants (small-scale facilities used to test new processes) are notoriously difficult to construct.

However, Hanwha Total Petrochemical was able to use its experience in producing high-quality LDPE using tubular reactor polymerization as well as an independently-developed simulation program that enables tubular reactor polymerization to be tested safely without the need of a pilot plant.

The breakthrough has allowed Hanwha Total Petrochemical to produce EVA products for solar cells with enhanced characteristics such as ultra-high purity and low shrinkage as well as transparency that greatly increases photovoltaic efficiency, and a lower defect rate. Compared to traditional autoclaves, the new process delivers 30% to 40% higher productivity for solar cell EVA production.

Hanwha Total Petrochemical completed the construction of a second EVA plant in February 2014, with an annual production capacity of 240,000 tons, giving the company a total EVA production capacity of 320,000 tons per year, the highest for a Korean company. Hanwha Total Petrochemical expects revenues of 1.28 billion USD over the next five years in EVA in solar cells alone.

A spokesperson for Hanwha Total Petrochemical said, "Hanwha Total Petrochemical's EVA for solar cells succeeded in delivering the level of quality that can satisfy our customers using our own independently-developed technologies," adding that "the company will continue to focus on developing high value-added products and expanding its market presence to widen our lead over competing petrochemical companies in China and the Middle East."

Hanwha Total Petrochemical was the first Korean petrochemical firm to independently develop PP polymerization catalyst, and successfully developed an environmentally-friendly PP that does not contain phthalate, an environmental hormone, in February 2014, as part of the company's strong technological development initiative aimed at expanding its high value-added petrochemical product portfolio.
Hanwha Group
Founded in 1952, Hanwha has grown quickly by anticipating and responding to changing business environments with a balanced business portfolio that includes energy & materials, aerospace, finance and retail & services. Our expertise and synergy in key areas have catapulted us into the seventh-largest business in South Korea and a Fortune Global 500 company. Hanwha continues to grow rapidly as we strive to pursue global leadership in all of our businesses. We are building a robust foundation for sustainable development and a brighter future for everyone.

For more information, visit: www.hanwha.com
Contact Us
Thank you for your interest in Hanwha.
Please contact us for your inquiries.
Email Us
Information Message
Please enter your email address.
Information Message
Please enter a correct email address.
Success
Keep an eye on your inbox for the latest stories from Hanwha.
Information Message
Your subscription request has already been processed. Thank you.