Hanwha Chairman Seung Youn Kim Visited the Bismayah New City Project (BNCP) Site in Iraq
BNCP is a mega construction project to build 100,000 residential units
Hanwha has gained confidence from the Iraqi government based on its continued efforts despite the ISIL crisis
Mr. Kim met Dr. Sami, Chairman of National Investment Commission of Iraq (NIC) to discuss additional projects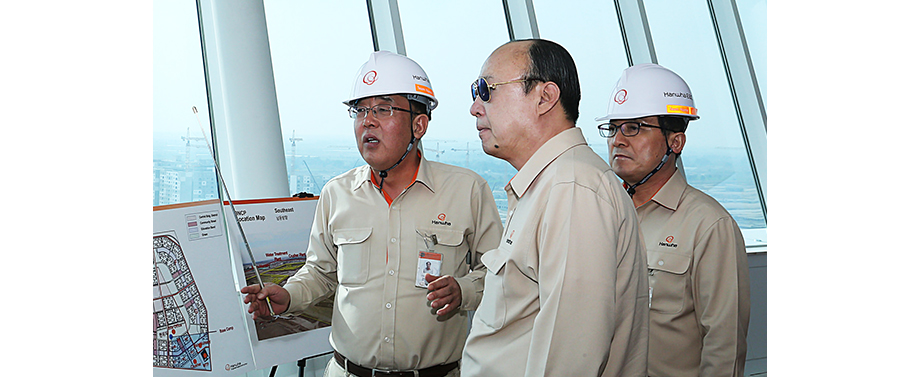 From December 7th to December 9th, Seung Youn Kim, Chairman of Hanwha Group, visited the site of the Bismayah New City Project (BNCP) to encourage the employees of Hanwha Engineering & Construction and partners, who remained committed to working hard at the site despite the ISIL crisis in Iraq.
BNCP is the first and the biggest city development project throughout the history of Iraq through which Hanwha will build 100,000 residential units on a total area of 1,830 Hectare.
Mr. Kim's visit to Iraq was followed by his previous meeting with Nouri al-Maliki in July 2012. Two years and five months ago, he met the former Iraqi prime minister to discuss additional contracts for the restoration project of postwar Iraq.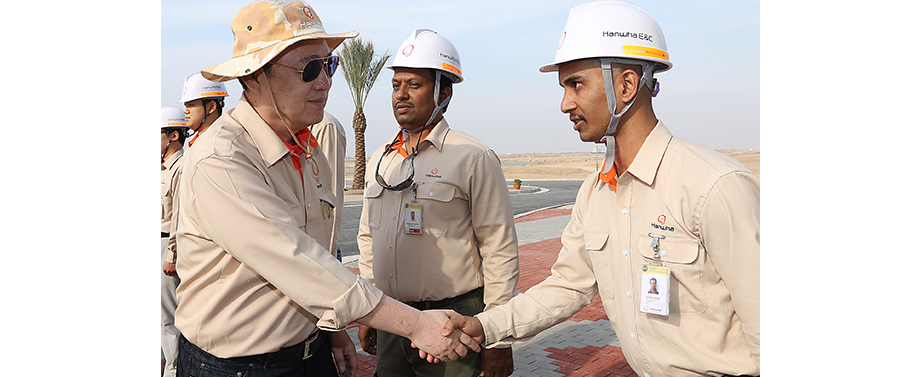 In addition, Mr. Kim was visited by Dr. Sami R. Al-Araji, Chairman of Iraqi National Investment Commission (NIC), and together they visited the Bismayah project site and discuss further projects there. Dr. Sami thanked Hanwha E&C for its continued construction work even during the ISIL crisis in Iraq. He said, "Hanwha is in a more favorable position to win the future bidding for the Bismayah New City social infrastructure project than its competitors. I hope that Hanwha will proactively participate in the upcoming two huge national projects." Mr. Kim replied, "We will work hard to build the Bismayah new city as a world-class human-friendly city based on our firm belief that we are building the homes of hope for the people of Iraq."
In the first of eight Bismayah new city towns, ten story apartment buildings can be seen looming day by day. In June 2015, 1,440 households will move into the apartments located in the A1 block. On other blocks, site preparation, foundation work and apartment building has continued. At the peak time of the construction, 20,000 residential units will be provided in a year.
With the completion of the project, the Bismayah will be a gargantuan new city consisting of 834 apartment buildings on 59 blocks in eight towns. Because all the cables were installed underground, the city will see the first advanced telegraph-poleless apartment complex in Iraq.
Mr. Kim said, "As we were not shaken by the ISIL crisis, we gained the confidence of the Iraqi government. I hope we will continue our success by winning another and yet another Bismayah-like huge contract through the successful completion of the current project."
Hanwha Engineering & Construction
Hanwha E&C has quickly grown into a global player by leveraging its extensive experience in construction projects and by implementing its new technologies and long-term expertise across industrial, chemical, and power plants, civil engineering works, commercial buildings, and more. We have averaged an annual growth rate of 30 percent since 2002, and gained international recognition. We've been recognized as a top global contractor in Engineering News Record and our works are often referred to as the "bible of the construction industry."


For more information, visit: www.hwenc.com
Hanwha Group
Founded in 1952, Hanwha has grown quickly by anticipating and responding to changing business environments with a balanced business portfolio that includes energy & materials, aerospace, finance and retail & services. Our expertise and synergy in key areas have catapulted us into the seventh-largest business in South Korea and a Fortune Global 500 company. Hanwha continues to grow rapidly as we strive to pursue global leadership in all of our businesses. We are building a robust foundation for sustainable development and a brighter future for everyone.

For more information, visit: www.hanwha.com
Contact Us
Thank you for your interest in Hanwha.
Please contact us for your inquiries.
Email Us
Information Message
Please enter your email address.
Information Message
Please enter a correct email address.
Success
Keep an eye on your inbox for the latest stories from Hanwha.
Information Message
Your subscription request has already been processed. Thank you.