Hanwha Chairman Strengthens the Relationship Between Korea and U.S.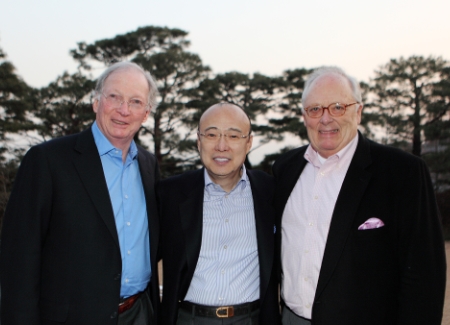 Kim Seung-Yeon, the Chairman of Hanwha Group, met Thomas Saunders, Chairman of the Heritage Foundation and Governor Edwin Feulner to discuss Korea-U.S. relations issues. The Heritage Foundation is one of the most influential conservative research organizations in the United States. The discussion that took place was mainly about the rapidly changing situation on the Korean peninsula after Kim Jong-il's death and how the United States and South Korea can cooperate.
Chairman Kim emphasized the importance of non-governmental interchange and expressed his willingness to support these activities. While talking he emphasized the importance of the role of a favorable organization such as the Heritage Foundation. Mr. Saunders also agreed with Chairman Kim's opinion of the importance of U.S-Korea relationship and promised to keep up the good work.
While it was the first time that Chairman Kim met Mr. Saunders, Mr. Feulner and Chairman Kim already met before and continued to strengthen their relationship in the meanwhile. To thank Chairman Kim for his work, The Heritage Foundation named the 2nd floor conference center at the Heritage Building located in Washington the Kim Seung Yeon Conference Center.

Hanwha Group
Founded in 1952, Hanwha has grown quickly by anticipating and responding to changing business environments with a balanced business portfolio that includes energy & materials, aerospace, finance and retail & services. Our expertise and synergy in key areas have catapulted us into the seventh-largest business in South Korea and a Fortune Global 500 company. Hanwha continues to grow rapidly as we strive to pursue global leadership in all of our businesses. We are building a robust foundation for sustainable development and a brighter future for everyone.

For more information, visit: www.hanwha.com
Contact Us
Thank you for your interest in Hanwha.
Please contact us for your inquiries.
Email Us
Information Message
Please enter your email address.
Information Message
Please enter a correct email address.
Success
Keep an eye on your inbox for the latest stories from Hanwha.
Information Message
Your subscription request has already been processed. Thank you.