Hanwha Completes Solar Power Generation Project in Ningxia, China with Support of the UNCCD
Hanwha seeks sustainable and long term solution to desertification
USD $8 billion construction of 1,830ha sized new town
Growth expected to be shared with small and medium businesses and the creation of jobs through subcontractors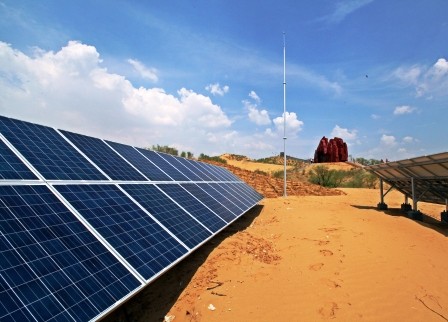 Hanwha Group, Korea's top-10 business group, today completed the donation of a solar photovoltaic (PV) plant dedicated to assist rehabilitating land degradation, combating desertification and mitigating drought effects in the Baijitan National Nature Reserve of Lingwu City, Ningxia, China. The installation was completed with support of the United Nations Convention to Combat Desertification (UNCCD) and the State Forestry Administration and Forestry Department of Ningxia Hui autonomous Region. This project marks the first time the UNCCD's has worked in cooperation with a private company to combat desertification.
Located near the Southwest edge of the Mu Us Desert, Lingwu City has a fragile, arid ecosystem which faces severe land degradation and desertification. The problem has intensified under the pressure of unsustainable development in past decades. With the partnership and support of the UNCCD, the Hanwha Group donated and installed an 80kWh solar PV generation facility, manufactured by Hanwha SolarOne, Co. Ltd., and provided technical training needed to manage and operate the facility. The solar plant will power a 3,200-square-meter greenhouse in the Baijitan Nature Reserve. Hanwha's cooperation with Ningxia and the UNCCD is a unique public-private partnership which offers a framework for sustainable and long-term solutions to fighting desertification.
"Hanwha Group has long been committed to creating a brighter future, and it is our honor and mission to provide substantive support to combating desertification through clean, sustainable solar energy, in partnership with the UNCCD" said Mr. Ki-Joon Hong, CEO of Hanwha SolarOne. "Sustainable land management and development is one of our highest priorities as a responsible corporate citizen. We will devote ourselves to the undertaking of environmental protection through low carbon solutions, and will play an increasingly active role in raising awareness about sustainable land management and development of arid, semi-arid and dry sub-humid areas, which is one of our greatest missions as a civil society organization."
"The project that Hanwha Group and Hanwha SolarOne have granted to the Baijitan Nature Reserve will benefit the local people, help the local community and improve the local environment," said Mr. Youlin Yang, coordinator of Regional Coordination Unit for Asia Pacific Region of UNCCD. "It is also a successful pilot of a public-private partnership program that other affected countries and regions can learn from and follow in-kind."
Hanwha Group
Founded in 1952, Hanwha has grown quickly by anticipating and responding to changing business environments with a balanced business portfolio that includes energy & materials, aerospace, finance and retail & services. Our expertise and synergy in key areas have catapulted us into the seventh-largest business in South Korea and a Fortune Global 500 company. Hanwha continues to grow rapidly as we strive to pursue global leadership in all of our businesses. We are building a robust foundation for sustainable development and a brighter future for everyone.

For more information, visit: www.hanwha.com
The UNCCD
United Nations Convention to Combat Desertification (UNCCD) is a unique instrument that has brought attention to desertification, land degradation and drought effect (DLDD) affecting some of the most vulnerable people and ecosystems in more than 100 countries in the world. UNCCD has 195 country Parties and is one of the three "Rio Conventions", along with the UN Framework Convention on Climate Change (UNFCCC) and the Convention on Biological Diversity (CBD). UNCCD is increasingly recognized as an instrument that can make an important contribution to the achievement of sustainable land management, mitigation of desertification, land degradation and drought effects and poverty reduction. Recently, at the RIO+20, world leaders stressed the global dimension of DLDD challenges and they recognized the need for urgent action to reverse land degradation. In view of this, the world leaders undertook to strive to achieve a land degradation neutral world in the context of sustainable development. Further, they reaffirmed their resolve under the United Nations Convention to Combat Desertification (UNCCD) to take coordinated action nationally, regionally and internationally, to monitor, globally, land degradation. They also resolved to restore degraded lands in arid, semi-arid and dry sub humid areas.

Contact Us
Thank you for your interest in Hanwha.
Please contact us for your inquiries.
Email Us
Information Message
Please enter your email address.
Information Message
Please enter a correct email address.
Success
Keep an eye on your inbox for the latest stories from Hanwha.
Information Message
Your subscription request has already been processed. Thank you.