Hanwha Engineering & Construction Receives US$450 Million Order from Algerian Public Energy Corporation to Build Energy Plant
Hanwha wins contract for Algeria's state-owned energy corporation to build energy plant with electricity capacity of 450MW
Hanwha establishes foothold to enter North Africa by rapidly increasing number of orders
Hanwha Engineering & Construction announced last week that it has accepted the order placed by the Societe Algerienne de Production d'Electricite (SPE) to construct a power plant that would cost up to US$450 million.
Hanwha Engineering & Construction has the experience of successfully constructing a US$400 million oil plant in Arzew, Algeria in 2008. This time, Hanwha will be constructing a power plant that produces electricity through natural gas in a province called Biskra, 330 kilometers away from Algeria's capital city, Algiers. The construction is expected to take about 14 to 15 months and once it is finished, a Simple Cycle Power Plant will start to operate, producing 450MW of electricity. The contracted price is US$448,737,000.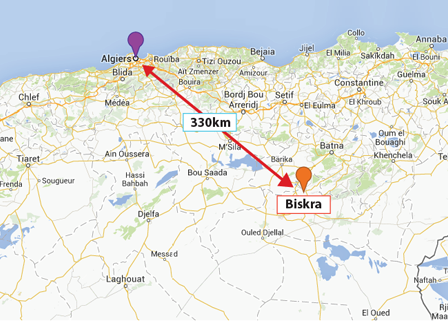 The contract was signed in the form of an EPCC-LSTK (Lump-sum Turnkey) which includes the process of planning, purchasing, construction, and trial operation. After a positive evaluation of Hanwha's EPC expertise, SPE chose Hanwha Engineering & Construction for the project because of its capability to successfully execute various types of projects related to energy plants without any flaws. SPE is a company under SONELGAZ, Algeria's public electricity and gas company. The company has installed a number of facilities that can generate a total 8,800MW of electricity. It is also in charge of building energy plants in Algeria that produce steam, gas turbine, water, and diesel. Algeria is the fourth largest energy exporter in the world and as a result, it is highly dependent on oil and natural gas.
"Winning this project proves that Hanwha has been acknowledged for its expertise and experience of successfully executing the Algerian project in the past, without any flaws," said Jin-Hwa Kim, the Plant Division Director of Hanwha Engineering & Construction.
"This is a significant development because Hanwha is now able to move beyond the Middle East and diversify its operations in other regions."
Hanwha Engineering & Construction aims to become a global company with 65% of its profit coming from the overseas markets supported by the annual growth of 25% in overseas markets until 2015.

Energy Plant Project Summary
Project Name
Algeria 450MW Biskra Simple Cycle Power Plant
Location
Biskra, a province 330 kilometers away from Algeria's capital city, Algiers
Contract Price
US$450 million
Client
SPE (public energy corporate of Algeria)
Contract Type
EPCC-LSTK(Lump-sum Turnkey)
Construction Period
14 to 15 months (Expected to be completed by early 2015)
Construction Scale
· Annual electricity production capacity of 450MW (GTG x 2 units)
· Construction site dimension of 330m x 420m (138,600㎡)
For more information:
Peter Kwon

Hanwha Engineering & Construction
Hanwha Bldg. 3F~5F #1 Janggyo-dong, Hanwha
Tel: +82 (0)2 2055 5304
Email: -@hanwha.com
Hanwha Engineering & Construction
Hanwha E&C has quickly grown into a global player by leveraging its extensive experience in construction projects and by implementing its new technologies and long-term expertise across industrial, chemical, and power plants, civil engineering works, commercial buildings, and more. We have averaged an annual growth rate of 30 percent since 2002, and gained international recognition. We've been recognized as a top global contractor in Engineering News Record and our works are often referred to as the "bible of the construction industry."


For more information, visit: www.hwenc.com
Hanwha Group
Founded in 1952, Hanwha has grown quickly by anticipating and responding to changing business environments with a balanced business portfolio that includes energy & materials, aerospace, finance and retail & services. Our expertise and synergy in key areas have catapulted us into the seventh-largest business in South Korea and a Fortune Global 500 company. Hanwha continues to grow rapidly as we strive to pursue global leadership in all of our businesses. We are building a robust foundation for sustainable development and a brighter future for everyone.

For more information, visit: www.hanwha.com
Contact Us
Thank you for your interest in Hanwha.
Please contact us for your inquiries.
Email Us
Information Message
Please enter your email address.
Information Message
Please enter a correct email address.
Success
Keep an eye on your inbox for the latest stories from Hanwha.
Information Message
Your subscription request has already been processed. Thank you.