Hanwha Engineering & Construction Completes World's Largest Domed Performance Hall
The building is located near Manila, Philippines, and has the world's largest total floor area at 74,000㎡/and 51,000 seats
Winning of the construction contract in recognition of its technical skills in building roof structures shown in its domestic and global construction projects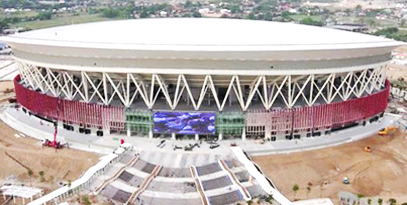 Hanwha Engineering and Construction("E&C"), headed by President and CEO Lee Keun-Po, announced that the company had completed the construction of the world's largest indoor arena near Manila, Philippines, on May 30. The domed arena has 51,000 seats and stretches a staggering 74,000㎡, with a roof area of 35,948㎡.
Hanwha E&C won the contract in 2011 on the strengths of its high technical skills, competing with the largest local construction firm EEI Corporation, China's Giangsu International and others. In particular, special considerations were given to the designing and building capacities of the contenders for the roof of what would be the world's largest domed arena and Hanwha E&C has also won the contract in recognition of its accumulated technical know-how and construction abilities, as shown in its construction projects. The project was carried out as a design–build construction, with Hanwha E&C taking full responsibility for design and construction which was completed on May 30 after a 30-month construction period.
"By completing the largest performance hall in the world, our building ability and technical skills will be highly recognized in the global construction market. It can be a stepping stone for our advancement into the Southeast Asian construction market, where we expect more business opportunities in the areas of civil engineering and construction projects." said Lee Keun-Po, President & CEO of Hanwha E&C.
Hanwha E&C has announced its new vision to "Design the World," meaning it will create value not only for South Korea but also for the world through construction, including new town development and infrastructure projects.
Project Overview of the Philippine Arena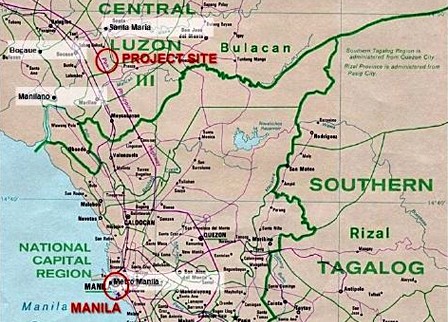 Project
Philippine Arena PJ
Location
Bulacan, 27km north of Manila, capital city of the Philippines
Ordering body
National Investment Commission of Iraq(NIC)

Overview and Scale
· A domed performance hall with 51,000 seats and a total floor area of 74,000㎡
· A roof area of 35,948㎡
* The largest domed performance hall in the world
Project Delivery System
Design–build, including both design and construction
Amount
US$175 million
Work Period
Approximately 30 months from breaking ground to completion
Hanwha Engineering & Construction
Hanwha E&C has quickly grown into a global player by leveraging its extensive experience in construction projects and by implementing its new technologies and long-term expertise across industrial, chemical, and power plants, civil engineering works, commercial buildings, and more. We have averaged an annual growth rate of 30 percent since 2002, and gained international recognition. We've been recognized as a top global contractor in Engineering News Record and our works are often referred to as the "bible of the construction industry."


For more information, visit: www.hwenc.com
Hanwha Group
Founded in 1952, Hanwha has grown quickly by anticipating and responding to changing business environments with a balanced business portfolio that includes energy & materials, aerospace, finance and retail & services. Our expertise and synergy in key areas have catapulted us into the seventh-largest business in South Korea and a Fortune Global 500 company. Hanwha continues to grow rapidly as we strive to pursue global leadership in all of our businesses. We are building a robust foundation for sustainable development and a brighter future for everyone.

For more information, visit: www.hanwha.com
Contact Us
Thank you for your interest in Hanwha.
Please contact us for your inquiries.
Email Us
Information Message
Please enter your email address.
Information Message
Please enter a correct email address.
Success
Keep an eye on your inbox for the latest stories from Hanwha.
Information Message
Your subscription request has already been processed. Thank you.