Hanwha Engineering & Construction Signs MOU to Build 100,000 Housing Units in Saudi Arabia in Consortium with Daewoo E&C
Saudi housing minister visits Korea, indicating strong drive for project
Synergy expected from Hanwha's know-how in overseas new city construction, Daewoo's expertise in housing construction, and Saudi SAPAC's local network
Hanwha positioned to win additional contracts as Saudi Arabia draws up plans for 1.5 million housing units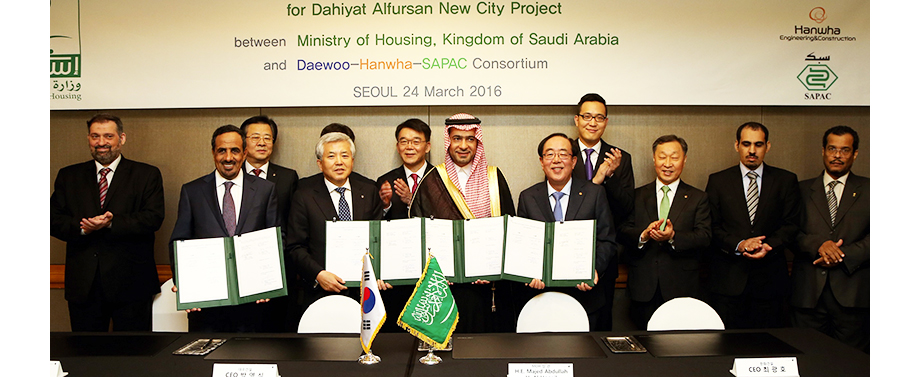 Hanwha Engineering and Construction (Hanwha E&C) and Daewoo E&C signed a MOU for a large-scale housing construction project in Saudi Arabia on March 24th at the JW Marriott Hotel in Seoul, in a ceremony attended by Saudi Arabia's Minister of Housing Majed Al-Hogail, Korea's Minister of Land, Infrastructure and Transport Kang Ho-in, CEO of Daewoo E&C Park Young-sik and President & CEO of Hanwha E&C Choi Kwang-ho. A consortium formed by the two Korean construction companies will build 100,000 housing units over the next ten years.
Initiated and funded by the Ministry of Housing of Saudi Arabia, the project will create the 38㎢ &Dahiyat Alfursan New City& approximately 14km east of Riyadh, the capital. The new metropolis, with 100,000 housing units planned for construction over the next ten years together with the necessary urban infrastructure, will ultimately take shape as a high-tech new urban center with a population of over 600,000. The project is estimated to be worth up to $20 billion, and while the ultimate scale of the project is still being finalized with the design of the new city, it is forecasted to be the largest overseas construction project order in Korea's history.
Construction will be carried out by a consortium formed by Hanwha E&C, Daewoo E&C and SAPAC (Saudi Pan Kingdom for Trading, Ind. & Contracting), a large Saudi construction firm.
Saudi Arabia announces plans for 1.5 million housing units over the next seven years and Hanwha E&C secures a favorable position to win the construction project
Saudi Arabia's population of approximately 30 million (as of 2014) has been increasing at a rate of 1.5% annually, and the capital city of Riyadh is home to over 6 million people. However, housing ownership remains low at 60% despite the rising influx of people into the nation's large cities, straining the housing situation.
In response, the Saudi government created a new Ministry of Housing and announced a plan in January of 2016 to supply 1.5 million residential units over the next seven years, placing Hanwha in an advantageous position to win a significant share of subsequent large-scale housing and infrastructure construction projects.
Minister of Housing Majed Al-Hogail, who heads the Saudi government agency overseeing the project, visited Korea to attend the MOU signing as a testament to the strong commitment of his government to the Dahiyat Alfursan project.
Overseas construction expertise of Hanwha and Daewoo expected to create strong synergy with SAPAC's local network
Currently, Hanwha E&C is successfully carrying out the $10.1 billion Bismayah New City project in Iraq. Daewoo E&C is engaged in a number of large-scale housing construction projects around the world, including Trump World Tower in New York as well as the Star lake New City project in Hanoi and the Boughzoul New City project in Algeria. The expertise and long experience of the two Korean companies is expected to create a powerful synergy with the extensive local network of SAPAC, a large Saudi Arabian construction firm.
President & CEO of Hanwha E&C Choi Kwang-ho stated, "The Dahiyat Alfursan project will be our second successful large-scale overseas city construction project following the Bismayah New City project in Iraq, cementing our position as the global leader in new city development and enabling us to continuously expand our presence in potential high-growth markets in the Middle East and Southeast Asia."
Dahiyat Alfursan New City Project Overview
Project name
Dahiyat Alfursan Project
Project lead
Ministry of Housing, Saudi Arabia
Project details
· Design and construction of 100,000 residential units including apartments,
town houses and condominiums
· New City infrastructure
Project structure
Hanwha E&C ∙ Daewoo E&C Consortium (Hanwha-Daewoo-SAPAC)
Location
Alfursan region, 35km north of central Riyadh
Map
Hanwha Engineering & Construction
Hanwha E&C has quickly grown into a global player by leveraging its extensive experience in construction projects and by implementing its new technologies and long-term expertise across industrial, chemical, and power plants, civil engineering works, commercial buildings, and more. We have averaged an annual growth rate of 30 percent since 2002, and gained international recognition. We've been recognized as a top global contractor in Engineering News Record and our works are often referred to as the "bible of the construction industry."


For more information, visit: www.hwenc.com
Hanwha Group
Founded in 1952, Hanwha has grown quickly by anticipating and responding to changing business environments with a balanced business portfolio that includes energy & materials, aerospace, finance and retail & services. Our expertise and synergy in key areas have catapulted us into the seventh-largest business in South Korea and a Fortune Global 500 company. Hanwha continues to grow rapidly as we strive to pursue global leadership in all of our businesses. We are building a robust foundation for sustainable development and a brighter future for everyone.

For more information, visit: www.hanwha.com
Contact Us
Thank you for your interest in Hanwha.
Please contact us for your inquiries.
Email Us
Information Message
Please enter your email address.
Information Message
Please enter a correct email address.
Success
Keep an eye on your inbox for the latest stories from Hanwha.
Information Message
Your subscription request has already been processed. Thank you.