Hanwha Engineering & Construction Wins an Industrial Plant Deal Worth $270M from Ma'aden Saudi Arabian Mining Company
A deal is struck with a state-run mining company to build a plant with an annual gold ore processing capacity of 2 million tons

Technical skills and construction capabilities have been acknowledged, thus allowing for the entry into the Middle Eastern market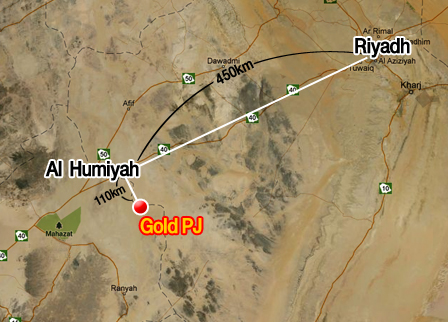 Hanwha Engineering and Construction (Hanwha E&C) announced that it has signed a $270 million ore plant deal with Riyadh-based Ma'aden Saudi Arabian Mining Company. Hanwha E&C is set to build a plant that will process gold ore into gold bars near Al Humiyah, 450km southwest of Saudi Arabia's capital city, Riyadh.
Upon completion of the project, a plant with an area of 17 km2will be established and a 110 km long main access road will be put in place. The plant will have an annual gold ore processing capacity of 2 million tons and will be able to accommodate over 200 people through residences and research facilities. The project is scheduled for completion within 24 months.
This deal is on an EPCC-LSTK basis (Engineering, Purchase, Construction, and Commissioning – Lump Sum Turnkey) and the deal had been made possible by Hanwha E&C's proven track record as well as its unmatched engineering, purchase and construction capabilities.
Ma'aden is a state-run mining company of Saudi Arabia and produces ore products including gold, silver, diamond and aluminum. In 2007, Ma'aden granted Hanwha a $280 million deal to build a power and desalination plant, and the project had been carried out successfully.
"Now, Hanwha's technical skills from the 2007 project have been reaffirmed by Ma'aden. And the deal made this year will provide Hanwha E&C with the opportunity to expand its scope into metal and smelting plants." said the Hanwha E&C official.
Prior to this deal, Hanwha E&C won an $8 billion contract last year to construct a new city in Bismayah, Iraq, which is larger than any construction project ever performed by a Korean contractor outside South Korea. Hanwha has attracted a great deal of global attention with this unprecedented urban development project as it helped South Korea pass the $500 billion mark of accumulated overseas construction orders.
Hanwha Engineering & Construction
Hanwha E&C has quickly grown into a global player by leveraging its extensive experience in construction projects and by implementing its new technologies and long-term expertise across industrial, chemical, and power plants, civil engineering works, commercial buildings, and more. We have averaged an annual growth rate of 30 percent since 2002, and gained international recognition. We've been recognized as a top global contractor in Engineering News Record and our works are often referred to as the "bible of the construction industry."


For more information, visit: www.hwenc.com
Hanwha Group
Founded in 1952, Hanwha has grown quickly by anticipating and responding to changing business environments with a balanced business portfolio that includes energy & materials, aerospace, finance and retail & services. Our expertise and synergy in key areas have catapulted us into the seventh-largest business in South Korea and a Fortune Global 500 company. Hanwha continues to grow rapidly as we strive to pursue global leadership in all of our businesses. We are building a robust foundation for sustainable development and a brighter future for everyone.

For more information, visit: www.hanwha.com
Contact Us
Thank you for your interest in Hanwha.
Please contact us for your inquiries.
Email Us
Information Message
Please enter your email address.
Information Message
Please enter a correct email address.
Success
Keep an eye on your inbox for the latest stories from Hanwha.
Information Message
Your subscription request has already been processed. Thank you.