Hanwha Engineering & Construction Wins Contract for US$935 Million Chemical Plant in Saudi Arabia
Accumulates a Total of US$14 billion Through Foreign Contracts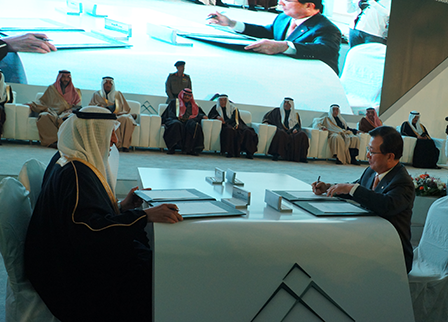 Hanwha Engineering and Construction("E&C"), headed by President and CEO Lee Keun-Po, signed the contract, on February 5th, for the construction of a phosphoric acid production plant in Saudi Arabia. The contract, awarded by Ma'aden and others, is worth US$935 million.
The signing ceremony was held at the Umm Wu'al Project site in northern Saudi Arabia. 600 people, including Lee Keun-Po, President & CEO of Hanwha E&C, Khalid bin Saleh Al-Mudaifer, President of Ma'aden, Mohamed H Al-Mady, Vice President of Sabic, and James T. Prokopanko, President of Mosaic, were all attendees at the event.
Hanwha's construction project involves building a phosphoric acid production plant in Umm Wu'al, the border region between northern Saudi Arabia, Jordan and Iraq. The contract was established in the form of an EPC (EngineeringㆍProcurementㆍConstruction)-LSTK (Lump-sum Turnkey), which includes all processes from designing, buying, to constructing.
The project is part of the next-generation business development plans promoted by Saudi King, Abdullah. It consists of constructing facilities for mining, ore dressing and acid production in Umm Wu'al and facilities for fertilizer production in Ras Al Khair that use raw materials produced in Umm Wu'al. Project expenses totaled approximately US$6.67 billion. The owners consist of Ma'aden, Saudi Arabia's state-owned mining company, Mosaic, along with the world's largest phosphoric fertilizer producer based in the USA as well as SABIC, Saudi Arabia's public enterprise for petrol & chemicals manufacture. Top firms in the industry with the technology and industry know-how participated and signed contracts in the EPC format. The firms included Daelim Industrial from South Korea, Intecsa from Spain, HQCEC and SINOPEC from China, and SNC Lavalin from Canada.
The project won by Hanwha E&C is the largest one among the 9 construction zones, valued at US$935 million. Hanwha E&C will construct a phosphoric acid plant, which is an essential facility needed to proceed with constructing the facilities that produce phosphoric acid and fertilizer. Total construction period is set for approximately 33 months, and the project is expected to be completed in the second half of 2016. When completed, the plant facility will produce 1.5 million tons of phosphoric acid every year.
"This contract is the result of Hanwha E&C's successful completion of past projects in the Middle East region, as well as an accomplishment recognizing our know-how concerning this project," said Lee Keun-Po, President & CEO of Hanwha E&C. "Hanwha E&C is planning to become a global construction company with a foreign sales ratio of 65% by the year 2015."
Hanwha E&C's overseas sales have increased steadily since 2007. In 2013, overseas sales accounted for 44% (US$1.68 billion) of total sales (US$3.73 billion). With the $935 million contract with Ma'aden, Hanwha reached a record total of US$14 billion for foreign contracts.

Saudi Project Outline
| | |
| --- | --- |
| Name | Umm Wu'al EPC Project - Phosphoric Acid Plant (PAP) / EPC LSTK |
| Location | Umm Wu'al, Saudi Arabia |
| Amount | US$935 million |
| Client | JV of Ma'aden/MOSAIC/SABIC (60:25:15) |
| Contract Type | EPC Turn-key Contract |
For more information:
Jang Hanee

Hanwha Engineering & Construction
Tel: +82 (0)2 729 5028
Email: hanee@hanwha.com
Hanwha Engineering & Construction
Hanwha E&C has quickly grown into a global player by leveraging its extensive experience in construction projects and by implementing its new technologies and long-term expertise across industrial, chemical, and power plants, civil engineering works, commercial buildings, and more. We have averaged an annual growth rate of 30 percent since 2002, and gained international recognition. We've been recognized as a top global contractor in Engineering News Record and our works are often referred to as the "bible of the construction industry."


For more information, visit: www.hwenc.com
Hanwha Group
Founded in 1952, Hanwha has grown quickly by anticipating and responding to changing business environments with a balanced business portfolio that includes energy & materials, aerospace, finance and retail & services. Our expertise and synergy in key areas have catapulted us into the seventh-largest business in South Korea and a Fortune Global 500 company. Hanwha continues to grow rapidly as we strive to pursue global leadership in all of our businesses. We are building a robust foundation for sustainable development and a brighter future for everyone.

For more information, visit: www.hanwha.com
Contact Us
Thank you for your interest in Hanwha.
Please contact us for your inquiries.
Email Us
Information Message
Please enter your email address.
Information Message
Please enter a correct email address.
Success
Keep an eye on your inbox for the latest stories from Hanwha.
Information Message
Your subscription request has already been processed. Thank you.