Hanwha Football Sponsorship Provides Solar to School
Hanwha Solar campaigns for sustainable engagement and installs solar modules on rooftop of Hanburg school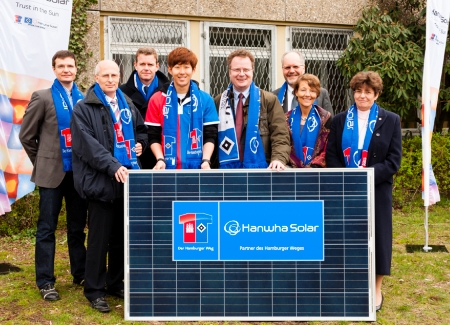 Hanwha Solar, official partner of Hamburg SV and sponsor of the initiative 'Der Hamburger Weg', equips a secondary school named Osterbek with a PV Plant which will help the students better understand how the solar energy works. In the framework of an event with HSV star Heung Min Son, the facility was officially inaugurated today.
Hanwha Solar, international solar solution provider, continues its engagement for sustainability and responsible society. Together with Hamburger Weg, the sponsoring initiative of HSV, Hanwha Solar provides the Osterbek School with a PV plant. All in all, the company installed 10 modules on the rooftop of the school. The plant primarily serves as demo model for education and is expected to give pupils a better understanding about the importance and value of sustainability and renewable energies. All in all, the modules deliver a performance of about 2000 Kw/h per year.
Enabling and advancing sustainable action
'We're very happy to have the chance to realize a project in cooperation with "Der Hamburger Weg", which gives young people a better understanding about solar energy and strengthens the awareness for a responsible attitude to our environment. Sustainable and socially responsible behavior is very important to Hanwha Solar, and this attitude we of course want to bring forward and pass to others to address the challenges of energy depletion and climate change. Besides our global engagement, such as our partnership with the United Nations Convention to Combat Desertification (UNCCD), local projects like Hamburger Weg are equally important to us', says Ki Joon Hong, CEO of Hanwha Solar.
In addition to the PV modules, Hanwha Solar donates an education board to the Hamburg school which was specifically developed by the company to be applied in classes. The board demonstrates the principles and advantages of solar energy and is intended to give the pupils a better understanding of this topic. The Osterbek school is already well known for its engagement for the environment and climate protection and has been awarded as "Climate School 2010-2012".
Engaged partnership with HSV, beyond boarders of the stadium
Since August 2011, Hanwha Solar is the exclusive solar partner of Hamburger SV. The partnership goes beyond classic advertising and is characterized by the common goal to sharpen awareness for renewable energy in Germany. Hanwha Solar being a supporter of "Der Hamburger Weg", the sponsoring initiative of HSV, is part of this engagement. "Hanwha Solar is a partner that matches perfectly to the Hamburger SV. The Hamburger SV focuses on sustainability on and off the pitch. The Imtech Arena is a state of the art arena that fulfills the highest standard of ecological demands. The arena is run by green energy and we travel carbon neutral. Therefore, it is only a logical consequence that we partner with Hanwha Solar for our CSR program "Der Hamburger Weg". That is our idea of modern sponsorship", says Joachim Hilke, Member of the Board, Hamburger SV. "Der Hamburger Weg" strengthens the reputation of Hamburg as a city of sport and assumes social responsibility for the people of this city with its sustainable CSR commitment.
From the school to the stadium
Besides the solar modules from Hanwha Solar, another star was present at the event today: As representative of HSV, footballer Heung Min Son visited the new facility and furthermore prompted the attending pupils to a short goal kick event. The kicking was not just about glory, but attendees also had the chance to win tickets for the match HSV versus Bayer 04 Leverkusen which will take place in the Imtech Arena next Saturday, 8th of April, and is sponsored by Hanwha Solar as well.
Hanwha SolarOne
Hanwha SolarOne Co., Ltd. (NASDAQ: HSOL) is one of the top 10 photovoltaic module manufacturers in the world, providing cost-competitive, high quality PV modules. It is a flagship company of Hanwha Group, one of the largest business enterprises in South Korea. Hanwha SolarOne serves the utility, commercial, government and residential markets through a growing network of third-party distributors, OEM manufacturers and system integrators. The company maintains a strong presence worldwide, with a global business network spanning Europe, North America, Asia, South America, Africa and the Middle East. As a responsible company committed to sustainability, Hanwha SolarOne is an active member of the PV Cycle take-back and recycling program.

For more information, visit: www.qcells.com/us/
Hanwha Group
Founded in 1952, Hanwha has grown quickly by anticipating and responding to changing business environments with a balanced business portfolio that includes energy & materials, aerospace, finance and retail & services. Our expertise and synergy in key areas have catapulted us into the seventh-largest business in South Korea and a Fortune Global 500 company. Hanwha continues to grow rapidly as we strive to pursue global leadership in all of our businesses. We are building a robust foundation for sustainable development and a brighter future for everyone.

For more information, visit: www.hanwha.com
Contact Us
Thank you for your interest in Hanwha.
Please contact us for your inquiries.
Email Us
Information Message
Please enter your email address.
Information Message
Please enter a correct email address.
Success
Keep an eye on your inbox for the latest stories from Hanwha.
Information Message
Your subscription request has already been processed. Thank you.