Hanwha Group and UNICEF, to Kick-Start the "Dish for Children" Campaign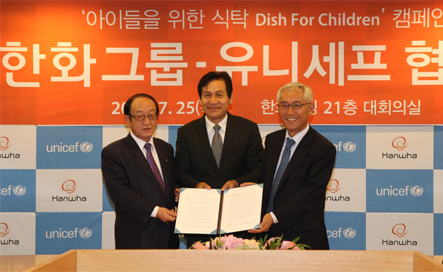 Hanwha Group and UNICEF came together to kick-start the "Dish for Children" campaign. 'Dish for Children (DFC)' is a social responsibility campaign that urges Hanwha employees to help feed starving children around the world just by eating off of a special menu every Wednesday in Hanwha's company cafeterias.
In doing so, Hanwha Group will donate 30 cents for every item ordered off the special low-calorie menu. Through this initiative, employees of 14 Hanwha affiliate companies will participate in the campaign which will take place in 43 company cafeterias.
This campaign aims to tackle two issues at once by offering a healthy meal choice for employees in return for a socially responsible act of providing aid to children.
Hanwha Group and UNICEF wish to bring an end to this disparity and initiated the 'Dish for Children' campaign to give hope to children suffering from malnutrition by providing them with meals that heal.
"The Dish for Children campaign is in alignment with Hanwha's 'Further Together' philosophy, believing that going further together is a better choice than going faster alone," said Hong Won-Ki, CEO of Hanwha Hotel & Resort. "We intend to give hope to the precious young lives by actively participating in this campaign."
UNICEF During Emergency Relief
Compared to adults, children are more at risk during famine and times of violence. UNICEF aims to provide a sense of security and protect their rights as children, in a world filled with danger, natural disasters and armed conflicts. One of UNICEF's most important missions is to protect children during pressing times and also to provide nutrition, water, sanity, as well as education. UNICEF cooperates with central and local governments, civic groups and UN Organizations to provide emergency relief.

Treating Malnutrition
In order to be able to eat normally again, children suffering from severe malnutrition need to be treated in phases, with meals provided over a longer period of time. UNICEF founded several malnutrition treatment centers in disaster areas to provide the correct treatment for affected children. Further, nutritious foods such as high-protein biscuits and therapeutic milk are supplied. The goal is to make sure children fully recover from their malnourishment and these treatment centers will be the means by which these children would be able to find hope.

Contact Us
Thank you for your interest in Hanwha.
Please contact us for your inquiries.
Email Us
Information Message
Please enter your email address.
Information Message
Please enter a correct email address.
Success
Keep an eye on your inbox for the latest stories from Hanwha.
Information Message
Your subscription request has already been processed. Thank you.