Hanwha Group Leads an Energy
Self-Sufficiency Project on Jukdo Island
Completed a 210-kW solar convergence power generation system
Korea's first 100% energy self-sufficient island project led by a private company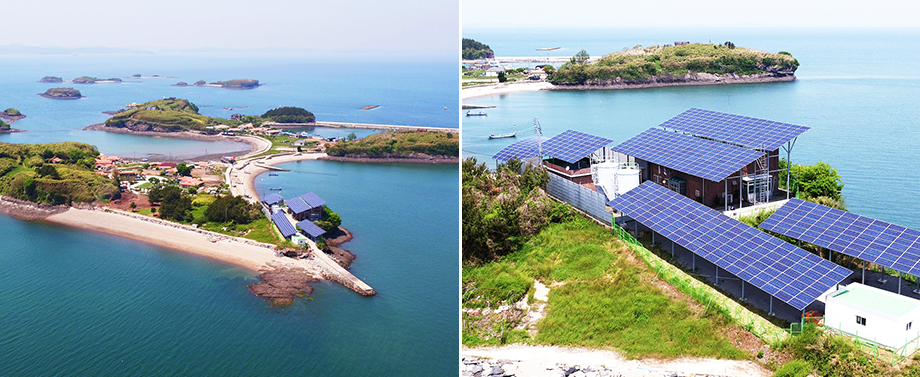 Hanwha Group has transformed Jukdo, a small islet off the coast of South Chungcheong Province, into a 100% energy self-sufficient island. This is the first outcome of the plan unveiled at the opening of the Chungnam Center for Creative Economy¹ last year, and the completion ceremony of the energy self-sufficient island was held on Jukdo on May 18.
¹ The Chungnam Center for Creative Economy & Innovation
Launched jointly by Hanwha Group and Chungcheong Province of Korea in 2015, the Center carries out the establishment of a solar energy industry cluster, creating higher value added for agro-fishery products, and global market entry of SMEs and venture businesses as its core projects.
Providing a New Solution for Clean Energy
The island of Jukdo off the coast of Hongseong County is a small islet with 70 residents in 31 households on a 158,640㎡, which has depended entirely on diesel fuel for electricity.
The Jukdo project, led by Hanwha S&C and Hanwha Q CELLS along with the participation of ten smaller enterprises will switch the island's main energy source from diesel fuel to 100% renewable energy, mostly solar energy.
The emission-free convergence power generation system will produce 210kW of electricity using solar and wind power and store surplus energy in the 900kWh Energy Storage System (ESS) for a stable and consistent supply of electricity at night or inclement weather. The desalination facilities, which have produced drinking water for the residents, will be powered by renewable energy instead of diesel fuel.
In addition, the Energy Management System (EMS) enables the efficient use of energy by allowing real-time monitoring of electricity use.
"The previous diesel power generator caused noise and air pollution, and the lighting blinked on and off in the evening, causing inconvenience to the residents. The noise and air pollution and inconveniences have all disappeared, which is excellent," said Lee Sung-joon, the resident's representative, explaining the benefits of solar energy.
With the completion of the energy self-sufficient island, Jukdo will reduce 200 tons of carbon dioxide emissions per year, which is equivalent to planting almost 41,000 trees, and the saved energy costs will be used to build an environment-friendly brand and develop and operate tourism products, contributing to the improvement of the regional economy.
Hanwha Group
Founded in 1952, Hanwha has grown quickly by anticipating and responding to changing business environments with a balanced business portfolio that includes energy & materials, aerospace, finance and retail & services. Our expertise and synergy in key areas have catapulted us into the seventh-largest business in South Korea and a Fortune Global 500 company. Hanwha continues to grow rapidly as we strive to pursue global leadership in all of our businesses. We are building a robust foundation for sustainable development and a brighter future for everyone.

For more information, visit: www.hanwha.com
Contact Us
Thank you for your interest in Hanwha.
Please contact us for your inquiries.
Email Us
Information Message
Please enter your email address.
Information Message
Please enter a correct email address.
Success
Keep an eye on your inbox for the latest stories from Hanwha.
Information Message
Your subscription request has already been processed. Thank you.