Hanwha Group Plants 200,000 Tree Solar Forest at Baijitan Nature Reserve in Ningxia, China

Hanwha Group today announced that it would further its commitment to the Baijitan Nature Reserve in Lingwu City, Ningxia province (located at southwestern edge of the Mu Us Desert) and boost the city's fragile, desertification prone ecosystem by planting a 200,000 tree "Hanwha Solar Forest." This sustainable green space builds on Hanwha's 80kWh solar power plant in Ningxia, donated and installed with the support of the United Nations Convention to Combat Desertification (UNCCD) and State Forestry Bureau.
Hanwha Group will create the 110,000 square meters anti-desertification forest which is expected to absorb 2,470 tons of CO2 over the next 10 years, and play an important role in holding dust, reducing water runoff and controlling insect populations. The "Hanwha Solar Forest's" 200,000 trees were grown in a Nature Reserve seedling nursery powered by solar panels donated by Hanwha Group and manufactured and installed by its affiliate Hanwha SolarOne. This enabled the company to create a sustainable forest out of essentially nothing without harming the environment.
Although China has reached a certain level of success in containing desertification since the UNCCD was formed 19 years ago, it remains a significant challenge throughout the country and is considered one of the world's top three ecological problems. As an environmentally responsible company, Hanwha Group recognizes the severity of this issue and is committed to enacting positive change through corporate citizenship and business initiatives.
"Working closely with Hanwha SolarOne, the flagship company of our solar business, Hanwha Group is committed to leveraging our advantages in solar energy technologies to realize our mission of addressing climate change, energy depletion and energy poverty challenges," said Mr. Kim Yeoung Rak, Vice President of Hanwha Group China Headquarters. "Through efforts such as planting trees and promoting afforestation, we hope to bring positive change to the community. In the longer term, we will also advance clean technologies and promote the achievement of a sustainable, 'green' future."
Mr. Ma Gang, Vice Mayor of Lingwu City, added, "Desertification is a global issue that requires the attention and support of the government, society and business sector. Only by working together, can we successfully address this serious problem. I sincerely hope that more socially responsible companies like Hanwha Group join our efforts, so that we can achieve greater success in protecting the environment and preventing desertification."
The Baijintan National Nature Reserve project is a key part of Hanwha Group's larger afforestation efforts. Since 2011, Hanwha has sponsored Tree Planet, an official UNCCD gaming app that brings individuals and corporations together to save the planet from environmental degradation. The app empowers users and Hanwha employees around the world to nurture trees on their phones; and in 2012, Hanwha Group made these virtual efforts a reality by planting 230,000 trees in Mongolia's Tujin Nars Nature Reserve, to ultimately create more green space and bring social benefit to the community.
The Group is also actively broadening its contributions to the Chinese community. In August, 2013, Hanwha Group and Hanwha SolarOne announced plans to donate a 30 kW solar PV system that provides continuous power to Yuyangguan Town Hope Primary School in Wufeng County, Hubei province. In partnership with the China Chamber of Commerce for Import and Export of Machinery and Electronic Products (CCCME) and the China Youth Development Foundation, the initiative will improve the operational conditions of local schools while helping students understand the value of renewable energy and sustainable development. In addition to the solar PV system, Hanwha SolarOne will also provide the school with comprehensive operation and maintenance training.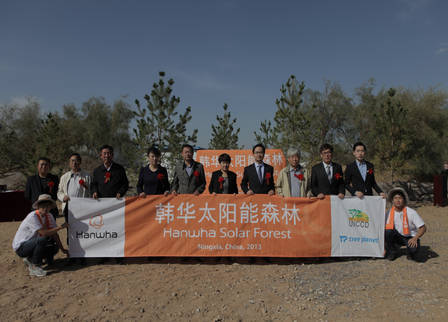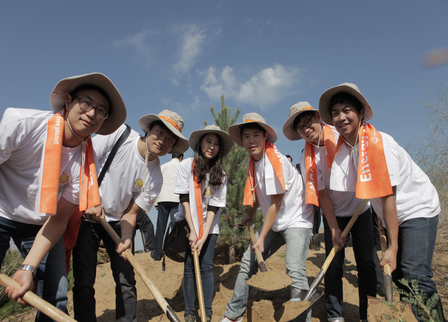 Hanwha Group
Founded in 1952, Hanwha has grown quickly by anticipating and responding to changing business environments with a balanced business portfolio that includes energy & materials, aerospace, finance and retail & services. Our expertise and synergy in key areas have catapulted us into the seventh-largest business in South Korea and a Fortune Global 500 company. Hanwha continues to grow rapidly as we strive to pursue global leadership in all of our businesses. We are building a robust foundation for sustainable development and a brighter future for everyone.

For more information, visit: www.hanwha.com
Hanwha SolarOne
Hanwha SolarOne Co., Ltd. (NASDAQ: HSOL) is one of the top 10 photovoltaic module manufacturers in the world, providing cost-competitive, high quality PV modules. It is a flagship company of Hanwha Group, one of the largest business enterprises in South Korea. Hanwha SolarOne serves the utility, commercial, government and residential markets through a growing network of third-party distributors, OEM manufacturers and system integrators. The company maintains a strong presence worldwide, with a global business network spanning Europe, North America, Asia, South America, Africa and the Middle East. As a responsible company committed to sustainability, Hanwha SolarOne is an active member of the PV Cycle take-back and recycling program.

For more information, visit: www.qcells.com/us/
Contact Us
Thank you for your interest in Hanwha.
Please contact us for your inquiries.
Email Us
Information Message
Please enter your email address.
Information Message
Please enter a correct email address.
Success
Keep an eye on your inbox for the latest stories from Hanwha.
Information Message
Your subscription request has already been processed. Thank you.