Hanwha Powers World Economic Forum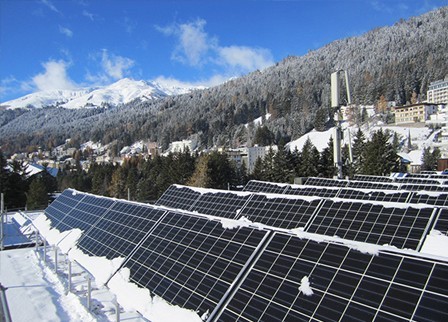 Every year at Davos, Switzerland, politicians, economists and activists from all over the world gather to discuss current economic issues. However, in January 2014, economics was not the only item on the agenda.
The municipality of Davos and the World Economic Forum have taken yet another big step towards a "Greener Davos", thanks to high-efficiency Q.PEAK 275 Wp solar modules across the Davos Congress Centre's 1,000㎡ rooftop and adjoining swimming pool, sponsored by Hanwha Group.
Solar Panels on the Rooftop of the Davos Congress Centre
The installation of this system's first section, consisting of around 640 modules with a maximum output of 175 kWp, was completed on the rooftop of the Davos Congress Center just before the first snowfall in 2013. Right after the Hanwha Q CELLS modules had been delivered, a helicopter took them to the rooftops. Within two days all the modules had been installed and wired to the grid.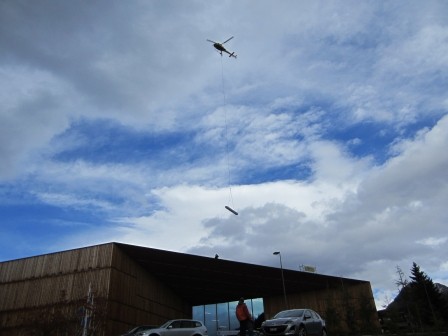 The second section is to be installed on the rooftop of the Davos indoor swimming pool "eau-lá-lá". The solar energy system across the Davos Congress Centre, with a total capacity of 340 kWp, will generate enough energy to reduce the center's carbon dioxide emissions by more than 20 tons each year.
A Step Towards a Brighter Future
"The solar system on the rooftop of the Davos Congress Center demonstrates sustainability in action and underlines Hanwha´s commitment, as a global leader in solar energy, to helping to lower carbon emissions and raise awareness of the value of sustainable energy," says Dong Kwan Kim, Chief Strategy Officer of Hanwha Q CELLS.
Dong Kwan Kim was awarded with prestigious Young Global Leader("YGL") at the World Economic Forum in 2013. The prestigious accolade is awarded to global leaders under the age of 40 who are active in diverse areas of expertise including business, civil society, media, government, education and entrepreneurship. YGL represents the future of leadership and recognizes extraordinary accomplishments and strong commitments to serving society.
Hanwha Group is one of the top ten business enterprises in South Korea with 51 domestic affiliates and 109 global networks in three major sectors: manufacturing and construction, finance, and services and leisure. With more than 60 years track record of industrial leadership, Hanwha's manufacturing and construction businesses encompass a broad range of fields from basic chemicals and advanced materials to total solar energy solutions. Its finance network, covering banking, insurance, asset management and securities, is the second largest non-bank finance group in South Korea. Hanwha has been an official strategic partner of the World Economic Forum since 2010.
Hanwha Qcells
Hanwha Qcells (Hanwha Solutions Qcells division) is one of the world's leading clean energy companies, recognized for its established reputation as a manufacturer of high-performance, high-quality solar cells, and modules, a portfolio of intelligent storage systems, and a growing international pipeline of large-scale renewable energy projects. Hanwha Qcells also provides renewable electricity retail services and packages to end customers the world over. The company is headquartered in Seoul, South Korea (Global Executive HQ) and Thalheim, Germany (Technology & Innovation HQ) with its diverse international manufacturing facilities in the U.S., Malaysia, China, and South Korea. Hanwha Qcells strives to offer Completely Clean Energy through the full spectrum of photovoltaic products, storage solutions, renewable electricity contracting, and large-scale solar power plants. Through its growing global business network spanning Europe, North America, Asia, South America, Africa, and the Middle East, Hanwha Qcells provides excellent services and long-term partnerships to its customers in the utility, commercial, governmental, and residential markets.

For more information, visit: www.qcells.com/us/
The World Economic Forum
The World Economic Forum is an independent international organization committed to improving the state of the world by engaging leaders in partnerships to shape global, regional and industry agendas.

For more information, visit: www.weforum.org

Contact Us
Thank you for your interest in Hanwha.
Please contact us for your inquiries.
Email Us
Information Message
Please enter your email address.
Information Message
Please enter a correct email address.
Success
Keep an eye on your inbox for the latest stories from Hanwha.
Information Message
Your subscription request has already been processed. Thank you.