Hanwha Q CELLS and SAMSUNG SDI Will Launch PV Kit Storage Solution Q.HOME for Homeowners
Q.HOME solution will help cut homeowners' energy bills
Convenient and easy solution for homeowners from a single source
Reliable generation and consumption of clean energy from the own roof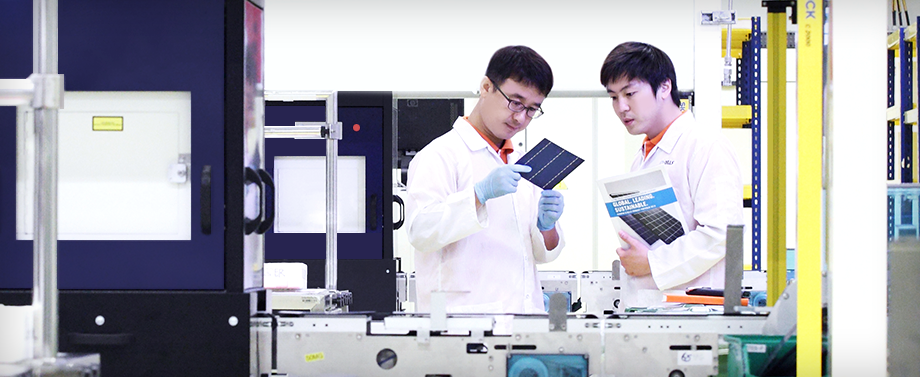 [Thalheim, Germany, 05 November, 2014] Hanwha Q CELLS, the largest European PV provider according to shipments in 2014 has teamed up with SAMSUNG SDI to offer in future an integrated PV and storage solution for homeowners interested in installing a self-consumption photovoltaic rooftop system. Q.HOME will be available to customers in Germany from December. Hanwha Q CELLS will launch two Q.HOME kits with the SAMSUNG SDI storage solution. The 4,68 kWp or 6,24 kWp Q.HOME will contain 18 or 24 high-yield Q CELLS Q.PRO-G3 260W modules, the SAMSUNG SDI 3,6 kWh storage system, a one-phase inverter, a mounting system and all the necessary electronic equipment. An east-west orientation option will be also available. Through the new product Q.HOME Hanwha Q CELLS will expand its portfolio as PV solutions provider.
The energy storage solution for Hanwha Q CELLS' Q.HOME Kit will be Samsung SDI's latest 'All-in-One' product launched earlier this year. This Kit will thus comprise products from the top-companies in each sector and enable solar customers to become more energy self-sufficient through the integrated self-consumption solution.
Justin Lee, CCO at Hanwha Q CELLS, said: "Through the cooperation with SAMSUNG SDI, we aim to extend our customer base in the residential module market and solutions segment. Selecting and installing a PV rooftop system can be perceived as complex and time-consuming by many homeowners. With the latest SAMSUNG SDI storage technology and our powerful Q CELLS PV kits we will offer Q.HOME, a convenient and easy solution for homeowners from a single source."
Energy autarchy: homeowners gain greater independence from climbing energy prices
Through Q.HOME the homeowner reduces his dependency on the utility grid and makes a crucial step towards energy autarchy. At the same time, Q.HOME will help homeowners to cut their energy bills and to gain greater independence from climbing energy prices. In concrete terms, for example, a family of 4 with an annual electricity consumption of 4400 kwh can achieve 50 % autarchy as the 6,24 kWp PV plant and the 3,6 kWh SAMSUNG SDI storage system together enable the family to consume 2200 kwh of self-generated electricity per year. The solar energy generated by the residential PV system is fed into the storage system. Through a personal computer and smartphone software both the homeowner and the service expert can have a real-time overview of how much energy remains in the storage system, how many kilowatt-hours are required for the house today and how much electricity has been generated on the roof today.
More and more homeowners are combining a PV plant with a storage solution. The willingness of new photovoltaic customers to invest in storage systems has risen significantly in Germany. About 20 percent of end customers who installed a PV system in 2014 also own a storage solution. This is revealed in the current study from German market research company EuPD Research.
Easy All-In-One package
Hanwha Q CELLS is currently preparing the Q.HOME market introduction in Germany. Stakeholders interested in the Q CELLS SAMSUNG SDI PV storage solution are kindly requested to contact Hanwha Q CELLS' customer service center (Service Hotline: +49 (0)3494 6699-23222, Monday to Friday, 9 am - 5 pm). The PV company will be responsible for the planning and supply of the new PV plant storage combination. The international solar company contracts local energy consultants to assess the size, pitch and orientation of the customer's rooftop. They make an appointment with the homeowners and monitor their roofs. Following the recommendations of the energy consultant, the system is set up by an installer who is connected to the Q CELLS installer network and also responsible for the plant's connection to the grid. Hanwha Q CELLS and SAMSUNG SDI will certify and train installers for the PV kits and the storage solution.
High-quality products complement each other
The easy-to-install SAMSUNG SDI ESS storage system tested by the VDE is an All-In-One solution for homeowners based on a lithium ion battery and was introduced to the market in June 2014. With the storage system homeowners achieve an optimized self-consumption, providing self-generated electricity when it is needed. The component comes with SAMSUNG SDI Monitoring, featuring early fault recognition and reduced maintenance. The technical lifetime amounts to 10 years with only slight loss of capacity. Proper product and service warranties and after sales service for the storage system are available to the end customer.
The "VDE Quality Tested" Q.PRO-G3 modules feature increased cell efficiency and an improved output yield. Q CELLS' Anti PID Technology, Hot-Spot Protect and Traceable Quality Tra.QTM ensure long-term yield security – reaffirmed through strict VDE quality tests. The Q.PRO-G3 module reaches high efficiencies even in low light conditions and features a very good temperature behavior. The modules come with a 12-year product warranty and 25-year linear performance warranty. The module's slim frame design in high-tech alloy results in a module weight of just 19 kg. Nevertheless the Q.PRO-G3 modules withstand high wind and snow loads.
For more information:
Hanwha Q CELLS GmbH

Sonnenallee 17-21
06766 Bitterfeld-Wolfen (OT Thalheim), Germany
Corporate Communications

Jochen Endle, Robert Reinsch
Tel: +49 (0)3494 6699 10121
Email: presse@q-cells.com
Executive Board

Hee Cheul Kim (CEO), Kye Chun Son (CFO),
Dr. Andreas von Zitzewitz (COO), Koo Yung Lee (CCO)
Hanwha Qcells
Hanwha Qcells is one of the world's leading clean energy companies, recognized for its established reputation as a manufacturer of high-performance, high-quality solar cells and modules, portfolio of intelligent storage systems, and growing international pipeline of large-scale renewable energy projects. Hanwha Qcells also provides renewable electricity retail services and packages to end customers the world over. The company is headquartered in Seoul, South Korea (Global Executive HQ), Thalheim, Germany (Technology & Innovation HQ) and San Francisco, USA (Energy Storage/Inverter & Software HQ) with its diverse international manufacturing facilities in the U.S., Malaysia, China, and South Korea. Hanwha Qcells strives to offer completely clean energy through the full spectrum of photovoltaic products, storage solutions, renewable electricity contracting and large-scale solar power plants. Through its growing global business network spanning Europe, North America, Asia, South America, Africa and the Middle East, Hanwha Qcells provides excellent services and long-term partnerships to its customers in the utility, commercial, governmental and residential markets.

For more information, visit: www.qcells.com/us/
Hanwha Group
Founded in 1952, Hanwha has grown quickly by anticipating and responding to changing business environments with a balanced business portfolio that includes energy & materials, aerospace, finance and retail & services. Our expertise and synergy in key areas have catapulted us into the seventh-largest business in South Korea and a Fortune Global 500 company. Hanwha continues to grow rapidly as we strive to pursue global leadership in all of our businesses. We are building a robust foundation for sustainable development and a brighter future for everyone.

For more information, visit: www.hanwha.com
SAMSUNG SDI
Since Samsung SDI's establishment in 1970, SDI has continued to strive towards a creative and innovative future. With continuous efforts, Samsung SDI has been creating products with cutting-edge technology that is being experienced by users today.

Having entered the secondary Li-ion battery business in 2000, Samsung SDI has developed and grown into a market leader. Li-ion battery manufacturing now serves as one of Samsung SDI's core businesses. The secondary lithium-ion batteries manufactured by Samsung SDI are rapidly expanding their applications from digital mobile, devices such as cell phone and laptop to electric vehicles such as xEV and Energy Storage System (ESS).

Samsung SDI'S Energy Solution leads the ESS technology and is recognized as a leading company in the global ESS market. The company offers and have diverse experience a broad range of lithium ion battery systems, from kilowatt to Megawatt based on Full products line-up for customer all over the world. In recognition of excellence, Samsung SDI win "The frost & Sullivan best company award 2014" in European ESS Market.

Contact Us
Thank you for your interest in Hanwha.
Please contact us for your inquiries.
Email Us
Information Message
Please enter your email address.
Information Message
Please enter a correct email address.
Success
Keep an eye on your inbox for the latest stories from Hanwha.
Information Message
Your subscription request has already been processed. Thank you.