Hanwha Q CELLS Celebrates One Billion Q.ANTUM Solar Cells
Q.ANTUM solar cell No. 1,000,000,000 was produced and celebrated in the company's fab in Jincheon, Korea
One billion Q.ANTUM cells equal around 5 GW of production volume since 2012
Hanwha Q CELLS' CEO Seong-woo Nam emphasized this milestone as an "outstanding demonstration of Hanwha Q CELLS' industry leadership."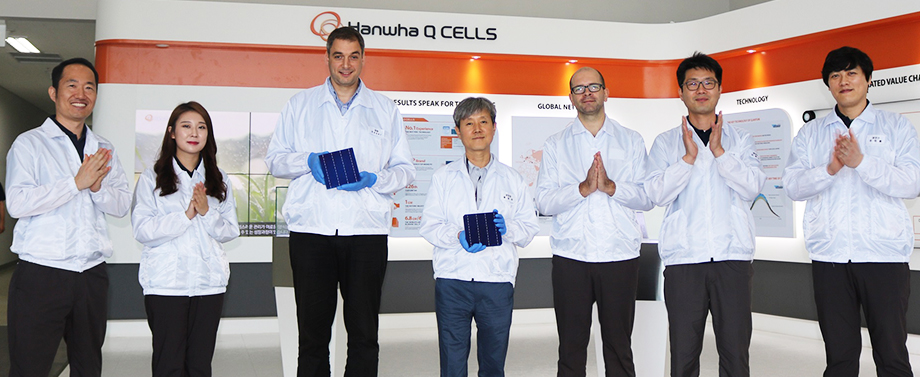 Hanwha Q CELLS Co., Ltd. ("Hanwha Q CELLS" or the "Company") (Nasdaq: HQCL), today announced they celebrated the commercial mass production of Q.ANTUM solar cell No. 1,000,000,000. The record cell was produced in the company's manufacturing facility in Jincheon, Korea, on Monday, July 10, 2017. Q.ANTUM is Hanwha Q CELLS' proprietary cell technology. It is based on the passivation of the solar cell's rear side (PERC) and a number of additional technological features for higher yields and lower levelized cost of energy(LCOE)¹ under real life conditions. Q.ANTUM has been developed in the company's Center for Technology, Innovation and Quality in Germany, where it since has been improved continuously. The technology has been in commercial mass production since 2012. As of today, Hanwha Q CELLS has commercially mass produced a total volume of around 5 gigawatts of Q.ANTUM solar cells.
Seong-woo Nam, CEO of Hanwha Q CELLS, commented: "Having achieved one billion of commercially mass produced Q.ANTUM solar cells is an outstanding milestone for our company and a powerful demonstration of Hanwha Q CELLS' leadership in solar industry." Looking to the future, CEO Nam said: "As our core technology platform, we will continue to develop and push Q.ANTUM technology to achieve even higher yields and lower LCOE for our customers."
¹ Levelized Cost of Energy(LCOE)
Levelized Cost of Energy (LCOE) is a concept used to calculate the present value a system's lifetime costs by combining all costs that go into the development, construction and operation of different energy generation systems.
Q.PEAK-G4: MONOCRYSTALLINE Q.ANTUM RANGE
The monocrystalline Q.ANTUM module range Q.PEAK-G4 is the flagship module line of Hanwha Q CELLS and was introduced to global solar markets in early 2017. It offers high-end performance, top yields in real life conditions and low LCOE. It comes in different product specifications suited to various local markets around the globe. Q.PEAK modules also feature excellent stability and are tested for wind loads up to 4,000 Pa and snow loads up to 5,400 Pa. At the same time the frame design has been optimized with a frame height of 32 mm, leading to a 10 % reduction in logistics and storage costs.
Q.ANTUM TECHNOLOGY: MORE THAN JUST PERC
Q.ANTUM is the proprietary solar cell technology platform of Hanwha Q CELLS. While being based on the rear side passivation of the solar cell (PERC), Q.ANTUM offers many additional features that differentiate it from conventional PERC technologies. It combines PID resistance (potential induced degradation), Hot-Spot-Protection and Tra.Q laser marking for 100 % traceability of any cells produced. Moreover, all Q.ANTUM products comply with the strict Hanwha Q CELLS quality standards, including much harsher criteria than regular certification, frequent and repeated testing of samples from running production. The most notable feature of Q.ANTUM technology is, that it controls the degradation effects LID (light induced degradation) and LeTID (light and elevated temperature induced degradation), which can severely reduce the performance of conventional PERC solar modules not only in the first phase, but also throughout the lifetime of operation. Therefore, it is critical for PV customers to select a module manufacturer who understands and controls these effects. While LID mainly appears on monocrystalline solar cells, the LeTID effect was long believed to only appear on multicrystalline wafers. However, this is not the case. Hanwha Q CELLS featured a presentation at the R&D conference 'Silicon PV' in Germany in April, showing that LeTID can also significantly reduce the energy yield of monocrystalline PERC solar cells in the early stages of operation. Hanwha Q CELLS is the only manufacturer that not only understands the effect, but has also implemented processes to test and effectively control it. This is reflected in the excellent performance warranties of all Q.ANTUM products.


CURRENT MONOCRYSTALLINE Q.ANTUM PRODUCTS
· Q.PEAK - G4.1
monocrystalline 60-cell Q.ANTUM solar module, power ratings of up to 310 Wp, maximum yields in residential applications, available in North America, Europe, Northern Asia, and Oceania

· Q.PEAK BLK - G4.1
All black monocrystalline 60-cell Q.ANTUM solar module, power ratings of up to 300 Wp, top yields and intriguing aesthetics, available in North America, Europe and Northern Asia

· Q.PEAK S - G4.1
monocrystalline 48-cell Q.ANTUM solar module, power ratings of up to 240 Wp, for small and angled roofs, available in Northern Asia

· Q.PEAK XS - G4.1
monocrystalline 32-cell Q.ANTUM solar module, power ratings of up to 165 Wp, for even the smallest and sharply angled roofs, available in Northern Asia

· Intersolar Award winner– Q.PEAK RSF L - G4.1
monocrystalline 72-cell Q.ANTUM solar module with an innovative reinforced steel frame and a decentralized junction box for utility scale applications. Power ratings of up to 375 Wp for lowest LCOE and optimized manageability. The module was first presented at Intersolar Europe 2017 where it immediately won the Intersolar Award 2017 in the category photovoltaics. It will first be installed in large-scale projects with dedicated customers before release on the open market.
Hanwha Qcells
Hanwha Qcells (Hanwha Solutions Qcells division) is one of the world's leading clean energy companies, recognized for its established reputation as a manufacturer of high-performance, high-quality solar cells, and modules, a portfolio of intelligent storage systems, and a growing international pipeline of large-scale renewable energy projects. Hanwha Qcells also provides renewable electricity retail services and packages to end customers the world over. The company is headquartered in Seoul, South Korea (Global Executive HQ) and Thalheim, Germany (Technology & Innovation HQ) with its diverse international manufacturing facilities in the U.S., Malaysia, China, and South Korea. Hanwha Qcells strives to offer Completely Clean Energy through the full spectrum of photovoltaic products, storage solutions, renewable electricity contracting, and large-scale solar power plants. Through its growing global business network spanning Europe, North America, Asia, South America, Africa, and the Middle East, Hanwha Qcells provides excellent services and long-term partnerships to its customers in the utility, commercial, governmental, and residential markets.

For more information, visit: www.qcells.com/us/
Hanwha Group
Founded in 1952, Hanwha has grown quickly by anticipating and responding to changing business environments with a balanced business portfolio that includes energy & materials, aerospace, finance and retail & services. Our expertise and synergy in key areas have catapulted us into the seventh-largest business in South Korea and a Fortune Global 500 company. Hanwha continues to grow rapidly as we strive to pursue global leadership in all of our businesses. We are building a robust foundation for sustainable development and a brighter future for everyone.

For more information, visit: www.hanwha.com
Safe-Harbor Statement
This press release contains forward-looking statements. These statements constitute "forward-looking" statements within the meaning of Section 27A of the Securities Act of 1933, as amended, and Section 21E of the Securities Exchange Act of 1934, as amended, and as defined in the U.S. Private Securities Litigation Reform Act of 1995. These forward-looking statements can be identified by terminology such as "will," "expects," "anticipates," "future," "intends," "plans," "believes," "estimates" and similar statements. Among other things, the quotations from management in this press release and the Hanwha Q CELLS' operations and business outlook, contain forward-looking statements. Such statements involve certain risks and uncertainties that could cause actual results to differ materially from those expressed in or suggested by the forward-looking statements. Further information regarding these and other risks is included in Hanwha Q CELLS filings with the U.S. Securities and Exchange Commission, including its annual report on Form 20-F. Except as required by law, Hanwha Q CELLS does not undertake any obligation to update or revise any forward-looking statements, whether as a result of new information, future events or otherwise.

Contact Us
Thank you for your interest in Hanwha.
Please contact us for your inquiries.
Email Us
Information Message
Please enter your email address.
Information Message
Please enter a correct email address.
Success
Keep an eye on your inbox for the latest stories from Hanwha.
Information Message
Your subscription request has already been processed. Thank you.