Hanwha Q CELLS Completes 13.3 MW Solar Power Plant in Portugal
PV power plant supplying clean energy to 5,475 households
Hanwha Q CELLS acts as EPC and supplied 51,000 Q.PRO-G3 modules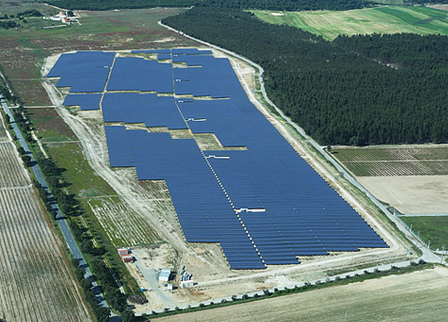 Europe´s largest provider of photovoltaic solutions, Hanwha Q CELLS, announced today that it has completed its first solar park in Portugal as engineering, procurement and construction provider (EPC). The installation in the municipality of Montijo (South-East of Lisbon) features around 51,000 of Q CELLS Q.PRO-G3 modules. The power plant has been fully connected to the grid in May 2014. The 13.3 MWp plant is expected to provide clean energy to some 5,475 local households with an average consumption of 4,000 kWh per year. Hanwha Q CELLS has built the plant within five weeks, with an additional time for connecting it to the grid and completing all test runs.
Since 2009, Hanwha Q CELLS´ EPC team has reduced the construction time for one MWp from 3.9 days to less than a day. The fast construction as well as the successive connection to the grid thanks to modular power plant construction significantly reduce costs, ensure earliest possible yields and thus enable a quick return on investment (ROI).
Hanwha Q CELLS demonstrates advantages as provider of complete Power Plant Solutions
Hanwha Q CELLS has installed more than 600 MW of solar power plants with outputs over 1 MWp since 2007. As one of only a few players, Hanwha Q CELLS offers all development as well as planning and construction work from one source and provides financial stability as part of the Korean Top-Ten and Global FORTUNE 500 company Hanwha Group. The PV farm is yet another proof point for the company´s growing global footprint, especially highlighting its expertise as an EPC.
"The PV system in Portugal proves Hanwha Q CELLS´ expertise as full-service-provider regarding the development and EPC of PV power plants," said Frank Danielzik, Vice President Development/Sales & EPC at Hanwha Q CELLS. "Investors in PV projects are looking for reliable contractors offering top-quality modules, excellent services and strong financial stability to guarantee their project´s successful realization as well as long-term operation."

For more information:
Hanwha Q CELLS GmbH

Sonnenallee 17-21
06766 Bitterfeld-Wolfen (OT Thalheim), Germany
Corporate Communications

Jochen Endle, Robert Reinsch
Tel: +49 (0)3494 6699 10121
Email: presse@q-cells.com
Executive Board

Hee Cheul Kim (CEO), Kye Chun Son (CFO),
Dr. Andreas v. Zitzewitz (COO), Koo Yung Lee (CCO)
Hanwha Qcells
Hanwha Qcells (Hanwha Solutions Qcells division) is one of the world's leading clean energy companies, recognized for its established reputation as a manufacturer of high-performance, high-quality solar cells, and modules, a portfolio of intelligent storage systems, and a growing international pipeline of large-scale renewable energy projects. Hanwha Qcells also provides renewable electricity retail services and packages to end customers the world over. The company is headquartered in Seoul, South Korea (Global Executive HQ) and Thalheim, Germany (Technology & Innovation HQ) with its diverse international manufacturing facilities in the U.S., Malaysia, China, and South Korea. Hanwha Qcells strives to offer Completely Clean Energy through the full spectrum of photovoltaic products, storage solutions, renewable electricity contracting, and large-scale solar power plants. Through its growing global business network spanning Europe, North America, Asia, South America, Africa, and the Middle East, Hanwha Qcells provides excellent services and long-term partnerships to its customers in the utility, commercial, governmental, and residential markets.

For more information, visit: www.qcells.com/us/
Hanwha Group
Founded in 1952, Hanwha has grown quickly by anticipating and responding to changing business environments with a balanced business portfolio that includes energy & materials, aerospace, finance and retail & services. Our expertise and synergy in key areas have catapulted us into the seventh-largest business in South Korea and a Fortune Global 500 company. Hanwha continues to grow rapidly as we strive to pursue global leadership in all of our businesses. We are building a robust foundation for sustainable development and a brighter future for everyone.

For more information, visit: www.hanwha.com
Contact Us
Thank you for your interest in Hanwha.
Please contact us for your inquiries.
Email Us
Information Message
Please enter your email address.
Information Message
Please enter a correct email address.
Success
Keep an eye on your inbox for the latest stories from Hanwha.
Information Message
Your subscription request has already been processed. Thank you.