Hanwha Q CELLS Completes United States' First Solar Farm On a Superfund Site
10.86 MW Solar Farm was fully realized without any incentives
German-headquartered PV specialist breaks barrier frustrating solar project developers for more than 20 years
93% volume reduction of site soil movement was achieved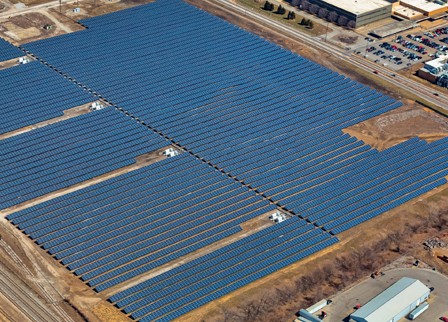 Hanwha Q CELLS, an international solar developer, manufacturer and solutions provider, commemorated the historic completion of the first utility scale solar project constructed on an active EPA Superfund site1. Hanwha Q CELLS was joined by project partners including the US EPA, Vertellus Specialties Inc., Indiana Department of Environmental Management, Indiana Power & Light (NYSE: AES), PNC Bank, August Mack Environmental Consulting, URS Corporation, US Utilities and Solar FlexRack.
The 10.86 MWdc Maywood Solar Farm, located on 43 acres of the Reilly Tar & Chemical Superfund site in Indianapolis, was completed under the 2012 Indianapolis Power & Light (IPL) Rate-REP program. Of critical significance, the Maywood Solar Farm was fully realized without additional federal, state, local or corporate incentives and used conventional solar project financing. Construction commenced in July 2013 and was completed in March 2014, using high efficiency Q CELLS Q.PRO L polycrystalline modules, engineered by Hanwha Q CELLS in Germany. The Maywood Solar Farm will operate for up to 30 years and reduce CO2 emissions by more than 13,000 metric tons per year – equal to the annual carbon emissions of more than 2,700 passenger cars or 1,800 Indiana residential homes.
Hanwha Q CELLS' CEO Charles Kim remarked: "The completion of the Maywood Superfund project2 is a significant milestone for Hanwha Q CELLS, but also for the solar industry as a whole in overcoming the legal, financial, regulatory and construction hurdles to create a virtuous cycle, and develop a higher use for brownfield, idle land. In completing a non-subsidized Superfund project, Hanwha Q CELLS has broken a barrier that has frustrated solar project developers for more than 20 years. We are looking forward to future, similar projects."
Safeguarding project economics, Hanwha Q CELLS completed project construction at, or below, market costs – while managing additional site and environmental requirements. Hanwha Q CELLS employed an internally-developed and adaptive construction methodology in concert with US EPA to meet existing site environmental covenants. The proprietary Hanwha Q CELLS Soil Disturbance Minimization Plan resulted in a volume reduction of site soil movement of more than 93% over conventional construction approaches, while also minimizing the potential for exposing known underground hazards, impairing the existing site environmental remedy, or creating human exposure to site hazards.
"This innovative solar project demonstrates that Superfund sites can be redeveloped - to generate economic benefits for the local community and clean renewable energy for homes and businesses," said US EPA Regional Administrator Susan Hedman. "US EPA is proud to have played a role in the Maywood Solar Farm project, which has transformed a site with a long history of contamination into a source of renewable energy for the future."
1. Superfund Site
Superfund sites are locations in the United States that have been polluted by hazardous material contaminations and require long-term responses to clean up. These sites are listed by the US Environmental Protection Agency (US EPA) and as of February 2014, there are a total of 1,319 Superfund sites across the country.
2. Maywood Superfund Project
Maywood, Indianapolis, was used for coal-tar refinement facilities from 1921 to 1972 and suffered from contamination of its underground water and soil. The region was subsequently designated as a Superfund site by US EPA and purification work was completed in 1999.
The Superfund project was initiated with the goal of establishing a solar power generator on the polluted site. Taking into consideration the possibility of residual coal-tar in the soil exploding, Hanwha Q CELLS developed new construction technologies that could move less soil than existing methods, winning the US EPA's approval. Using these technologies, Hanwha Q CELLS successfully completed for the first time in the US the construction of a solar power generator on a contaminated site.
Hanwha Qcells
Hanwha Qcells (Hanwha Solutions Qcells division) is one of the world's leading clean energy companies, recognized for its established reputation as a manufacturer of high-performance, high-quality solar cells, and modules, a portfolio of intelligent storage systems, and a growing international pipeline of large-scale renewable energy projects. Hanwha Qcells also provides renewable electricity retail services and packages to end customers the world over. The company is headquartered in Seoul, South Korea (Global Executive HQ) and Thalheim, Germany (Technology & Innovation HQ) with its diverse international manufacturing facilities in the U.S., Malaysia, China, and South Korea. Hanwha Qcells strives to offer Completely Clean Energy through the full spectrum of photovoltaic products, storage solutions, renewable electricity contracting, and large-scale solar power plants. Through its growing global business network spanning Europe, North America, Asia, South America, Africa, and the Middle East, Hanwha Qcells provides excellent services and long-term partnerships to its customers in the utility, commercial, governmental, and residential markets.

For more information, visit: www.qcells.com/us/
Hanwha Group
Founded in 1952, Hanwha has grown quickly by anticipating and responding to changing business environments with a balanced business portfolio that includes energy & materials, aerospace, finance and retail & services. Our expertise and synergy in key areas have catapulted us into the seventh-largest business in South Korea and a Fortune Global 500 company. Hanwha continues to grow rapidly as we strive to pursue global leadership in all of our businesses. We are building a robust foundation for sustainable development and a brighter future for everyone.

For more information, visit: www.hanwha.com
Contact Us
Thank you for your interest in Hanwha.
Please contact us for your inquiries.
Email Us
Information Message
Please enter your email address.
Information Message
Please enter a correct email address.
Success
Keep an eye on your inbox for the latest stories from Hanwha.
Information Message
Your subscription request has already been processed. Thank you.