Hanwha Q CELLS Korea Completes 17.8 MW Solar Project in Portugal
A utility scale solar cluster located in 6 different areas of Lisbon and Setúbal
The solar power plants expected to supply 24,800 local residents and reduce 19,300 tons of greenhouse gas
1.11 million square meters of land equivalent to 155 soccer fields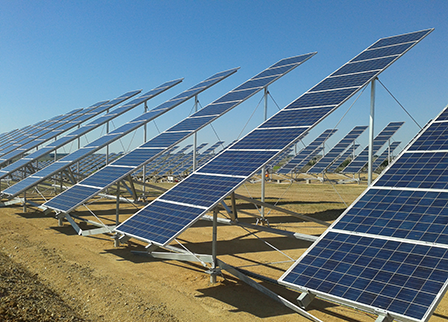 [04 November, 2013] Hanwha Q CELLS Korea organized a consortium with Martifer Solar to complete a 17.8 MW solar project in Portugal that received investment by domestic investors.
Jiho Shin, the Chief Operating Officer of Hanwha Q CELLS Korea and Jung-hee Yu, Ambassador to Portugal, both participated in the ceremony for the expected completion of the plants on October 31st in Montemor-o-Novo, Portugal. The plants have gradually begun operations starting mid-October and are expected to produce 37.4 GWh of electricity every year.
Hanwha Q CELLS Korea, a leader in the downstream energy business, and the Global Infrastructure Fund (GIF), operated by Shinhan BNP Paribas, are the ones who invested in building the plants.
The solar cluster completed in Lisbon and Setúbal consists of 6 separate solar power plants. Hanwha Q CELLS Korea and Martifer Solar will work together to operate and maintain each plant to preserve optimal conditions in an effort to consistently produce a certain amount of electricity.
74,000 solar modules, made by Hanwha SolarOne, were used to construct the 17.8 MW solar cluster. The electricity generated from the plants is expected to supply about 24,800 local residents. It will also reduce 19,300 tons of greenhouse gas. The six plants, together, cover a total surface area of 1.11 million square meters which is equivalent to about 155 soccer fields.
"As a part of our strategy to become the top player in the field of solar energy, Portugal was an attractive country to invest in, since Portugal has a tremendous amount of isolation," said Jiho Shin, COO of Hanwha Q CELLS Korea. "Although the financial environment was less than friendly, we aggressively exploited Portugal's strength in the abundance of natural resources, and successively turned risks into profitable opportunities."
With the completion of the solar project in Portugal, Hanwha Q CELLS Korea is planning to enter the solar energy market in other parts of the world, in full-scale.
Hanwha Q CELLS Korea is a company that provides a total solution that encompasses the development, construction, operations, and financing of solar projects. Domestically, it has completed various nature-friendly solar power plants using reservoirs, unused roads, and carports in Gwangju and Daejeon in Korea.
Martifer Solar is a worldwide company specializing in solar energy. It has taken part in solar projects from all over the world including Spain, Italy, the Czech Republic, Belgium, the U.S.A., Canada, Chile, Brazil, Indonesia, and South Africa.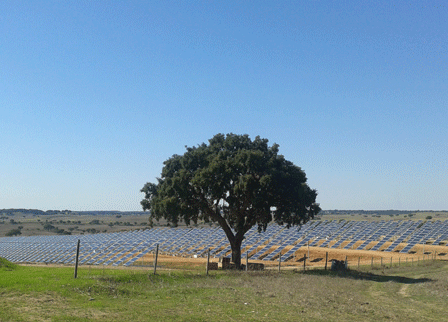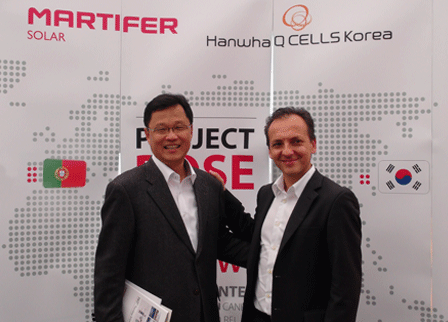 For more information:
Hanwha Q CELLS Korea

Tel: +82 (0)2 729 2701
Hanwha Q CELLS Korea
Founded in April 2011, Hanwha Q CELLS Korea is an affiliate of Hanwha Group. Hanwha Q CELLS Korea operates production sites for state-of-the-art solar cells and modules in South Korea. Furthermore, Hanwha Q CELLS Korea is active in the solar downstream segment in the growing Korean solar market as well as countries in Asia and Europe. The company delivers integrated solar power plant solutions encompassing development, construction, and operation.

For more information, visit: www.hanwha.com/solar
Hanwha Group
Hanwha Group, founded in 1952, is one of the Top-Ten business enterprises in South Korea and a "FORTUNE Global 500" company. Hanwha Group has more than 85 domestic affiliates and over 380 global networks in three major sectors: manufacturing and construction, finance, and services and leisure. With more than 65 years track record of industrial leadership, Hanwha's manufacturing and construction businesses encompass a broad range of fields from chemicals & materials, aerospace & mechatronics, total solar energy solutions, and global construction. The finance network, covering insurance, asset management and securities, is the second largest non-bank financial group in South Korea. The services and leisure sector offers premium lifestyle services with retail and resort businesses.

For more information, visit: www.hanwha.com
Contact Us
Thank you for your interest in Hanwha.
Please contact us for your inquiries.
Email Us
Information Message
Please enter your email address.
Information Message
Please enter a correct email address.
Success
Keep an eye on your inbox for the latest stories from Hanwha.
Information Message
Your subscription request has already been processed. Thank you.