Hanwha Q CELLS Provides Modules for One of the Largest Commercial PV Projects in Switzerland
Switzerland remains an attractive market for PV installations
1.810 Q.PRO G3 modules with an output of 450 KWp installed in Sant'Antonio in the Swiss canton Ticino
Solar Plant provides clean energy for 110 households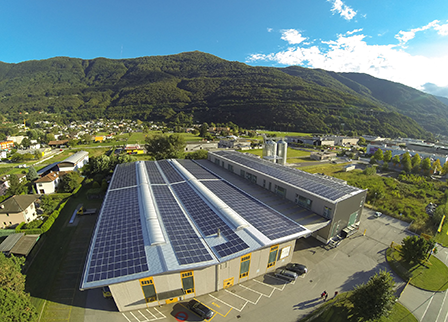 The largest commercial solar plant in the Swiss canton of Ticino has been built with Hanwha Q CELLS' modules. The EPC contractor More Engineering planned and executed the 450 KWp rooftop project for Geniomeccanica SA, a precision mechanics company of the Wullschleger Group. The plant with 1,810 Q CELLS Q.PRO-G3 modules supplies 110 households with clean energy. After a period of just six weeks the installation was completed and connected to the grid.
Hanwha Q CELLS thereby increases its footprint in the attractive Swiss market. There 300 MW of photovoltaic peak capacity have been installed in 2013 alone. With a cumulative capacity of 730 MW, solar plants currently power 200,000 households across Switzerland. Switzerland has only marginally reduced its FITs this year which are under contract for 25 years.
Long-term investment security for commercial PV initiatives
"The PV plant delivers high yields and makes a valuable contribution to our company's sustainability strategy," said Dr. Paolo Bosshart, Product & Business Development Manager at Geniomeccanica SA. Hanwha Q CELLS was chosen over other PV module manufacturers due to the excellent quality and performance of its Q.PRO-G3 modules, featuring the innovative Q.ANTUM cell technology enabling increased cell efficiency and an improved output yield thanks to reflecting unused rays of light back
into the cell.
The module's low-light behavior with an irradiance of 200 W/m² results in a module efficiency figure of 98 percent. Geniomeccanica SA benefits from an extensive investment security, ensured through a 12-year product warranty and 25-year linear performance warranty Hanwha Q CELLS grants for its high quality Q.PRO-G3 modules.
Q.PRO-G3: Highly efficient and robust solar modules for any application
Eng. IvanoPola, Chief Engineer at More Engineering explained: "We decided to choose Q CELLS as the latest Q.PRO-G3 modules combine improved output yield as well as higher operating reliability and durability. Thus we are able to offer our customers a reliable and sustainable investment with high return." Hanwha Q CELLS' Anti PID Technology, Hot-Spot Protect and Traceable Quality Tra.QTM ensure long-term yield security – reaffirmed through strict VDE quality tests. With nominal power classes between 250–270 Wp, the Q.PRO-G3 modules are the reliable component for all applications and are therefore suited for a broad variety of PV projects. The module's slim frame design in high-tech alloy results in a module weight of just 19 kg, Q.PRO-G3 modules are able to withstand wind loads of up to 5.400 Pa.
"We are very pleased about the excellent and extremely professional collaboration with More Engineering," said Marco Dona, Sales Director Italy at Hanwha Q CELLS. "We continue to expand our presence in the European market. As solar energy doubled in Switzerland last year, we will do our share to further strengthen this development."
Hanwha promotes a greener world through solar energy
Hanwha has also gained a reputation for its dedication to making a greener world through solar energy. In January 2014, Hanwha Q CELLS supported the "Greener Davos" initiative by the municipality of Davos and the World Economic Forum. It sponsored its high efficiency Q.PEAK 275 Wp modules for a 340 kWp PV solar system on the rooftop of the Davos Congress Center. The 640 solar modules were installed and connected to the grid.
The sponsoring project underlines the dedication of Hanwha Q CELLS´ parent company and Korean Top-Ten business enterprise Hanwha Group to making our world more sustainable. Hanwha will continue to address the combined challenges of a dynamic economy, climate change and the depletion of our worldwide energy resources.
For more information:
Hanwha Q CELLS GmbH

Sonnenallee 17-21 06766 Bitterfeld-Wolfen
(OT Thalheim), Germany
Jochen Endle, Robert Reinsch

Site: www.q-cells.de
Tel: +49 (0)3494 6699 10121
Email: presse@q-cells.com
Hanwha Qcells
Hanwha Qcells (Hanwha Solutions Qcells division) is one of the world's leading clean energy companies, recognized for its established reputation as a manufacturer of high-performance, high-quality solar cells, and modules, a portfolio of intelligent storage systems, and a growing international pipeline of large-scale renewable energy projects. Hanwha Qcells also provides renewable electricity retail services and packages to end customers the world over. The company is headquartered in Seoul, South Korea (Global Executive HQ) and Thalheim, Germany (Technology & Innovation HQ) with its diverse international manufacturing facilities in the U.S., Malaysia, China, and South Korea. Hanwha Qcells strives to offer Completely Clean Energy through the full spectrum of photovoltaic products, storage solutions, renewable electricity contracting, and large-scale solar power plants. Through its growing global business network spanning Europe, North America, Asia, South America, Africa, and the Middle East, Hanwha Qcells provides excellent services and long-term partnerships to its customers in the utility, commercial, governmental, and residential markets.

For more information, visit: www.qcells.com/us/
Hanwha Group
Founded in 1952, Hanwha has grown quickly by anticipating and responding to changing business environments with a balanced business portfolio that includes energy & materials, aerospace, finance and retail & services. Our expertise and synergy in key areas have catapulted us into the seventh-largest business in South Korea and a Fortune Global 500 company. Hanwha continues to grow rapidly as we strive to pursue global leadership in all of our businesses. We are building a robust foundation for sustainable development and a brighter future for everyone.

For more information, visit: www.hanwha.com
Contact Us
Thank you for your interest in Hanwha.
Please contact us for your inquiries.
Email Us
Information Message
Please enter your email address.
Information Message
Please enter a correct email address.
Success
Keep an eye on your inbox for the latest stories from Hanwha.
Information Message
Your subscription request has already been processed. Thank you.