Hanwha Q CELLS Solar Modules to Deliver 26.2 MWp of Clean Energy to Fukushima's Main Quake Area
Sunny Health Co., Ltd, JFE Engineering Corporation and Hanwha Q CELLS Japan team up to build solar power plant on abandoned golf course
"Sunny Fukushima" central power plant to be equipped with 105,000 Q.PRO-G3 solar modules
Leading example for the energy turnaround in Japan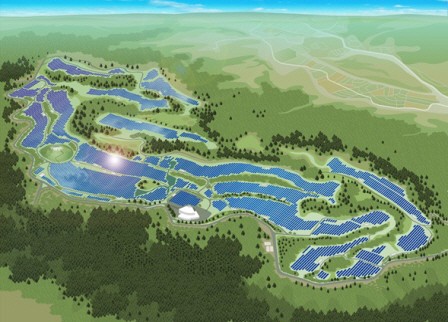 The 26.2 MW "Sunny Solar Fukushima Central Plant", one of the biggest solar power plant construction projects in Japan, will be powered with solar modules from Q CELLS. This was announced by Hanwha Q CELLS Japan, the Japanese representation of world-leading photovoltaics company Hanwha Q CELLS. The company entered into a partnership agreement with Sunny Health Co., Ltd., a fast-growing health food company in Japan being responsible for management of the power plant, and JFE Engineering Corporation, a leading global plant constructor, who performs engineering and construction.
8,000 homes in Fukushima area to be provided with clean energy
"Sunny Solar Fukushima Central Plant" is being built on the site of a golf course abandoned after the 2011 earthquake. Approximately 105,000 of Q CELLS leading Q.PRO-G3 solar modules will be used in the project, generating 26.2 MWp of clean electricity. The solar power plant is expected to supply around 8,000 homes in the area with stable power and become a benchmark of successful natural energy generation in Japan. Construction is scheduled for completion in March 2015.
"A leading example of energy transition"
Jongseo Kim, Managing Director of Hanwha Q CELLS Japan said: "We are very proud to contribute to this leading example of energy transition in Japan, especially since it is located in the region that was hit so severely by the tragic events of 11 March 2011." Fukushima suffered particular devastation when a nuclear power plant was hit by an earthquake and tsunami off the Pacific coast of Japan. This sparked controversy in Japan over the issue of the country's dependence on nuclear power and had global impact on discussions surrounding the future of energy supply. In Germany, a country regarded as a pioneer in clean energy policies, the government stepped back from their already decided plans of stopping the exit from nuclear power supply. Following the catastrophic events in Japan, the German government changed its policy and continued the so called "Energiewende" (Energy Transition) in Germany.
This is not the first time that Hanwha provides a green source of energy in Fukushima to overcome natural disasters in an environmentally-friendly way. In February 2012, Hanwha donated a 12-kilowatt solar power system to a kindergarten in Iwate Prefecture, which was hit by the east Japan earthquake and tsunami. With the completion of "Sunny Solar Fukushima Central Plant", Hanwha goes forwards to make another leading example for energy transition efforts in Japan.
Charles Kim, CEO of Hanwha Q CELLS said: "Hanwha is dedicated to make Solar the most reliable source of energy on earth and the 2011 events of Fukushima sadly remind us, how important it is to succeed in this venture. Powering the "Sunny Solar Fukushima Central Plant", and thus Fukushima region, with clean energy from our Q CELLS solar modules is very special and a great honor for us."
Hanwha started its solar business in Japan in 2011 and is ranked number one among foreign solar companies operating in the country as of 2013. The company provides a total volume of 520 megawatts of solar energy solutions to Japanese customers.
Sunny Solar Fukushima Central Power Plant project outline
| | |
| --- | --- |
| Project name | Sunny Solar Fukushima Central Power Plant |
| Company | Sunny Health Co., Ltd. (Headquarters: Nagano, Japan; CEO:Minemitsu Nishimura) |
| Design/Construction | JFE Engineering Corporation (Tokyo, Japan; CEO:Hisanori Kanou) |
| Location | Azanagasawa-1, Mujinamori, Sukagawa-shi, Fukushima |
| Installed capacity | 26.2MW (Projected 26 million kWh p.a.) |
For more information:
Hanwha Q CELLS GmbH

Sonnenallee 17-21
06766 Bitterfeld-Wolfen (OT Thalheim), Germany
Corporate Communications

Jochen Endle, Robert Reinsch
Tel: +49 (0)3494 6699 10121
Email: presse@q-cells.com
Executive Board

Hee Cheul Kim (CEO), Kye Chun Son (CFO),
Dr. Andreas v. Zitzewitz (COO), Koo Yung Lee (CCO)
Hanwha Qcells
Hanwha Qcells (Hanwha Solutions Qcells division) is one of the world's leading clean energy companies, recognized for its established reputation as a manufacturer of high-performance, high-quality solar cells, and modules, a portfolio of intelligent storage systems, and a growing international pipeline of large-scale renewable energy projects. Hanwha Qcells also provides renewable electricity retail services and packages to end customers the world over. The company is headquartered in Seoul, South Korea (Global Executive HQ) and Thalheim, Germany (Technology & Innovation HQ) with its diverse international manufacturing facilities in the U.S., Malaysia, China, and South Korea. Hanwha Qcells strives to offer Completely Clean Energy through the full spectrum of photovoltaic products, storage solutions, renewable electricity contracting, and large-scale solar power plants. Through its growing global business network spanning Europe, North America, Asia, South America, Africa, and the Middle East, Hanwha Qcells provides excellent services and long-term partnerships to its customers in the utility, commercial, governmental, and residential markets.

For more information, visit: www.qcells.com/us/
Hanwha Group
Founded in 1952, Hanwha has grown quickly by anticipating and responding to changing business environments with a balanced business portfolio that includes energy & materials, aerospace, finance and retail & services. Our expertise and synergy in key areas have catapulted us into the seventh-largest business in South Korea and a Fortune Global 500 company. Hanwha continues to grow rapidly as we strive to pursue global leadership in all of our businesses. We are building a robust foundation for sustainable development and a brighter future for everyone.

For more information, visit: www.hanwha.com
Contact Us
Thank you for your interest in Hanwha.
Please contact us for your inquiries.
Email Us
Information Message
Please enter your email address.
Information Message
Please enter a correct email address.
Success
Keep an eye on your inbox for the latest stories from Hanwha.
Information Message
Your subscription request has already been processed. Thank you.