Hanwha Q CELLS to Build 800 Megawatt Module Factory
New building with four module production lines at main site for mass production in Cyberjaya, Malaysia
Construction start in early 2015, ramp-up to be completed by early 2016 Hanwha Q CELLS continues on its growth path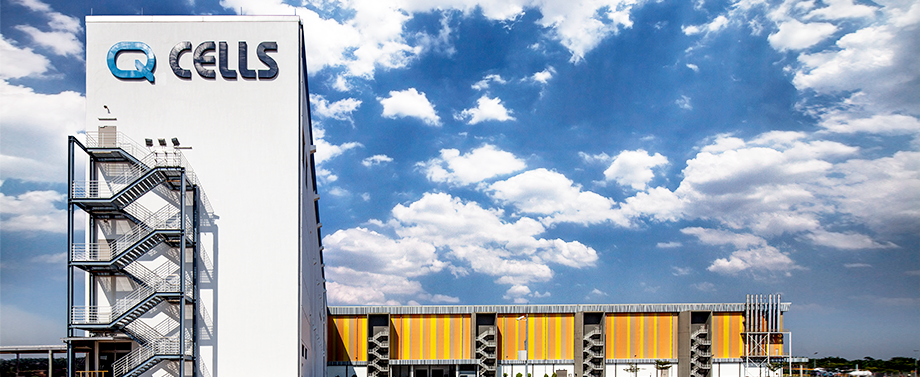 [Thalheim, Germany / Cyberjaya, Malaysia, 29 October, 2014] German headquartered Hanwha Q CELLS today announced that it will build a large-scale module factory at its existing site in Cyberjaya, Malaysia. The new facility will include four production lines and automated equipment for the company's high performing solar modules totaling a capacity of 800 megawatt (MW). After currently increasing its capacities in cell production, the investment in a new module production again highlights Hanwha Q CELLS' consistent growth path and positive business outlook. Given the growing cell capacity and production volume, the largest European PV provider according to shipments now adapts its module production capacities accordingly. The amount of investment has not been disclosed.
In August, Hanwha Q CELLS announced to increase its total production capacity to more than 1.5 GW by the end of the year. Furthermore, Hanwha Q CELLS has been strongly expanding its business and expects 2014 shipments between 1 and 1.2 GW as well as positive full-year-figures. Detailed financial figures about revenue or profit have not been disclosed.
The next step in becoming one of the leading players in global PV industry
Charles Kim, CEO of Hanwha Q CELLS, said: "By building module facilities of 800 MW at our site in Malaysia, Hanwha Q CELLS takes the next step in becoming one of the globally leading companies in the photovoltaics industry. The new factory will strengthen our position to satisfy the heightened demand of our customers. We offer top-quality modules, applications and complete power plants "Engineered in Germany" as well as long-term partnership and financial stability."
The construction of the module production facility at the Cyberjaya site will start in early 2015. Hanwha Q CELLS will start to move in the production equipment in parallel. The new production lines are planned to be ready for a first test production in Q3 2015 and expected to reach full utilization by early 2016.
Further strengthening the combination of German engineering with international mass production
"The new module fab in Cyberjaya is the logical next step in carrying forward the company´s international setup of R&D and mass production," said CEO Charles Kim. By partly insourcing and at the same time increasing total module production capacities, Hanwha Q CELLS is further strengthening this combination of German engineering and quality with competitive and flexible international mass production. Seong Joo Ryu, Managing Director of Hanwha Q CELLS Malaysia, added: "Hanwha Q CELLS Malaysia is ready to become the company´s main hub for the sustainable mass production of high quality solar cells and modules at competitive costs." In combining cell and module manufacturing in one production site, the company will optimize the production cycle times and reduces logistics costs.
The planning, building and ramping up of the new module fab in Malaysia will be a constant team effort across sites, countries and company departments. Dr. Andreas von Zitzewitz, COO at Hanwha Q CELLS, comments, "Our teams in Thalheim and Cyberjaya are working hand in hand in realizing this important project for our company."
For more information:
Hanwha Q CELLS GmbH

Sonnenallee 17-21
06766 Bitterfeld-Wolfen (OT Thalheim), Germany
Corporate Communications

Jochen Endle, Robert Reinsch
Tel: +49 (0)3494 6699 10121
Email: presse@q-cells.com
Executive Board

Hee Cheul Kim (CEO), Kye Chun Son (CFO),
Dr. Andreas von Zitzewitz (COO), Koo Yung Lee (CCO)
Hanwha Qcells
Hanwha Qcells is one of the world's leading clean energy companies, recognized for its established reputation as a manufacturer of high-performance, high-quality solar cells and modules, portfolio of intelligent storage systems, and growing international pipeline of large-scale renewable energy projects. Hanwha Qcells also provides renewable electricity retail services and packages to end customers the world over. The company is headquartered in Seoul, South Korea (Global Executive HQ), Thalheim, Germany (Technology & Innovation HQ) and San Francisco, USA (Energy Storage/Inverter & Software HQ) with its diverse international manufacturing facilities in the U.S., Malaysia, China, and South Korea. Hanwha Qcells strives to offer completely clean energy through the full spectrum of photovoltaic products, storage solutions, renewable electricity contracting and large-scale solar power plants. Through its growing global business network spanning Europe, North America, Asia, South America, Africa and the Middle East, Hanwha Qcells provides excellent services and long-term partnerships to its customers in the utility, commercial, governmental and residential markets.

For more information, visit: www.qcells.com/us/
Hanwha Group
Hanwha Group, founded in 1952, is one of the Top-Ten business enterprises in South Korea and a "FORTUNE Global 500" company. Hanwha Group has more than 85 domestic affiliates and over 380 global networks in three major sectors: manufacturing and construction, finance, and services and leisure. With more than 65 years track record of industrial leadership, Hanwha's manufacturing and construction businesses encompass a broad range of fields from chemicals & materials, aerospace & mechatronics, total solar energy solutions, and global construction. The finance network, covering insurance, asset management and securities, is the second largest non-bank financial group in South Korea. The services and leisure sector offers premium lifestyle services with retail and resort businesses.

For more information, visit: www.hanwha.com
Contact Us
Thank you for your interest in Hanwha.
Please contact us for your inquiries.
Email Us
Information Message
Please enter your email address.
Information Message
Please enter a correct email address.
Success
Keep an eye on your inbox for the latest stories from Hanwha.
Information Message
Your subscription request has already been processed. Thank you.