Hanwha Signs MOU with Sichuan for West China Development
Hanwha will actively participate in the Western China Development Project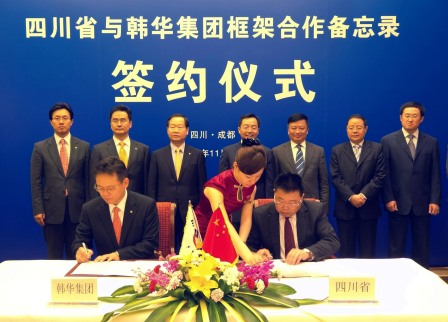 Hanwha China, the Hanwha Group's overseas subsidiary in China, has signed a memorandum of understanding with China's Sichuan Province as part of its strategy to participate in the development of western China.
In addition, Hanwha will ink an MOU with Chengdu City, the capital of Sichuan Province, for partnership on the financial business and work on setting up a joint management firm, a private equity fund or a venture capital fund by the first half of 2012.
"Hanwha China Chairman, Geum Chun-su, met with Vice Governor of Sichuan Province and Mayor of Chengdu city to sign an MOU to cooperate in the manufacturing, construction, finance, distribution and leisure industries," Hanwha group revealed Wednesday.
Hanwha Group will actively participate in the Western China development project, a central project in the Chinese government's 12th five-year plan. Hanwha will examine its strategy for the project, including expansion of the high value-added manufacturing business, the development of industrial complexes, and the construction of a western China distribution center, department stores, hotels and comprehensive leisure facilities.
Also, Hanwha has decided to cooperate with Chengdu Investment Holdings Group, a financial holding company under Chengdu city, on the overall financial business including private equity, venture capital, asset management and insurance.
"Hanwha China is aggressively expanding new businesses in Chengdu city and Sichuan province, a central area in China's 12 western provinces," Chairman Geum said. "Through this cooperation Hanwha group will build a solid ground to enter the western region of China".
Hanwha Group
Founded in 1952, Hanwha has grown quickly by anticipating and responding to changing business environments with a balanced business portfolio that includes energy & materials, aerospace, finance and retail & services. Our expertise and synergy in key areas have catapulted us into the seventh-largest business in South Korea and a Fortune Global 500 company. Hanwha continues to grow rapidly as we strive to pursue global leadership in all of our businesses. We are building a robust foundation for sustainable development and a brighter future for everyone.

For more information, visit: www.hanwha.com
Contact Us
Thank you for your interest in Hanwha.
Please contact us for your inquiries.
Email Us
Information Message
Please enter your email address.
Information Message
Please enter a correct email address.
Success
Keep an eye on your inbox for the latest stories from Hanwha.
Information Message
Your subscription request has already been processed. Thank you.