Hanwha Solar Panels Selected for VISION House® in INNOVENTIONS at Epcot® at the Walt Disney World® Resort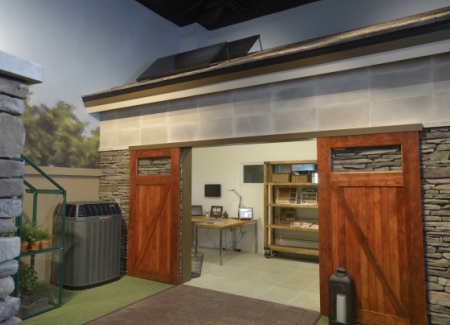 Hanwha Solar, a global provider of photovoltaic (PV) solar solutions and flagship company of Korea's top-10 business group Hanwha Group, today announces its participation in the VISION House® in INNOVENTIONS at Epcot® at the Walt Disney World® Resort. Hanwha Solar is providing solar PV panels for the experiential exhibit in INNOVENTIONS at Epcot®, which will give visitors a practical look at green building technologies.
The VISION House® is a large home with realistic living space and interior décor. INNOVENTIONS Cast Members will lead VISION House® guests through a guided tour, featuring building science fundamentals, integrated design elements, green products, and intelligent systems that aim to enhance the home's sustainability. Throughout the exhibit, visitors are encouraged to consider how they can reduce their personal impact on the planet, as well as changes they can implement in their own homes to make them more sustainable and durable.
Hanwha Solar photovoltaic modules are installed on the VISION House® roof and carport outside the VISION House®. "The same high-quality Hanwha Solar panels that power millions of homes around the world are used to educate INNOVENTIONS guests from around the world about the ease and importance of solar power," said Hee Cheul Kim, President of Hanwha Solar. "Hanwha Solar is a trusted, world-class brand in the solar industry, which aligns well with Disney's preeminent status as one of the world's most respected and trusted companies."
As guests tour the home, they are educated on the latest in advanced products and technologies in whole-home automation, energy generation and efficiency, water conservation, indoor environment quality and high-performance materials and durability. In addition to Hanwha Solar's solar photovoltaic panels, the home includes these advanced products and technologies:
High efficiency heating and cooling systems and controls and innovative whole-home automation system and door hardware by Ingersoll Rand
Electronic vehicle charging station by SIEMENS
Chevy Volt electric vehicle by GM
Durable and environmentally friendly exterior systems, including smog-eating tile roofs, cultured stone, bricks, permeable pavers, and trim by Boral
Ventilation solutions by Panasonic
Energy efficient windows and doors from Pella
High performance appliance glass products by Schott
Fire sprinkler information from the National Fire Protection Association
Sustainable hardwood flooring and cabinets from Armstrong World Industries
Water-conserving fixtures, faucets, showerheads, and home standby generators by KOHLER
ENERGY STAR certified home appliances by Bosch
LED lighting solutions by SYLVANIA
The VISION House® in INNOVENTIONS is part of Green Builder® Media's VISION House® series. Other VISION House® locations include Los Angeles, California, Las Vegas, Nevada, Orlando, Florida, and Aspen, Colorado.
Hanwha Group
Founded in 1952, Hanwha has grown quickly by anticipating and responding to changing business environments with a balanced business portfolio that includes energy & materials, aerospace, finance and retail & services. Our expertise and synergy in key areas have catapulted us into the seventh-largest business in South Korea and a Fortune Global 500 company. Hanwha continues to grow rapidly as we strive to pursue global leadership in all of our businesses. We are building a robust foundation for sustainable development and a brighter future for everyone.

For more information, visit: www.hanwha.com
INNOVENTIONS at Epcot®
INNOVENTIONS is located in the heart of Epcot® at the Walt Disney World® Resort in Lake Buena Vista, Fla. Creativity and imagination abound as guests celebrate inspiration and the innovations that improve their lives and expand their horizons. Hands-on, interactive exhibits allow children and adults to be immersed into ideas that inform, entertain and inspire.

For more information, visit: www.innoventions.disney.com

The VISION House® in INNOVENTIONS at Epcot®
Opening this spring, the VISION House in INNOVENTIONS at Epcot® is a groundbreaking green show home exhibit presented by Green Builder Media in collaboration with Walt Disney Imagineering. This experiential exhibit in the heart of Epcot® highlights the very best in green residential design and sustainable living. Visitors should leave with a greater understanding of green design, technology, and products as well as a host of sustainable living ideas that they can incorporate in their lives the minute they get home from vacation.

In addition to Green Builder® Media, other sponsors for this exciting project include SIEMENS, GM, Ingersoll Rand, Armstrong, Boral, Hanwha Solar, Kohler, National Fire Protection Association, Panasonic, Pella, and Schott.

Contact Us
Thank you for your interest in Hanwha.
Please contact us for your inquiries.
Email Us
Information Message
Please enter your email address.
Information Message
Please enter a correct email address.
Success
Keep an eye on your inbox for the latest stories from Hanwha.
Information Message
Your subscription request has already been processed. Thank you.