Hanwha SolarOne Announced Official Enactment of FCPA Manual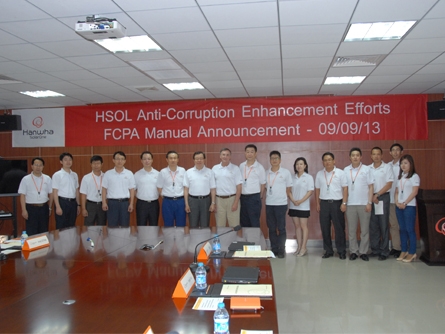 [09 September, 2013] Senior management of Hanwha SolarOne held a ceremony announcing the Company's FCPA Manual in Qidong. Sixteen senior leaders, including Chairman Ki Joon Hong, President Min Su Kim and CFO (also Chief Compliance Officer) Jay Seo, attended the ceremony.
Chairman Ki Joon Hong started the ceremony with an opening speech, followed by a brief introduction of the FCPA by the General Counsel Chi Jiang and an introduction about the roles and responsibilities for the implementation of the Manual by IT/PI head Ziv Yu. In the end, Chairman Ki Joon Hong declared that the implementation of the FCPA Manual officially began, and President Min Su Kim required that every employee of Hanwha SolarOne must strictly comply with the FCPA Manual.
The Manual is an important company compliance project led by CFO (also Chief Compliance Officer), and it summarizes Hanwha SolarOne's global policies and procedures for complying with FCPA, Chinese anti-corruption laws and other applicable anti-corruption laws. As a comprehensive ethics protocol, the Manual provides detailed instruction on a range of business activities, including periodic audits, reporting procedures, mergers and acquisitions and joint ventures.
The official enactment of the FCPA Manual represented Hanwha SolarOne's continued commitment to maintaining the highest ethical standards and wining business through honest competition.
Hanwha SolarOne
Hanwha SolarOne Co., Ltd. (NASDAQ: HSOL) is one of the top 10 photovoltaic module manufacturers in the world, providing cost-competitive, high quality PV modules. It is a flagship company of Hanwha Group, one of the largest business enterprises in South Korea. Hanwha SolarOne serves the utility, commercial, government and residential markets through a growing network of third-party distributors, OEM manufacturers and system integrators. The company maintains a strong presence worldwide, with a global business network spanning Europe, North America, Asia, South America, Africa and the Middle East. As a responsible company committed to sustainability, Hanwha SolarOne is an active member of the PV Cycle take-back and recycling program.

For more information, visit: www.qcells.com/us/
Hanwha Group
Founded in 1952, Hanwha has grown quickly by anticipating and responding to changing business environments with a balanced business portfolio that includes energy & materials, aerospace, finance and retail & services. Our expertise and synergy in key areas have catapulted us into the seventh-largest business in South Korea and a Fortune Global 500 company. Hanwha continues to grow rapidly as we strive to pursue global leadership in all of our businesses. We are building a robust foundation for sustainable development and a brighter future for everyone.

For more information, visit: www.hanwha.com
Contact Us
Thank you for your interest in Hanwha.
Please contact us for your inquiries.
Email Us
Information Message
Please enter your email address.
Information Message
Please enter a correct email address.
Success
Keep an eye on your inbox for the latest stories from Hanwha.
Information Message
Your subscription request has already been processed. Thank you.