Hanwha SolarOne Enhances Production with New Cell Technology
New technology improves production capabilities and cuts costs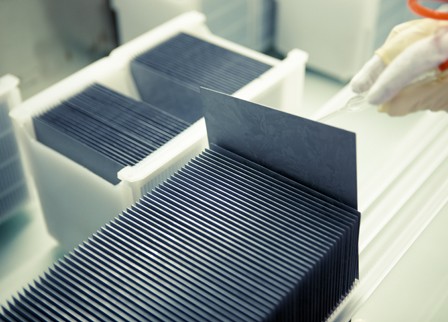 Hanwha SolarOne Co. Ltd. (the "Company", or "Hanwha SolarOne"), a global photovoltaic provider of cost-competitive, high-quality solar photovoltaic modules, today announced the completed integration of new cell technology into its production processes. Through the implementation of this innovative new technology, known internally as 'Project EStarII,' Hanwha SolarOne is able to reduce silver paste consumption and optimize production processes to enhance efficiency and cost saving.
"This is truly a production milestone for Hanwha SolarOne. With this new technology, we are now able to produce world-class solar cells at competitive costs," said Jeong Eui Hong, Chief Technology Officer at Hanwha SolarOne. "We plan to leverage this technology to gradually increase the cell efficiency of our multi-crystalline silicon wafers to more than 18.5 percent by the end of 2015."
According to Hanwha SolarOne's internal assessments, the new cell technology dramatically improves production capabilities. Products manufactured with the new technology are on average 0.2 to 0.25 percent more efficient, with module power gains of 3W to 5W on average. Moreover, this new technology reduces silver paste consumption by approximately 45 percent during production.
All products made with this cutting-edge technology meet Hanwha SolarOne's stringent cell requirements as well as those for a number of international certifications.
Hanwha SolarOne
Hanwha SolarOne Co., Ltd. (NASDAQ: HSOL) is one of the top 10 photovoltaic module manufacturers in the world, providing cost-competitive, high quality PV modules. It is a flagship company of Hanwha Group, one of the largest business enterprises in South Korea. Hanwha SolarOne serves the utility, commercial, government and residential markets through a growing network of third-party distributors, OEM manufacturers and system integrators. The company maintains a strong presence worldwide, with a global business network spanning Europe, North America, Asia, South America, Africa and the Middle East. As a responsible company committed to sustainability, Hanwha SolarOne is an active member of the PV Cycle take-back and recycling program.

For more information, visit: www.qcells.com/us/
Hanwha Group
Founded in 1952, Hanwha has grown quickly by anticipating and responding to changing business environments with a balanced business portfolio that includes energy & materials, aerospace, finance and retail & services. Our expertise and synergy in key areas have catapulted us into the seventh-largest business in South Korea and a Fortune Global 500 company. Hanwha continues to grow rapidly as we strive to pursue global leadership in all of our businesses. We are building a robust foundation for sustainable development and a brighter future for everyone.

For more information, visit: www.hanwha.com
Safe-Harbor Statement
This press release contains forward-looking statements. These statements constitute "forward-looking" statements within the meaning of Section 27A of the Securities Act of 1933, as amended, and Section 21E of the Securities Exchange Act of 1934, as amended, and as defined in the U.S. Private Securities Litigation Reform Act of 1995. These forward-looking statements can be identified by terminology such as "will," "expects," "anticipates," "future," "intends," "plans," "believes," "estimates" and similar statements. Among other things, the quotations from management in this press release and the Company's operations and business outlook, contain forward-looking statements. Such statements involve certain risks and uncertainties that could cause actual results to differ materially from those in the forward-looking statements. Further information regarding these and other risks is included in Hanwha SolarOne's filings with the U.S. Securities and Exchange Commission, including its annual report on Form 20-F. Except as required by law, the Company does not undertake any obligation to update any forward-looking statements, whether as a result of new information, future events or otherwise.

Contact Us
Thank you for your interest in Hanwha.
Please contact us for your inquiries.
Email Us
Information Message
Please enter your email address.
Information Message
Please enter a correct email address.
Success
Keep an eye on your inbox for the latest stories from Hanwha.
Information Message
Your subscription request has already been processed. Thank you.