Hanwha SolarOne Introduces NASDAQ Ticker Symbol
HSO rang the closing bell at the American stock exchange to commemorate the companys updated brand and new ticker symbol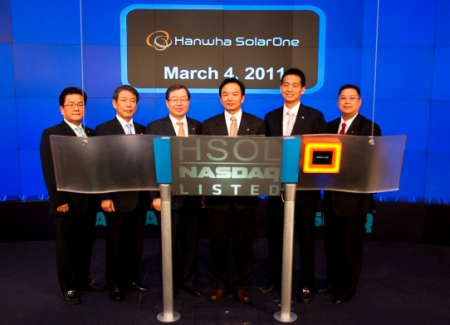 Hanwha SolarOne, a vertically integrated manufacturer of silicon ingots, wafers, photovoltaic cells and modules, has announced its new NASDAQ ticker symbol, HSOL.
According to the global energy company, it rang the closing bell at the American stock exchange to commemorate the company's updated brand and new ticker symbol.
The closing bell ceremony serves as a platform to generate exposure for a company when it makes a news announcement or celebrates a corporate milestone.
The 15-minute ceremony was aired live on the NASDAQ's MarketSite Tower, which exposed SolarOne and Hanwha to the capital of world finance.
Hanwha owns a 49.9 percent stake in SolarOne, which specializes in solar energy. The company's solar battery operations have an annual production output of 500 megawatts and its module assembly operations have an annual output of 900 megawatts. The company signed an MOU with the China's Nántōng Province to build a solar facility by the end of 2012.
Hanwha SolarOne
Hanwha SolarOne Co., Ltd. (NASDAQ: HSOL) is one of the top 10 photovoltaic module manufacturers in the world, providing cost-competitive, high quality PV modules. It is a flagship company of Hanwha Group, one of the largest business enterprises in South Korea. Hanwha SolarOne serves the utility, commercial, government and residential markets through a growing network of third-party distributors, OEM manufacturers and system integrators. The company maintains a strong presence worldwide, with a global business network spanning Europe, North America, Asia, South America, Africa and the Middle East. As a responsible company committed to sustainability, Hanwha SolarOne is an active member of the PV Cycle take-back and recycling program.

For more information, visit: www.qcells.com/us/
Hanwha Group
Founded in 1952, Hanwha has grown quickly by anticipating and responding to changing business environments with a balanced business portfolio that includes energy & materials, aerospace, finance and retail & services. Our expertise and synergy in key areas have catapulted us into the seventh-largest business in South Korea and a Fortune Global 500 company. Hanwha continues to grow rapidly as we strive to pursue global leadership in all of our businesses. We are building a robust foundation for sustainable development and a brighter future for everyone.

For more information, visit: www.hanwha.com
Contact Us
Thank you for your interest in Hanwha.
Please contact us for your inquiries.
Email Us
Information Message
Please enter your email address.
Information Message
Please enter a correct email address.
Success
Keep an eye on your inbox for the latest stories from Hanwha.
Information Message
Your subscription request has already been processed. Thank you.