Hanwha SolarOne Powers Solar Rooftop of Belgian Hospital
The Haute Senne hospital will consume 95% of the power generated by its new solar rooftop installation, planned, and installed by leading PV company Ikaros Solar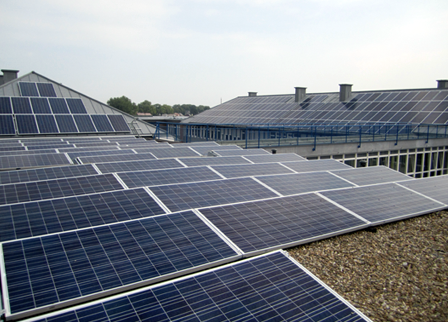 Hanwha SolarOne Co., Ltd. (Hanwha SolarOne or the Company) (Nasdaq: HSOL), a top-10 global photovoltaic manufacturer of high-quality, cost-effective solar modules, has announced the completion of a 425 kWp delivery of solar modules to Belgium-based solar company Ikaros Solar. The modules have been installed at the Haute Senne Hospital in Soignies, Wallonia, Belgium. Officially inaugurated in June 2014, the solar installation is one of the largest of its kind in the region.
The Haute Senne hospital has adopted an extensive set of environmental guidelines, addressing topics ranging from the operation of buildings to daily working processes. As the buildings at the hospital site Le Tilleriau have undergone expansion, the addition of a PV system was a natural choice for the institution. The available area consists of a mixture of flat and pitched roofs. Due to the technical complexity and tight timeline of the project, the hospital commissioned the experienced PV specialist company Ikaros Solar to carry out the planning and installation of the system.
With electricity consumption by the hospital stable over the day and throughout the year, Ikaros Solar dimensioned the solar system for a high level of self-consumption. The completed installation covers an area exceeding 3,000㎡, and a total of 1,410 high-quality HSL72 solar modules are mounted on the hospital's roofs. Expected annual energy output of the system is 344 MWh, of which 95% will be consumed by the hospital directly.
"With large rooftop areas available and electricity demand stable at a high level, the Haute Senne hospital was an ideal match for solar energy," said Yves Devis, CEO of Ikaros Solar. "The hospital will notice the positive effect on its electricity bill immediately – and for the next couple of decades. As often reported, the cost of electricity is generally expected to increase. By producing their own power, Haute Senne has secured a higher level of autonomy as well as improved predictability when it comes to expenses."
"Owners of commercial and residential buildings are becoming increasingly aware of the advantages of a PV rooftop, and we see great potential in this segment," said Laurent Bodin, Director Sales France & Benelux of Hanwha SolarOne. "To meet the needs of our European customers, the HSL solar modules are distinguished by extended durability to withstand heavy snow and wind loads. Spending a lifetime outdoors can be tough, but our solar modules come well prepared."
For more information:
Bianca Böttcher

PR agency
Solar Consulting GmbH
Tel: +49 (0)761 / 38 09 68-20
Lena Berg

Manager Product Marketing
Hanwha SolarOne
Tel: +49 (0)89 / 2175 667 393
Email: lena.berg@hanwha-solarone.de
Hanwha SolarOne
Hanwha SolarOne Co., Ltd. (NASDAQ: HSOL) is one of the top 10 photovoltaic module manufacturers in the world, providing cost-competitive, high quality PV modules. It is a flagship company of Hanwha Group, one of the largest business enterprises in South Korea. Hanwha SolarOne serves the utility, commercial, government and residential markets through a growing network of third-party distributors, OEM manufacturers and system integrators. The company maintains a strong presence worldwide, with a global business network spanning Europe, North America, Asia, South America, Africa and the Middle East. As a responsible company committed to sustainability, Hanwha SolarOne is an active member of the PV Cycle take-back and recycling program.

For more information, visit: www.qcells.com/us/
Hanwha Group
Founded in 1952, Hanwha has grown quickly by anticipating and responding to changing business environments with a balanced business portfolio that includes energy & materials, aerospace, finance and retail & services. Our expertise and synergy in key areas have catapulted us into the seventh-largest business in South Korea and a Fortune Global 500 company. Hanwha continues to grow rapidly as we strive to pursue global leadership in all of our businesses. We are building a robust foundation for sustainable development and a brighter future for everyone.

For more information, visit: www.hanwha.com
The Ikaros Solar Group
The Ikaros Solar Group is a leading international company operating in the photovoltaic (PV) market. With fully functional organisations in Belgium, Great Britain, Portugal, India, Mexico and Turkey, the Ikaros Solar Group engages in PV projects worldwide. Providing overall PV solutions for business clients and specialised investors, it offers turn-key PV systems including the assurance of optimal yields once the system has been commissioned. It operates to bankable standards and has been recognised as such by leading institutions. It is also a component wholesaler offering best-in-class products to installers. Over the years, the Ikaros Solar Group has built up strong references of well-known companies in various industries.

For more information, visit: www.ikaros-solar.eu/

Safe-Harbor Statement
This press release contains forward-looking statements. These statements constitute "forward-looking" statements within the meaning of Section 27A of the Securities Act of 1933, as amended, and Section 21E of the Securities Exchange Act of 1934, as amended, and as defined in the U.S. Private Securities Litigation Reform Act of 1995. These forward-looking statements can be identified by terminology such as "will," "expects," "anticipates," "future," "intends," "plans," "believes," "estimates" and similar statements. Among other things, the quotations from management in this press release and the Company's operations and business outlook, contain forward-looking statements. Such statements involve certain risks and uncertainties that could cause actual results to differ materially from those in the forward-looking statements. Further information regarding these and other risks is included in Hanwha SolarOne's filings with the U.S. Securities and Exchange Commission, including its annual report on Form 20-F. Except as required by law, the Company does not undertake any obligation to update any forward-looking statements, whether as a result of new information, future events or otherwise.

Contact Us
Thank you for your interest in Hanwha.
Please contact us for your inquiries.
Email Us
Information Message
Please enter your email address.
Information Message
Please enter a correct email address.
Success
Keep an eye on your inbox for the latest stories from Hanwha.
Information Message
Your subscription request has already been processed. Thank you.