Hanwha SolarOne to Build a New 230 MW
Solar Module Plant in South Korea
The plant will start operation in May 2015 with the expectation of more than 126 million USD sales and more than 6.3 million USD operating profit.
The company will strengthen module R&D capacity through the expansion of R&D personnel.
The new plant will contribute to strengthening Hanwha's presence in South Korea's solar market and will be the answer for the U.S. anti-dumping duties.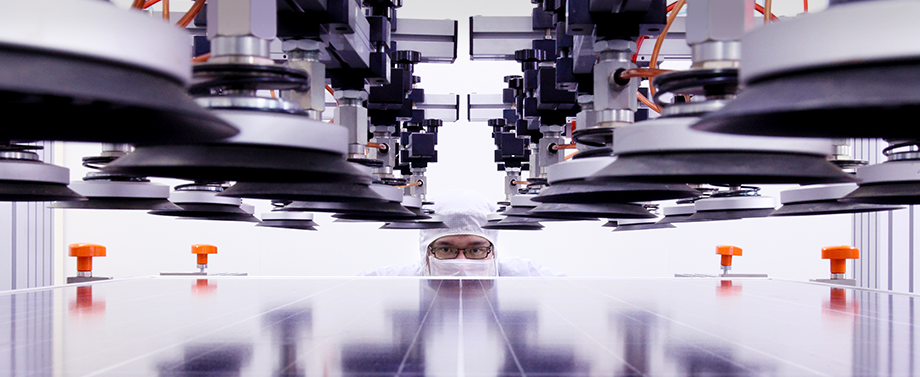 [Seoul, Korea, 17 November, 2014] In order to strengthen its market position, Hanwha will set up another manufacturing plant in South Korea, where the solar market is growing rapidly.
Hanwha SolarOne, which has its headquarters and manufacturing plants in China,decided to establish a 230 MW PV module manufacturing plant in South Korea. The solar module maker will invest around 11.7 million USD in building the plant and will start its commercial operation in May 2015. The company expects that the new plant will bring a sales volume of more than 126 million USD and an operating profit of more than 6.3 million USD every year.
Hanwha SolarOne has an 800 MW ingot and wafer plan in Lianyungang, China. In addition, the company will secure 1.5 GW cell-production capacity and 2 GW module-production capacity when it completes its cell and module plants in Qidong, China, by the end of the year. When the new plant in South Korea is completed, the module production capacity of the company will reach 2.23 GW. In addition, Hanwha SolarOne will hire about 200 new workers for the new plant. The company also plans to strengthen its solar module R&D ability by continuously recruiting researchers.
With these moves, Hanwha will strengthen its presence in South Korea's solar market, which is growing rapidly these days. In addition, by exporting its solar modules made in Korea to the US, the company expects to advance into the US solar market more effectively. That is because it can avoid the high rate of anti-dumping duties imposed on solar modules produced in China. The US is the third largest customer of Hanwha SolarOne in 2014.
Hanwha SolarOne
Hanwha SolarOne Co., Ltd. (NASDAQ: HSOL) is one of the top 10 photovoltaic module manufacturers in the world, providing cost-competitive, high quality PV modules. It is a flagship company of Hanwha Group, one of the largest business enterprises in South Korea. Hanwha SolarOne serves the utility, commercial, government and residential markets through a growing network of third-party distributors, OEM manufacturers and system integrators. The company maintains a strong presence worldwide, with a global business network spanning Europe, North America, Asia, South America, Africa and the Middle East. As a responsible company committed to sustainability, Hanwha SolarOne is an active member of the PV Cycle take-back and recycling program.

For more information, visit: www.qcells.com/us/
Hanwha Group
Hanwha Group, founded in 1952, is one of the Top-Ten business enterprises in South Korea and a "FORTUNE Global 500" company. Hanwha Group has more than 85 domestic affiliates and over 380 global networks in three major sectors: manufacturing and construction, finance, and services and leisure. With more than 65 years track record of industrial leadership, Hanwha's manufacturing and construction businesses encompass a broad range of fields from chemicals & materials, aerospace & mechatronics, total solar energy solutions, and global construction. The finance network, covering insurance, asset management and securities, is the second largest non-bank financial group in South Korea. The services and leisure sector offers premium lifestyle services with retail and resort businesses.

For more information, visit: www.hanwha.com
Contact Us
Thank you for your interest in Hanwha.
Please contact us for your inquiries.
Email Us
Information Message
Please enter your email address.
Information Message
Please enter a correct email address.
Success
Keep an eye on your inbox for the latest stories from Hanwha.
Information Message
Your subscription request has already been processed. Thank you.