Kalaeloa Renewable Energy Park Comes Online
Oahu's 5 MW Solar Plant—One of State's Largest Solar Energy Facilities Now Generating Energy for Hawaiian Electric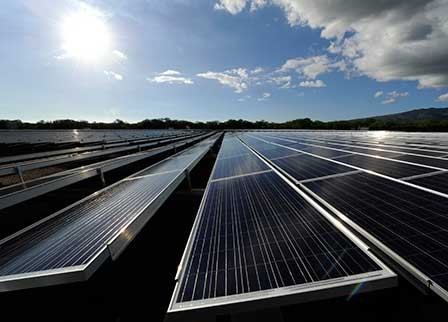 Kalaeloa Renewable Energy Park, one of Hawaii's largest solar energy generation facilities, ceremoniously opened today and will immediately begin generating electricity for Hawaiian Electric customers on Oahu. Following four years of development and construction, the 5 MW, utility-scale solar park was successfully tested and commissioned on November 22.
The renewable power plant, which sits on a 20-acre property adjacent to the Barbers Point Golf Course in the community of Kalaeloa, is expected to reduce the fossil fuel consumption on the island. The facility is comprised of 21,000 photovoltaic (PV) panels and will generate around 9 million kilowatt hours (kWh) of electricity per year, enough to power 1,000 homes, bringing the state one step closer to meeting its target to produce 40 percent of electricity from renewable sources by 2030. Based on U.S. Environmental Protection Agency estimates, Kalaeloa Renewable Energy Park will produce enough renewable power to prevent nearly 11,000 tons of carbon dioxide emissions annually. This is equivalent to removing nearly 38,000 cars from Hawaii's roads over the 20-year term of the agreement.
"Projects like the Kalaeloa Renewable Energy Park bring us closer to meeting our state's energy goals while supporting workforce development for quality, green jobs. Public-private partnerships are key to expanding renewable energy initiatives with clear community benefits," said Governor Neil Abercrombie, who attended the ceremony.
After four years of development and construction, the solar project is generating clean electricity for the people of Oahu. To celebrate the launch, the project development and finance team – Hanwha Q CELLS USA, Hunt Companies, Scatec Solar North America, Swinerton Renewable Energy – joined Hawaiian Electric for a commission ceremony and traditional Hawaiian blessing. Hanwha Q CELLS USA, which acquired the project in 2012 to facilitate development, financing and solar module supply, will operate the facility for a 20-year period, with project financing provided by PNC Bank.
"Partnerships like this – with government and private industry working together – are critical to achieving Hawaii's clean energy goals," said Scott Seu, Hawaiian Electric's Vice President for Energy Resources and Operations.
"We are proud to be a part of such an important project and are committed to reducing Hawaii's dependence on imported fossil fuels," said Moon Hwan Cha, President of Hanwha Q CELLS USA. "We look forward to operating the Kalaeloa Renewable Energy Park for the next two decades, and supporting a clean and reliable energy future for the people of Hawaii."
"In Hawaii, utility-scale projects like the Kalaeloa Renewable Energy Park provide direct benefits to all ratepayers through clean and low cost energy," said Luigi Resta, CEO of Scatec Solar North America. "More than ever, solar power is able to provide utilities an efficient and cost effective way to both meet environmental goals and maintain a reliable power supply for consumers."
The Park was developed on land leased from Hunt Companies, which holds the master lease for nearly 540 acres in Kalaeloa on the former Naval Air Station Barbers Point. In January 2013, the team broke ground after the Navy completed an environmental assessment.
In November 2012, Hawaii Public Utilities Commission (https://www.bizjournals.com/profiles/company/us/hi/honolulu/the_hawaii_public_utilities_commission/3327146) approved a 20-year power-purchase agreement between the partnership and Hawaiian Electric. (https://www.bizjournals.com/profiles/company/us/hi/honolulu/hawaiian_electric_co_inc/3269527) Hanwha Q CELLS USA owns the Park, with sale-leaseback financing through PNC Bank.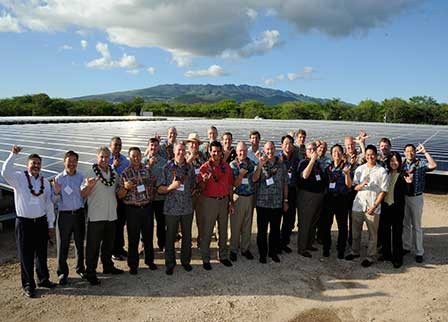 Hanwha Q CELLS USA
Hanwha Q CELLS is part of the South Korean Hanwha Group and one of the world's leading photovoltaics companies, offering a wide range of high quality photovoltaic solutions "Engineered in Germany" – from solar cells and modules to solar system solutions and power plants. At its headquarters in Thalheim (Germany) Hanwha Q CELLS has a unique setup of R&D and production enabling the company to develop technologically leading products and innovative manufacturing methods. The cell production sites in Malaysia and Germany and the module production line in Germany are the core of manufacturing. In addition, the company converts its high-efficiency solar cells into modules in cooperation with certified contractors in Europe and Asia. Hanwha Q CELLS sells its products via its international sales network with branches in Germany (HQ), Malaysia, Korea, USA, Canada, Japan and Australia. Thanks to its truly international setup, high quality products and the financial stability as part of Hanwha Group, Hanwha Q CELLS is the reliable partner for PV customers around the globe.

For more information, visit: www.qcells.com/us/

Hanwha Group
Founded in 1952, Hanwha has grown quickly by anticipating and responding to changing business environments with a balanced business portfolio that includes energy & materials, aerospace, finance and retail & services. Our expertise and synergy in key areas have catapulted us into the seventh-largest business in South Korea and a Fortune Global 500 company. Hanwha continues to grow rapidly as we strive to pursue global leadership in all of our businesses. We are building a robust foundation for sustainable development and a brighter future for everyone.

For more information, visit: www.hanwha.com
Scatec Solar North America
Scatec Solar North America, INC. ("SSNA"), headquartered in Sausalito, California, develops, builds, owns and transfers turnkey, solar power solutions with a focus on utility-scale projects in the range of 5 MW-250 MW. SSNA is a wholly-owned subsidiary of Scatec Solar OS, which has installed over 265 MW of ground and roof-mounted photo-voltaic (PV) systems in nine countries: Germany, France, Norway, India, U.S.A., South Africa, Italy, Czech Republic, and China. Scatec Solar, headquartered in Oslo, Norway, was established in 2007 by Dr. Alf Bjørseth, the founder of Renewable Energy Corporation (REC), one of the world's leading solar energy groups. The company, an established global developer of ground-mount and commercial rooftop PV solar energy solutions, has capabilities to handle all aspects of each project, from securing permitting rights to the final commissioning and operations. This full client service includes project development; structuring equity and long-term debt financing; turnkey construction; engineering, procurement, and construction; power purchase agreement contracting; and operations and maintenance capabilities.

For more information, visit: www.scatecsolar.com

Hunt Companies, Inc.
Hunt Companies, Inc. is a diversified real estate operator involved in development, investment, and management with a focus on multifamily housing, public-private partnerships, military housing, community development, and investment management. Hunt's Hawai'i Division has been active in Hawai'i for more than two decades, and has long been recognized for its innovative use of underutilized military properties, particularly those governed by complex land agreements, as well as its commitment to creating premier master-planned communities that complement the cultural and geographical riches of the Hawai'i Islands. Hunt has built 4,259 new homes and renovated 2,275 homes for Hawai'i's military families, and is responsible for the ongoing management of more than 2,000 acres—including 1,500 homes and one million square feet of industrial space. Projects include the Ford Island Master Development Agreement, Kalaeloa; The Waterfront at Pu'uloa; Waikele; Ke Kailani and Palamanui on the Big Island; and Kilauea Lighthouse Village on Kauai.

For more information, visit: www.huntcompanies.com

Swinerton Renewable Energy
Swinerton Renewable Energy offers turnkey solar power solutions for utility scale and distributed generation projects with over 3 GW of power generation and solar expertise. In addition to standard engineering, procurement, and construction services, Swinerton provides unique value by offering warranty wraps, performance monitoring, and production generation guarantees to benefit their customers' financial security. Swinerton has built over 200 MWdc of solar PV projects since 2008, and is contracted to construct over 400 MWdc and to operate over 600 MWdc .The Swinerton Family of Companies provides commercial construction and construction management services throughout the Western United States, and is a 100% employee-owned company. Recognized nationally since 1888, Swinerton is the preferred builder and trusted partner in every market they serve—proudly leading
with integrity, passion, and excellence.

Facebook (https://www.facebook.com/swinerton),
Twitter (https://twitter.com/swinerton),
Flickr (https://www.flickr.com/photos/51663979@N03/) and
LinkedIn (https://www.linkedin.com/company/swinerton-builders)

For more information, visit: www.swinerton.com/blog

Hawaiian Electric Company
Hawaiian Electric and its subsidiaries, Hawaii Electric Light and Maui Electric, serve 450,000 customers on the islands of Oahu, Hawaii, Maui, Lanai and Molokai, home to 95% of the population of the state of Hawaii. Hawaiian Electric is a subsidiary of Hawaiian Electric Industries (NYSE: HE). With more than 120 years of service to islands, the Hawaiian Electric Companies have provided the energy that has fueled the islands' development from a Hawaiian kingdom to a modern state. Today, they are commitment to achieving a clean energy future for Hawaii.

For more information, visit: www.hawaiianelectric.com

Contact Us
Thank you for your interest in Hanwha.
Please contact us for your inquiries.
Email Us
Information Message
Please enter your email address.
Information Message
Please enter a correct email address.
Success
Keep an eye on your inbox for the latest stories from Hanwha.
Information Message
Your subscription request has already been processed. Thank you.