Korea and China's Largest Hospitality Companies Join Hands
Hanwha Hotels & Resorts and Jin Jiang International Hotels signed official business agreements
Starting from September 1, the two companies to offer exclusive cross membership benefits to their 14 million plus members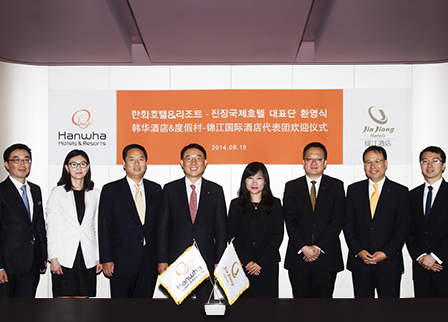 Hanwha Hotels & Resorts - headed by Mr. Hong Won-ki, CEO of H&R and vice chairman of the Hanwha group - and China's Jin Jiang International Hotels have started their full-swing cooperation efforts by hosting a consultation meeting at THE PLAZA, H&R's luxury boutique hotel in Seoul, Korea.
The event covered the signing of a number of important business agreements between the two parties which were first stipulated during the official MOU event earlier this year. This event saw the official signing of the partnership between Jin Jiang's J-Club and Hanwha Hotel and Resort's, THE PLUS, loyalty membership programs which promises exclusive cross memberships and commences from September 1, 2014. Both loyalty program members will receive benefits such as room, food, and beverage discounts, late check-outs and upgrades. In addition, all of J-Club's 14 million plus members can enjoy Hanwha's resorts and golf benefits across Korea. Also finalized at the event was the cross marketing cooperation for their global sales and PR teams, the employee cross training and exchange programs to take place two times a year, and the affiliate food and beverage promotional program, which has already commenced with top chefs from the Jin Jiang Tower hotel in Shanghai, making their grand debut in Korea.

The objective between the two groups with these business agreements is to build a strong partnership and strengthen the operational and marketing efforts for both their staff and guests. In addition, this visit was also a chance to discuss further on any extra opportunities to enhance each other's products and services.
Commenting on the benefits of the partnership, Mr. Kim Young-Chul, General Manager at THE PLAZA of Hanwha Hotels & Resorts, said, "I am happy to announce the benefits for the members from Hanwha Hotels & Resort's loyalty membership program, including our golf members, who can now all also enjoy the benefits from J-Club at the Jin Jiang hotels across China. We at Hanwha Hotels and Resorts, as well as THE PLAZA, will be devoted to providing the utmost convenience and to improve the satisfaction of all our guests from Jin Jiang. We also hope that by working so closely with Jin Jiang International Hotels, together we will produce positive and tangible results in the improvement of our operations and to increase exposure of the two brands in both the China and Korean market."
Ms. Cinn Tan, Senior Vice President of Marketing & Sales at Jin Jiang International Hotels stated, "We are particularly excited about the cross loyalty membership program as it serves as a great platform for us to introduce our popular J-Club to a much wider market and to give Hanwha's guests the chance to experience its many benefits. South Korea is an important market for us, highlighted by the fact that it has also become a top travel destination for China's outbound tourists." "We have high expectations for mutual economic interests and synergy from the extensive network established by our cooperation with Hanwha Hotels & Resorts, Korea's leading leisure and service provider. This partnership will no doubt help us increase our brand awareness into this exciting new market," she added.
Last April, Hanwha Hotels & Resorts and Jin Jiang International Hotels signed an MOU at the Jin Jiang Tower in Shanghai, China with the shared aim of "growing together as one of the world's best leisure service providers." Both companies plan to explore and develop common interests as strategic business partners as well as promote a variety of cooperation activities.
For more information:
Hanwha Hotels & Resorts

Hotel Division, Marketing and Strategy Team
Na-hye Kim
Tel: +82 (0)2 3107694
Email: nahye@hanwha.com
Hanwha Hotels & Resorts
Hanwha Hotels & Resorts began operations in 1979 as the developer of South Korea's first resort condominium project. It joined Hanwha in 1986. With resort, hotel, and food service businesses, we are rapidly becoming South Korea's premier leisure and food service provider.

For more information, please visit: www.hanwharesort.co.kr/en

Hanwha Group
Founded in 1952, Hanwha has grown quickly by anticipating and responding to changing business environments with a balanced business portfolio that includes energy & materials, aerospace, finance and retail & services. Our expertise and synergy in key areas have catapulted us into the seventh-largest business in South Korea and a Fortune Global 500 company. Hanwha continues to grow rapidly as we strive to pursue global leadership in all of our businesses. We are building a robust foundation for sustainable development and a brighter future for everyone.

For more information, visit: www.hanwha.com
Jin Jiang International Hotels
Jin Jiang International Hotel Management Company Ltd. (Jin Jiang International Hotels), the largest star-rated hotel management company in China, has a portfolio of over 123 distinctive star-rated hotels with over 35,000 hotel rooms spread across 77 cities. Under the Jin Jiang brand, the company has a new premium hotel brand, "J", comprising a five-star hotel and four-star Jin Jiang Hotel accommodation properties. Jin Jiang International Hotels is a subsidiary of China's premier hospitality conglomerate, the Jin Jiang Hotel group. Its sister company is Jin Jiang Inn and Interstate Hotels and Resorts. Overall, the group owns and operates over 1,460 distinctive hotels and inns in more than 230 cities and towns across 31 provinces, autonomous regions and municipalities around China, with a total room inventory in excess of 223,000. It is ranked as the world's ninth-largest hotel company.

For more information, visit: www.jinjianghotels.com

Contact Us
Thank you for your interest in Hanwha.
Please contact us for your inquiries.
Email Us
Information Message
Please enter your email address.
Information Message
Please enter a correct email address.
Success
Keep an eye on your inbox for the latest stories from Hanwha.
Information Message
Your subscription request has already been processed. Thank you.