Municipality of Davos and WEF Take Another Step Towards a Greener Davos- Powered by Hanwha Q CELLS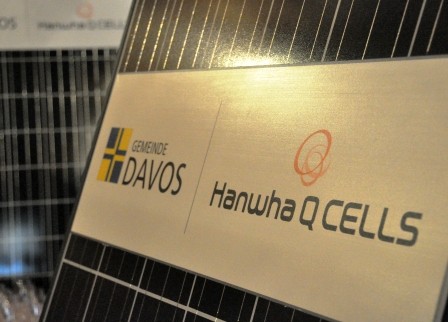 The municipality of Davos – and the World Economic Forum(WEF) – are taking another big step towards a "Greener Davos", thanks to high-efficiency Q CELLS solar modules sponsored by Hanwha Q CELLS. A photovoltaic system with a total capacity of 340 Kilowatt Peak (kWp) will be installed on the 1,000 square meter rooftop of the Davos Congress Centre and the adjoining swimming pool and create enough energy to replace more than 20 tons of CO2 emissions each year.
Germany-based Hanwha Q CELLS is working on the project jointly with the municipality of Davos, with installation due to be completed by the end of this year.
The company is one of the world´s leading photovoltaic (PV) manufacturers and has recently been acquired by Hanwha Group, bringing together the best in German engineering and manufacturing with the financial strength and global reach of one of Korea's top business groups.
A Korean top-10 business, Hanwha Group is a global provider of total solar energy solutions and has been an official strategic partner of the World Economic Forum since 2010.
By delivering more than 1,300 high efficiency Q CELLS Q.PEAK PV modules, Hanwha supports the "Greener Davos" initiative as one of Hanwha's many projects to raise public awareness of renewable energy and demonstrate the company's leadership in environmental responsibility.
"We are really pleased that we have this opportunity to support both the municipality of Davos and of the World Economic Forum. Our commitment to solar extends beyond building a successful business. We are dedicated to making solar the most reliable source of energy on Earth," said Ki-Joon Hong, the vice chairman and chief executive of Hanwha Chemical, representing Hanwha Group.
"A Greener Davos is an important priority for the World Economic Forum. We are pleased that this initiative from the Municipality of Davos and Hanwha will help us continue to lower the environmental impact of the Annual Meeting and work towards a carbon neutral future," said Alois Zwinggi, Managing Director of the World Economic Forum.
Meeting at Davos town hall just as the World Economic Forum's Annual Meeting 2013 was getting underway, the President of the Municipal Executive (Landammann), Tarzisius Caviezel, the town's Municipal Secretary (Landschreiber), Michael Straub, and Hanwha Q CELLS Senior Vice President Thomas Raadts signed a memorandum of understanding confirming the sponsorship.
"In 2001, Davos became the first municipality in Graubünden to be officially awarded the coveted label of Energy City by the Swiss Federal Office for Energy and its supporting association, Energy City Label. In 2012, the label has been renewed for the 3rd time and Davos continues to practice a sustainable and result-oriented energy policy. Hanwha Q CELLS' generous sponsorship is an important contribution to our efforts for a 'Greener Davos' and we highly appreciate this support," said Tarzisius Caviezel, President of the Municipal Executive of Davos.
"As proven in many reference projects before, Hanwha Q CELLS solar modules achieve record yields and perform reliably," said Thomas Raadts of Hanwha Q CELLS. "It is this kind of passionate engineering that has driven our company's solar energy innovation for more than 10 years now."
Q CELLS' photovoltaic panels are expected to convert on average about 80% of the available solar energy into electricity. According to a study by Amstein+Walthert, the project engineer for the municipality of Davos, the installation on the roof of the Congress Center itself and the adjoining indoor swimming pool will deliver 395 MWh per year. That is equivalent to the electricity consumption of 75 Swiss households.
The company's German-engineered solar modules deliver industry leading technology, providing top performance in the harshest climates and offering triple protection against performance loss – preventing so-called "potential-induced degradation", making forgery impossible and avoiding the dangerous hot spots that plague solar panels of inferior quality.
Hanwha Qcells
Hanwha Qcells (Hanwha Solutions Qcells division) is one of the world's leading clean energy companies, recognized for its established reputation as a manufacturer of high-performance, high-quality solar cells, and modules, a portfolio of intelligent storage systems, and a growing international pipeline of large-scale renewable energy projects. Hanwha Qcells also provides renewable electricity retail services and packages to end customers the world over. The company is headquartered in Seoul, South Korea (Global Executive HQ) and Thalheim, Germany (Technology & Innovation HQ) with its diverse international manufacturing facilities in the U.S., Malaysia, China, and South Korea. Hanwha Qcells strives to offer Completely Clean Energy through the full spectrum of photovoltaic products, storage solutions, renewable electricity contracting, and large-scale solar power plants. Through its growing global business network spanning Europe, North America, Asia, South America, Africa, and the Middle East, Hanwha Qcells provides excellent services and long-term partnerships to its customers in the utility, commercial, governmental, and residential markets.

For more information, visit: www.qcells.com/us/
Hanwha Group
Founded in 1952, Hanwha has grown quickly by anticipating and responding to changing business environments with a balanced business portfolio that includes energy & materials, aerospace, finance and retail & services. Our expertise and synergy in key areas have catapulted us into the seventh-largest business in South Korea and a Fortune Global 500 company. Hanwha continues to grow rapidly as we strive to pursue global leadership in all of our businesses. We are building a robust foundation for sustainable development and a brighter future for everyone.

For more information, visit: www.hanwha.com
The World Economic Forum
The World Economic Forum is an independent international organization committed to improving the state of the world by engaging leaders in partnerships to shape global, regional and industry agendas. Incorporated as a foundation in 1971, and headquartered in Geneva, Switzerland, the World Economic Forum is impartial and not-for-profit; it is tied to no political, partisan or national interests.

For more information, visit: www.weforum.org

Contact Us
Thank you for your interest in Hanwha.
Please contact us for your inquiries.
Email Us
Information Message
Please enter your email address.
Information Message
Please enter a correct email address.
Success
Keep an eye on your inbox for the latest stories from Hanwha.
Information Message
Your subscription request has already been processed. Thank you.