Shifting to a Smart Plant and into the 4th
Industrial Revolution
State-of-the-art ICT: big data, mobile, IoT, and RPA to transform its plants
P-LTE-based explosion-proof smartphones to be installed
30 billion won to be invested by 2019, converging traditional industry and IT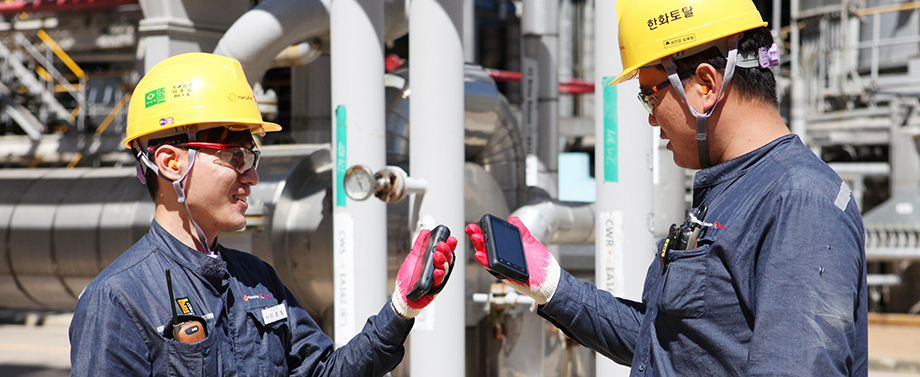 [September 14, 2017] Hanwha Total Petrochemical announced its plan to adopt smart plant solutions as part of its strategy to proactively join the 4th industrial revolution.
The company plans to transform its petrochemical plants. Its entire process has already been automated and enabled for extensive data capture but further changes are taking place to transform production facilities into smart plants. Hanwha Total Petrochemical's IT-enabled production lines will be further modified to increase productivity and operational flexibility while simultaneously eliminating human error.
Hanwha Total Petrochemical's transformation is part of a three-year roadmap to complete the adoption of smart plants by 2019. Total investment over the three years is expected to be around KRW 30 billion won.
The company identified four areas—facilities, safety & environment, IT infrastructure, and logistics & operation to improve using advanced IT solutions, big data, mobile technology, and IoT. The changes are expected to transform key components to make a plant intelligent. Changes will follow to enable monitoring of the plant across all its operations and then provide data-driven information to allow for decision-making.
Big data analysis will improve processes and provide predictive facilities maintenance
Hanwha Total Petrochemical is actively seeking to make use of big data collected from the diverse operations of its plant and then use them to enhance the productivity of its lines and operational efficiency of its facilities.
As a first, step, the Company has employed a global analysis solution firm to analyze the big data from its synthetic resin plant over a period of six months, starting January of this year.
Several measures to improve the quality and production efficiency in resin manufacturing were concluded from the results that were analyzed. These measures and learnings from the project will play an important role in the future and the analysis will be applied to more big data from other plants like the aromatics and styrene monomer (SM) plant.
To improve operational efficiency, Hanwha Total Petrochemical plans to use its big data analysis to prevent emergency shutdowns by monitoring and detecting anomalies before they occur . To this end, the company has deployed SmartSignal, a predictive maintenance system by General Electric Company, also in January of this year to monitor key assets in its plant and detect performance degradations. Once the analysis of the big data on these facilities is complete, the company plans to combine all analyses and work to establish its own predictive maintenance system that can be customized to the different types of facilities under operation.
Going forward, Hanwha Total Petrochemical seeks to increase the use of big data in areas outside of production processes and facilities, such as safety & environment and customer management, areas that generate atypical data.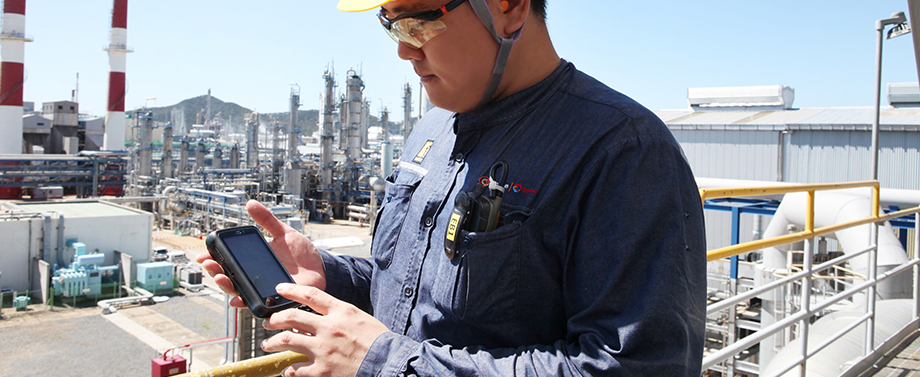 Korea's first petrochemical production complex to use wireless
explosion-proof smartphones
As part of its blueprint to change to smart plants, Hanwha Total Petrochemical has set up its a P-LTE communication network within its production facility and provided its employees with explosion-proof smartphones. These devices will be able to communicate on the P-LTE network to transmit data transmission and manage tasks.
P-LTE is a wireless communication network for enterprise use. Hanwha Total Petrochemical partnered with LG Uplus to set up the P-LTE network within its production facility, setting up an IoT infrastructure for the future use of wireless sensors and devices.
The explosion-proof smartphones are loaded with diverse applications that are needed to carry out operational tasks. They allow operators to enter and view on-site inspection results on the spot, boosting their work efficiency.
As a part of a pilot program earlier this month, Hanwha Total Petrochemical distributed the smartphones to select employees at different shifts. The plan is to expand the pilot and use the devices to the rest of the plant.
The company has also set up an LTE-communication-based wireless CCTV monitoring system that remotely monitors its production sites. The newly adopted mobile CCTV identifies locations via GPS and supports real-time video monitoring both via the central control room (CCR) and individual PCs.
The company's smart-plant roadmap also includes a plan to establish mobile systems designed to better serve its customers by allowing them to track their items at every stage of the process. The mobile logistics system enables the user to check logistical information in real-time and see where their order is in the workflow – from delivery vehicle to final delivery.
Hanwha Total Petrochemical plans to gradually expand the application of P-LTE into areas like IoT helmets, noxious gas detectors, and drones.
Transforming into smart office through robotics process automation (RPA)
To improve office-work productivity through automation, Hanwha Total Petrochemical will adopt a robotics process automation (RPA) system, a digitized robot that replaces human beings for simple, repetitive office work.
By launching an RPA system to manage logistics including the shipping of documents and maintenance of the daily operation logs, the company expects to cut work hours by 80 percent. Employees with reduced work load could focus on greater high-value-added tasks or focus on innovation.
"Through the Smart Plant project, employees will be able to stay informed plant-wide operations and detect any abnormalities in advance. It will also significantly contribute to improving work efficiency via mobile communication and help facilitate the decision-making process," said a spokesperson at Hanwha Total Petrochemical. "We hope that the project can serve as a model use case for the petrochemical business, traditionally a process industry, taking advantage of the 4th industrial revolution, proactively."
Hanwha Group
Founded in 1952, Hanwha has grown quickly by anticipating and responding to changing business environments with a balanced business portfolio that includes energy & materials, aerospace, finance and retail & services. Our expertise and synergy in key areas have catapulted us into the seventh-largest business in South Korea and a Fortune Global 500 company. Hanwha continues to grow rapidly as we strive to pursue global leadership in all of our businesses. We are building a robust foundation for sustainable development and a brighter future for everyone.

For more information, visit: www.hanwha.com
Contact Us
Thank you for your interest in Hanwha.
Please contact us for your inquiries.
Email Us
Information Message
Please enter your email address.
Information Message
Please enter a correct email address.
Success
Keep an eye on your inbox for the latest stories from Hanwha.
Information Message
Your subscription request has already been processed. Thank you.