Solar Energy in Australia: Zoo Offsets Tons of CO2 Emissions Through Hanwha Q CELLS Modules
100 kilowatt PV plants on zoo's buildings for self-consumption
Melbourne Zoo is the world's first certified carbon neutral zoo
Q CELLS modules convince with their low light behavior
Hanwha Q CELLS Australia criticizes the government's Renewable Energy Target plans (RET)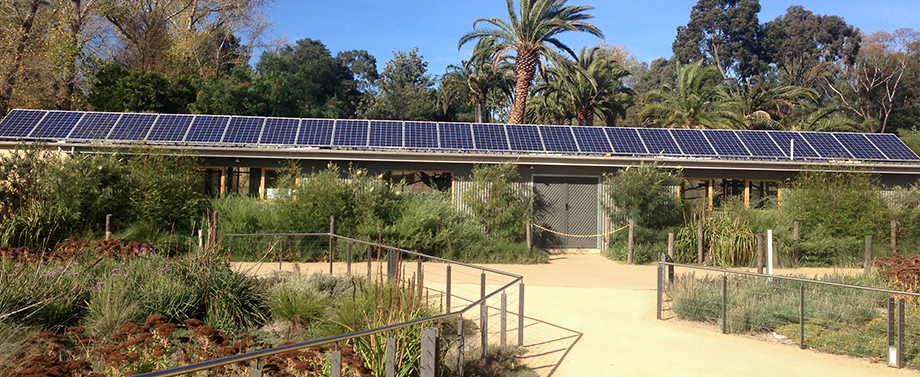 Melbourne Zoo, the world's first certified carbon neutral zoo, has this month installed solar PV, taking another step in their plan to be the world's leading zoo-based conservation organisation. Three separate rooftop systems of more than 100 kilowatt (kW) have been built on the zoo's buildings. The PV plants have been reliably producing energy since the beginning of September for the zoo's self-consumption of solar electricity.
Hanwha Q CELLS, the largest European PV provider, has delivered 390 Q CELLS Q.PRO-G3 255 solar panels for the units. Q CELLS modules supply both the zoo's elephant and baboon enclosures and its headquarters with electricity. The PV system were designed and installed by Madison Australia. It will provide 140MWh of electricity yearly, the equivalent energy needs of 22 average Victorian homes – offsetting approximately 160 tons of CO2 per annum. The zoo has therefore been added to the list of green credentials for the world's first certified carbon neutral zoo.
Zoo Director Kevin Tanner said that solar power is in line with other zoo sustainability initiatives, including the water treatment plant which produces water for maintaining the grounds and flushing toilets and the extensive composting program which turns zoo waste into excellent garden compost. The innovative composting system uses green waste such as branches, 'zoo poo' from elephants and other herbivores, and the biodegradable packaging used in the zoo's catering operations.
"Increasing our solar power capacity is a crucial element of our energy strategy," explained Zoo Director Kevin Tanner. "As a carbon neutral organization, all our new developments place a high priority on sustainability." Already in the past, the zoo's corporate centre had replaced all of its fluorescent and incandescent bulbs with energy-efficient LEDs, incredibly reducing its demand from 22,000 kWh per year to 6,200 kWh. These measures, together with the PV systems, have allowed the zoo to claim carbon neutral status through Low Carbon Australia under the Australian Government's National Carbon Offset Standard.
Experts in designing high performance commercial solar systems, Madison Australia Director Yorath Briscoe said, "On average, Melbourne has just 46 sunny and 139 partly sunny days per annum. As Q CELLS modules are the best performers in low light conditions, achieving 98% of their rated efficiency in low light conditions, their panels were the natural choice for us."
In Melbourne, Hanwha Q CELLS again provides its state-of-the-art modules. The PV project is also especially of interest against the political background. The Australian government had repealed the carbon and mining taxes and the industry remains concerned that it will reduce the legislated Renewable Energy Target as well. However, it has been bolstered by news that the government has decided to reject a controversial review of the policy which recommended several options which would put tens of thousands of jobs at risk as well as current and future investments.
Clean Energy Council Acting Chief Executive Kane Thornton said the review's own economic analysis showed that any reduction in the level of the Renewable Energy Target would actually drive power prices up for consumers in the future, as well as making it harder for people to purchase technology such as solar power to reduce their bills.
"There has been no convincing argument for major changes to the Renewable Energy Target as a result of the current review. Analysis has shown that the industry will be able to meet the target, provided the government ends the current uncertainty by leaving the level of the target intact and removing the mandatory reviews of the policy. This would restore long-term confidence and investment to the sector."
For more information:
Hanwha Q CELLS GmbH

Sonnenallee 17-21
06766 Bitterfeld-Wolfen (OT Thalheim), Germany
Corporate Communications

Jochen Endle, Robert Reinsch
Tel: +49 (0)3494 6699 10121
Email: presse@q-cells.com
Executive Board

Hee Cheul Kim (CEO), Kye Chun Son (CFO),
Dr. Andreas v. Zitzewitz (COO), Koo Yung Lee (CCO)
Hanwha Qcells
Hanwha Qcells (Hanwha Solutions Qcells division) is one of the world's leading clean energy companies, recognized for its established reputation as a manufacturer of high-performance, high-quality solar cells, and modules, a portfolio of intelligent storage systems, and a growing international pipeline of large-scale renewable energy projects. Hanwha Qcells also provides renewable electricity retail services and packages to end customers the world over. The company is headquartered in Seoul, South Korea (Global Executive HQ) and Thalheim, Germany (Technology & Innovation HQ) with its diverse international manufacturing facilities in the U.S., Malaysia, China, and South Korea. Hanwha Qcells strives to offer Completely Clean Energy through the full spectrum of photovoltaic products, storage solutions, renewable electricity contracting, and large-scale solar power plants. Through its growing global business network spanning Europe, North America, Asia, South America, Africa, and the Middle East, Hanwha Qcells provides excellent services and long-term partnerships to its customers in the utility, commercial, governmental, and residential markets.

For more information, visit: www.qcells.com/us/
Hanwha Group
Founded in 1952, Hanwha has grown quickly by anticipating and responding to changing business environments with a balanced business portfolio that includes energy & materials, aerospace, finance and retail & services. Our expertise and synergy in key areas have catapulted us into the seventh-largest business in South Korea and a Fortune Global 500 company. Hanwha continues to grow rapidly as we strive to pursue global leadership in all of our businesses. We are building a robust foundation for sustainable development and a brighter future for everyone.

For more information, visit: www.hanwha.com
Contact Us
Thank you for your interest in Hanwha.
Please contact us for your inquiries.
Email Us
Information Message
Please enter your email address.
Information Message
Please enter a correct email address.
Success
Keep an eye on your inbox for the latest stories from Hanwha.
Information Message
Your subscription request has already been processed. Thank you.