Solar Panels Work in the Snow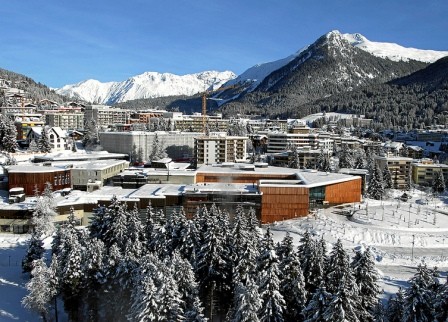 [12 March, 2014] The World Economic Forum, best known for its annual meeting in Davos, Switzerland, is an independent international organization that is committed to improving the state of the world by engaging business, political, academic, and other leaders of society to shape global, regional and industry agendas. They meet here to exchange information and discuss pressing issues facing the world, including health and the environment.
In January 2013, Hanwha has agreed with the Municipality of Davos to install a photovoltaic system on the 1,000-square-meter rooftop of the Davos Congress Centre by 2014 followed by the adjoining swimming pool. Creating enough energy to replace more than 20 tons of CO2 emissions each year, the solar modules sponsored by Hanwha will help the municipality of Davos and the Forum take a big step toward a "Greener Davos" and a carbon-neutral future. According to a study done by Amstein+Walthert, the project engineer for the municipality of Davos, the installation will deliver 340 kWp-solar power generation, equivalent to the electricity consumption of seventy-five Swiss households.
Solar power can be even generated in a country like Switzerland, where it snows a lot. This is because Hanwha's solar modules are made with industry-leading technologies, providing top performance in the harshest climates. They also offer triple protections against performance loss, preventing so-called "potential-induced degradation," making forgeries impossible, and avoiding the dangerous hot spots that plague lower-quality solar panels.
Hanwha has carried out a host of activities to demonstrate the value and sustainability of new and renewable energy sources in action in every way. For example, Hanwha provided solar PV panels for the VISION House®, an experiential exhibit in INNOVENTIONS at Epcot® at the Walt Disney World® Resort, which will give visitors a practical look at green building technologies. The VISION House® is a large home with realistic living space and interior décor. Throughout the exhibit, visitors are encouraged to consider how they can reduce their personal impact on the planet, as well as changes they can implement in their own homes to make them more sustainable and durable. Hanwha's solar modules are installed on the VISION House® roof and carport outside the VISION House®.
Hanwha also built a solar power plant in northern China in collaboration with the United Nations Convention to Combat Desertification(UNCCD) and the provincial government of Ningxia, China. This project is particularly meaningful since it is the first time that solar energy is being used to prevent desertification. The plant will power a 3,200-square-meter greenhouse in the Baijitan Nature Reserve of Lingwu City, located near the southwest edge of the Mu Us Desert.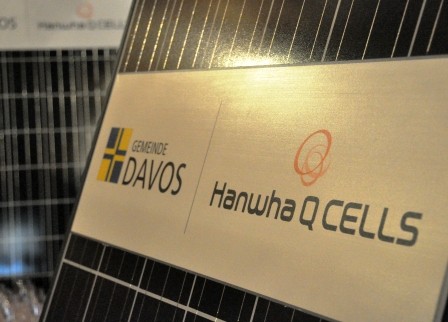 Hanwha Q CELLS
Hanwha Q CELLS Co., Ltd. (NASDAQ:HQCL) is a global leading photovoltaic manufacturer of high-performance, high-quality solar cells and modules. Headquartered in Seoul, South Korea, it has Technology and Innovation HQ in Thalheim, Germany and manufacturing facilities in Malaysia and China. Hanwha Q CELLS offers solar modules, photovoltaic systems solution and large-scale solar power plants. Through its growing global business network spanning North America, Asia, Europe, South America, and the Middle East, the company provides excellent services and long-term partnership to its customers in the utility, commercial, government and residential markets. Hanwha Q CELLS is a flagship company of Hanwha Group, a FORTUNE Global 500 firm and a Top 10 business enterprise in South Korea.

For more information, please visit: www.hanwha-qcells.com/en

Hanwha Group
Hanwha Group, founded in 1952, is one of the Top-Ten business enterprises in South Korea and a "FORTUNE Global 500" company. Hanwha Group has 61 domestic affiliates and 325 global networks in three major sectors: manufacturing and construction, finance, and services and leisure. With more than 65 years track record of industrial leadership, Hanwha's manufacturing and construction businesses encompass a broad range of fields from chemicals & materials, aerospace & mechatronics, total solar energy solutions, and global construction. The finance network, covering insurance, asset management and securities, is the second largest non-bank financial group in South Korea. The services and leisure sector offers premium lifestyle services with retail and resort businesses.

For more information, visit: www.hanwha.com
Contact Us
Thank you for your interest in Hanwha.
Please contact us for your inquiries.
Email Us
Information Message
Please enter your email address.
Information Message
Please enter a correct email address.
Information Message
Thank you for your newsletter subscription.
Your email account has been successfully registered.